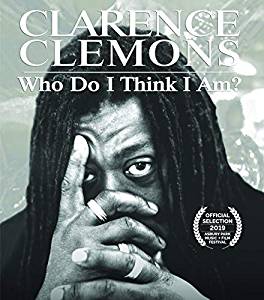 Clarence Clemons: Who Do I Think I Am?
directed by Nick Mead
starring Clarence Clemons, Nils Lofgren, Joe Walsh, Bill Clinton
Virgil Films – MVD Entertainment
"The Big Man," as Bruce called him, had a bit of an identity crisis. More than your usual musical bio-doc, this film tries to address that crisis, while also painting a portrait of a tender, loving artist. "Believe it or not, there was life before Bruce," is one of the first things we hear from Clarence Clemons in this film. Of course there was, and like most biographies, it starts at the beginning, talking with family and a childhood friend. Then we move onto his first bands, before hearing the story about the formation of the E Street Band. Things were golden for years, until Springsteen decided to go in a different direction and fired the band for several years. The film then follows Clarence through his time with Ringo Starr's All Starr Band, solo work, and even acting jobs. After the reunion of the E Street Band, we accompany Clarence on an enlightening trip to China, a place where not only he wasn't recognized by the locals, but they didn't even know who Bruce Springsteen was. He plays his saxophone on the Great Wall in an emotional and cathartic scene.
The director uses an interesting technique in filming the documentary. All of the archival footage is presented in color – from lively and vibrant high definition to gritty and grainy home movies. The current interviews with friends, family, colleagues, and Clarence himself are presented in black and white – stark, almost bleak, in comparison, whether is is Nils Lofgren or Bill Clinton. It has a way to drawing you into the moment as the palette changes. Clarence passed away during the making of the film, changing it from a simple look at a moment in his career into a journey throughout his life.
Fans of Clarence Clemons and devotees of Springsteen should definitely add this disc to their collection. But anyone interested in how a supporting player can feel marginalized and work through that should also give this a chance. I learned a lot about The Big Man here – the music and the man. This disc contains no special features, so unless you are a collector, you can wait for it on a streaming service.
https://mvdb2b.com/s/ClarenceClemonsWhoDoIThinkIAm/670761DBD
---