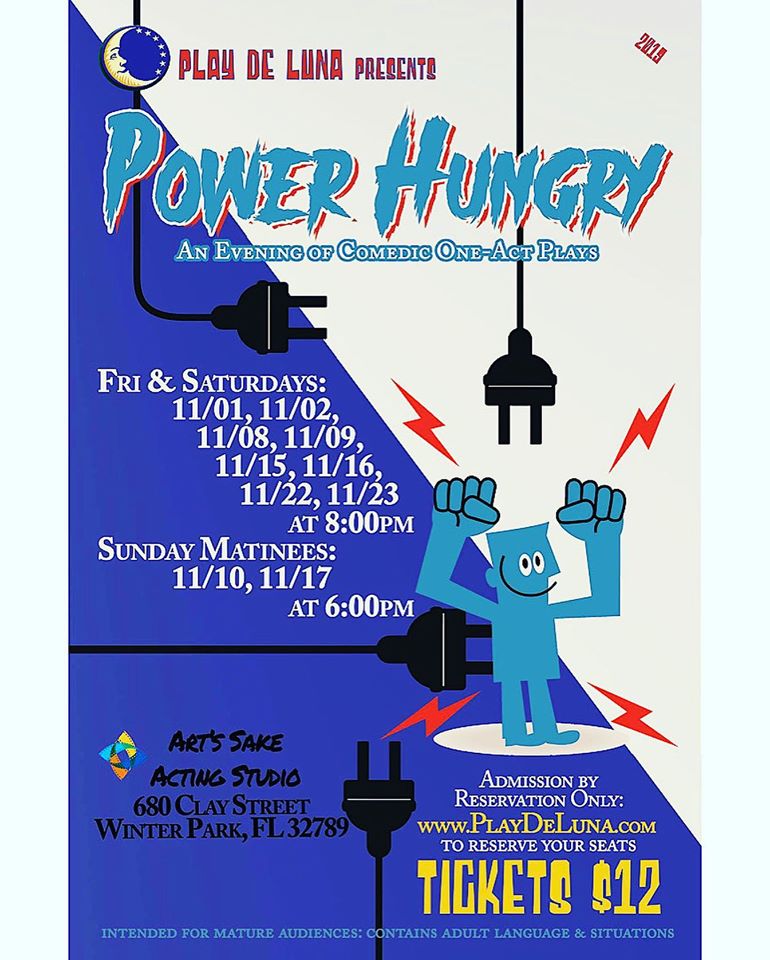 Play de Luna – Power Hungry
An Evening of Comedic One acts Plays
Art's Sake Theater
Winter Park, FL
I don't get to every one of these little one act festivals, but I always enjoy them. Art's Sake is a little acting studio in a sort of creepy industrial area of old Winter Park. Tonight we begin with "Ben Doll" (by Lynn Schmidt, directed by Alex Streu). Flustered Bella (Alejandra Curtis) returns home after a tough day at work. Here she finds a gift: the new improved animatronic male companions Ben (Marc Lucia). Program him as you will, and he does Bella's bidding, perhaps with more enthiasm and less grace than she's like. I put the blame on the Windows operating system, but he's no worse than any other random guy Bella might meet.
"Man's Best Friend" (by Alex Streu, directed by Melisa Corbin) inverts the world of pet ownership. We have a humanoid named "Fluffetnutter" and his fawning if slightly wacky owner getting ready to go out. Cute, but I'm not yet ready to commit to such a large pet.
What short play festival would be complete without a writer writing about writing? "Writers' Block" (by Alex Streu, dir. by Clare Ghezzi) wears its subtext on its sleeve. Arthur (Mark Williams) struggles though plot points as the Tough Guy Nikolas (Jay Bogdanowitsch) looks to buy "One Unit of Drug." Writing about writing – that's what playwrights do best, and this one keeps up the laughs and stereotypes.
Next we stride into the dating scene with the vagina positive "Snatch and Release" (by Elise Lockwood, dir. Chris Walker). Lorraine (Madeleine Elise) tries to referee between her nerdy brain (Sarah Malfara) and her hot-to-trot Vagina (Sara Yoho). High concept and low comedy, and enough laughs to get you into intermission.
As soon as the bathroom lines dwindles, Act Two opens with the topsy-turvy "Employ(h)er" (by Lanie Burgess, dir. Nicole Ricks). I'm a guy, and I sit in on these new hire meetings where the guys rip apart potential female new hires. I've not been in one THIS sexist, but the laughs lurk in the social inversion and silly gags line "Men of No Color."
After a few more pieces, it's time to wrap up with "Creepy Dolls" (by John Connon, dir. Lynde Schmidt). Action Dude (Rudy Saint Cyr) and puppet Charlie (Ghezzi) battle with classy Morgan (Kristen Calhoun) for dominance in the toy box. It's by far the funniest and brings this sparkling evening to a close. As we spill out in the dark industrial underbelly of Winter Park, it's time to head around the corner, get a few microbrews, and rehash the evening.
---