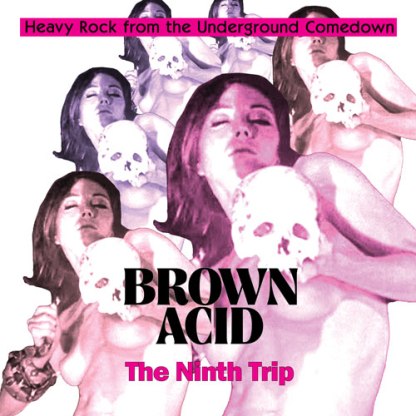 Brown Acid
The Ninth Trip
Riding Easy
There are always a few big-name bands the define an era like Cream. Jefferson Airplane or The Byrds. But for each of those big names a crowd of more obscure bands came and went with little notice, yet leaving us an important legacy. Lucky for us, there are people out there hunting down the best of the unknown, finding the rights holders, then cleaning up the original tracks and pressing them on to vinyl or cd or even one of those little electronic files so popular with the cell phone set. Ten of those tracks appear on this ninth installment of the Brown Acid. Brown acid was the bad stuff at Woodstock, but it sounds pretty good here. The bands are pretty much context free with no history or other supporting info, although most of the do have Wiki pages.
We open with a hard rocking "Prelude to Opus IV" by White Lightening. The guitar work sounds like early Nugent, and the voice of lead singer Woody Woodrich present that high soaring sonic quality that lets you catch every word. What's he singing about? Freedom and feeling good and rock and roll! What else could you want in 1967? Let's rock on to "Rebel Woman" by Erik. No idea of his last name, but this is another high energy work out with early synthesizers and serious drum cred behind it. It oozes lust and hormones and a knowledge if you can stand vertical on stage you can get horizontal in the bus.
Next we have a bluesy "Outer Spaced" by Stonewall. The music begins with some easy drum riffs, then gets dark and bluesy, a perfect underlay for lead singer Bruce Rapp. The kicker on this cut is it was released, but no one told the band and they had their music stolen from them. Google it, it's a rock and roll cautionary tale. Ten tracks here, all outstanding. I'll wrap up with Peace Pipe's "The Sun Won't Shine Forever". Peace Pipe gives us a genuine sonic acid trip with its Hendrix influenced guitar work, flanging and spacey sound. This band doesn't qualify as a one hit wonder, they seems more like a one-track wonder but one that might have gone far. There's more here, and I promise if you like one track you'll dig them all. As for myself, I'm off in search of the previous eight compilations from Riding Easy Records.
https://www.ridingeasyrecs.com/product/brown-acid-ninth-trip/
---