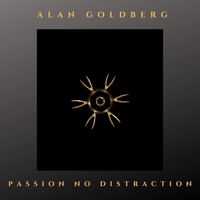 Alan Goldberg
Passion No Distraction
Alan Goldberg is an artist with a creative and passionate taste for making cinematic musical pieces. Goldberg is a longtime Texas-based musician/composer who aims to create a unique creative experience through his piano-based music. He has roots in classic and progressive rock and has extensive influences with blues and jazz fusion; those inspirations can be detected on this latest release.
Goldberg is also a two-time cancer survivor who does not let any distractions get in the way of his unyielding love for music. His lifestyle directly correlates to the clever title of the album, which is a musical collection that wants to take you on a roller coaster ride of emotions through beautiful sounds. "Wind Niggun" is an intriguing piece full of power and mystery even though it is only around 46 seconds long. The next track that will capture your fancy is entitled "4 Shadows." This cut is quite sentimental. It has indelible, dramatic melodies.
"I Saw Clouds, But It Was Sunny On Me" is a huge favorite of mine. This track accurately denotes what kind of affection Goldberg has for music. This is a soundtrack full of beauty, hope, and a positive depiction of relentlessness. Overall, the whole record will leave you craving for more of Goldberg's compelling and personal vision.
---