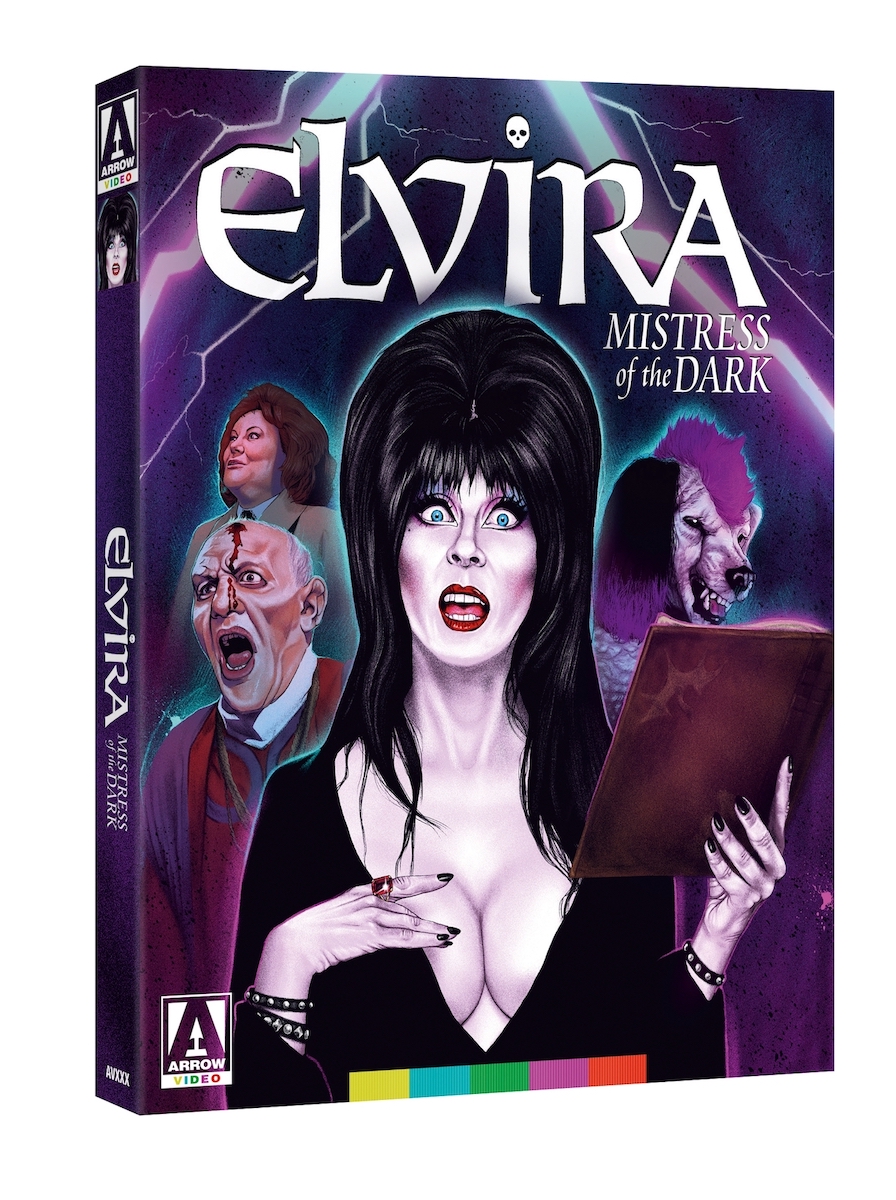 Elvira, Mistress of the Dark
directed by James Signorelli
starring Cassandra Peterson, Edie McClurg
Arrow Video
Elvira is easily the most famous TV horror host of all time. Her fame has grown so far beyond the humble origins of local TV that she has become more brand than person, to the point there was actually a TV reality show to find the new Elvira. Of course it was a fool's errand as no one could possibly replace Cassandra Peterson, who took a bad black wig and comic timing and turned it into a 40 year career. In 1988 after years of making wise cracks about bad movies on TV it was time for Peterson to make one herself and so the movie Elvira, Mistress of the Dark was unleashed. No one wanted to see Elvira on the big screen and the movie cratered at the box office, but fittingly through home video and cable TV the film found its audience and throughout the 1990's seemed to be on as much as Gilligan's Island re-runs.
The film's plot is standard boilerplate. Elvira loses her job and needs money to start her Vegas stage show when she conveniently gets a telegram informing her that her great-aunt Morgana (Casandra Peterson in a double role almost unrecognizable in her natural curly red hair) has died. So Elvira packs up the macabre-mobile and heads across the country to the sleepy hamlet of Falwell, Massachusetts. In just a few day Elvira gets an inheritance, falls in love, turns the kids in the town on to the joys of bad movies, and nearly gets herself burned at the stake for her troubles. Honestly if you are watching an Elvira movie for the plot, you're doing it wrong. The whole affair is just an excuse for Cassandra Peterson to flex her, uh, talent. The movie is overstuffed with enough double entendres, boob jokes, puns, boob puns, and sight gags (usually involving boobs) to delight the inner 12 year old boy lurking inside all of u, not to mention the bored teenage boys of Falwell. Cassandra Peterson's charm and timing is what raises this claptrap into something quite enjoyable, even if you can smell how bad it is a mile away.
Arrow delivers the goods with this Blu-Ray that tightly squeezes in a huge amount of extras to satisfy Movie Macabre fans. Too Macabre: The Making of Elvira, Mistress of the Dark is a feature length documentary on the making of the film. The film is covered with three audio commentary tracks from the director, writer, actress Edie McClurg, and of course, Elvira herself, Cassandra Peterson. The first run of the disc also features a lush booklet featuring writing by Kat Ellinger and Patterson Lundquist.
---