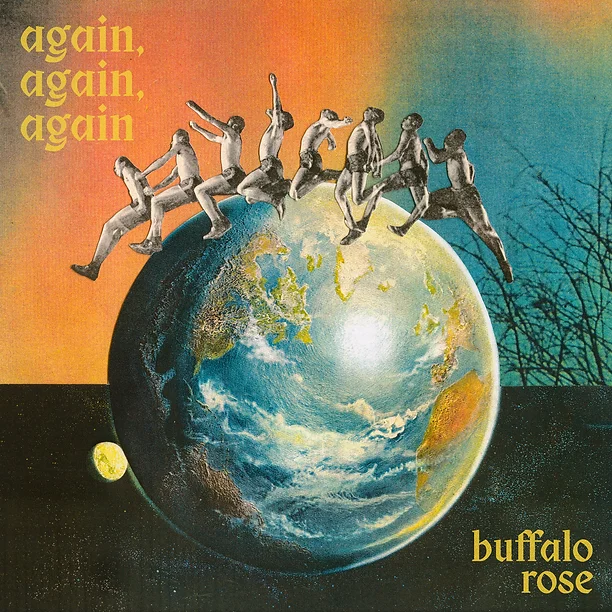 Buffalo Rose
Again, Again, Again
Misra Records
U up? Come listen to this.
They caught the attention of folk legend Tom Paxton and NPR Music. They've been featured at SXSW and Folk Alliance International. That's not small potatoes for this six-piece modern folk band from Pittsburgh. With Again, Again, Again, we're treated to yet another journey into heady but really listenable progressive Americana. It's only been three years since their debut release, The Soil and the Seed, but the growth as a band plays out more like those who've been together much longer.
Starting with a melancholy tone, "New World" paints a picture we've probably all thought about. "Soon I'm gonna disappear from this black and blue world…" This isn't a Debbie Downer album by any means, but it delivers plenty to think about. Vocalists Lucy Clabby and Margot Jezerc dance gracefully around each other and meet back in harmonic lines held up beautifully by spare mandolin, upright bass, dobro, and guitar. "Machine Man" is my pick for a standout. Listen closely to this one. There's lesson to be learned in both the playful lyrics and pristine arrangements bouncing in and out of the phrasing. I'd love to hear this one live!!
"Oh Brother" begins almost as a take on Radiohead's "Creep," but that expectation dissolves quickly into a gorgeous original. "Hallelujah Anyway" and "On Reason and Passion" offer more keen observations of life as we know it, especially in the last four years. I hear a hint of Alison Krauss' influence on "Reason and Passion," probably because Buffalo Rose seems to have really listened to a ton of iconic artists as they come into their own voice as a band. It rubs off nicely as we travel through the tracks and hear both a very original sound and one that fans of Lake Street Dive as well as Punch Brothers will appreciate.
"Body Language," featuring flutist Anh Phung, is another standout. Anh's flute adds another layer of jazz influence and sophistication that other bands might not be willing to experiment with in folk environments. The arrangement is flawless — another that I imagine would be a showstopper live.
"Cabin Fever" is the only instrumental on this record and is the perfect soundtrack for your morning run or a drive up to catch those coveted first tracks after new snow. Beautiful.
As the album rounds out with a goosebump-inducing "Born" and the introspective heartstring tug of "u up?," there is no doubt that Buffalo Rose will see more praise from both icons in the industry and fans of intelligent writing, impossibly tight harmonies, and flat-out hotshot musicianship. Again, Again, Again deserves your ear and your heart. Take some time with it and watch for a tour date near you.
---