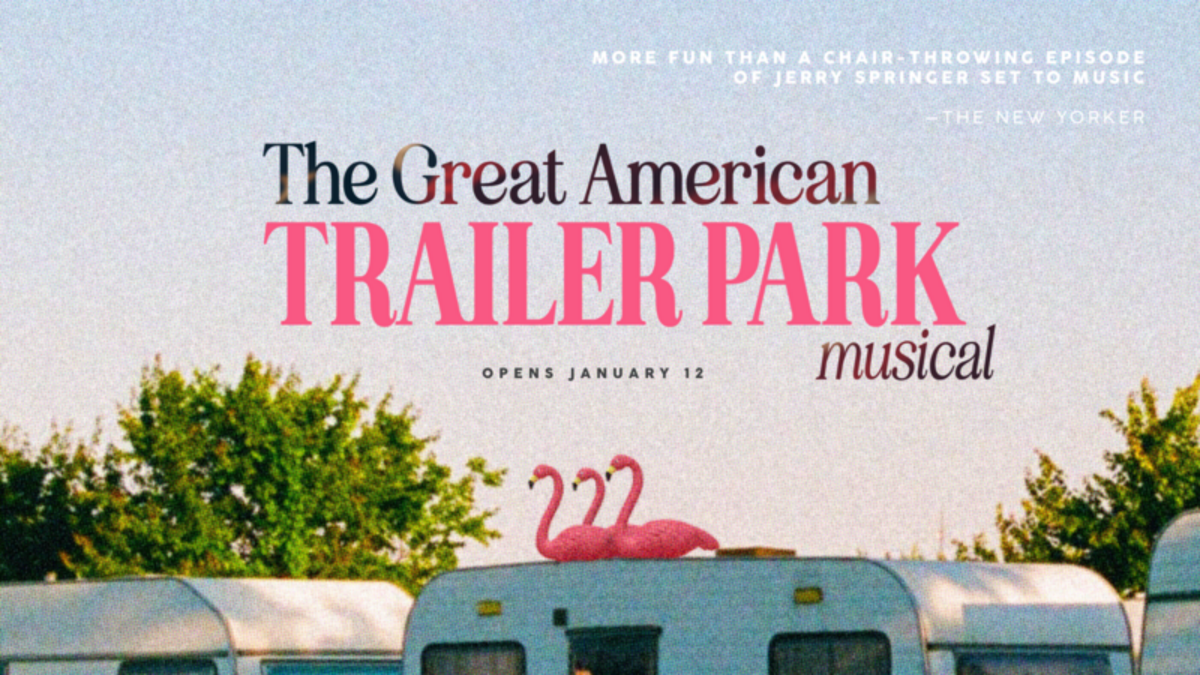 The Great American Trailer Park Musical
Theater West End • Sanford, Florida • January 19, 2023
by Carl F. Gauze
The lower the stakes, the higher the drama. Tonight we visit that classic element of southern living: the Trailer Park. This bright shining star of Americana leads us to a crossroad somewhere around Stark, Florida. That's a town mostly known for hosting the state prison and its electric chair "Old Sparky." When they put you in that orange-blossom-scented piece of furniture, you know you'll fry with some of the best.
Tonight we meet Pickles, played by Sarah Isola or Savannah Pederson, as this run is double cast in all roles. Pickles is the slightly pregnant teen heart throb. Next we have Betty (Amy Hughes or Danielle Lang), the leader of the pack. Then there is agoraphobic Linoleum (Camryn Rose Chiriboga or Annaelliese Olivia Banks), who plays the house breaker with hubby Norbert (Robb Ross or Casey Sweeney). What's "agoraphobia"? Look it up, this is FLORIDA, dang it. Norbert at least has a job, or did. When this story was written, Florida still paid people to collect change on the tollways.
The main story here is Norbert's attempts to get his wife to leave her safe haven in their trailer and see the Ice Capades over in Stark. But his crusade sidetracks when homewrecker Pippi (Molly Schoolmeester or Sophie Cooper) moves in. She's tough, horny, and desperate, and willing to do anything to stay afloat. Norbert hooks up with her, and that pushes the story forward, and in the end we learn that while snorting marking pens is a poor choice and cheating on your wife a bad idea, nothing is worse than betraying your fellow down and outer. Just because they are poor rednecks that doesn't mean they're honorable, or even likable. They're just entertainment.
How does does this relate to you and me? Well, I live in Florida, so I might actually be on stage somewhere in this rollicking comedy. Each player rides their own character arc of relatable problems and desperate resolutions. Songs punctuate the action, and all are sung in a yeehaw country key. The set is suitably flimsy, the costumes are only from Sanford's finest thrift shops, and the music (yes this is a musical) rings in your ears.
Norbert is a classic guy's guy: hard working and upright, right until he lays down with an underage stripper. The Greek chorus provides the background humor, and each of them gets a few good lines in even as they avoid meeting any good men in the trailer park of jocularity. Theater West End artistic director Derek Critzer appears as Duke the Huffer Boy and does some good scene stealing with his magic marker addiction, and the band hidden in the rafters lays downs some righteous show-tune music.
Is there a redeeming message here? I hope not. Are these trailer park denizens ever going to make it out? Maybe if the Lotto hits, but otherwise, they will continue doing what God intended them to do: keep an obscure southern town alive by ripping off the tourists on I-75 and sending that sweet, sweet toll money up to our honest and upright politician in another small company town called Tallahassee. Bring your jukebox money.
---