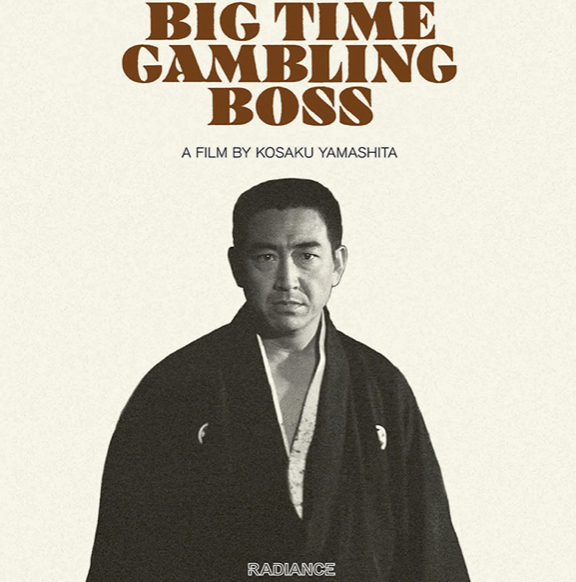 Big Time Gambling Boss
directed by Kôsaku Yamashita
starring Kôji Tsuruta, Tomisaburô Wakayama
Radiance Films
Although enthusiasts might quibble, in substantial ways, the Japanese Samurai and Yakuza film genres are structurally quite similar. A rugged male culture based on violence and a stringent code of honor pulses through the veins of both styles of film. The major difference (other than period setting) is that the Samurai are noble heroes and the Yakuza are underworld criminals, but their stories and character motivations are often quite interchangeable. Even if you've only seen a couple of Yakuza films, you already know that these men live by a code to protect the interests of the clan over their personal desires, and any deviation from this code is not made lightly and comes with great consequences.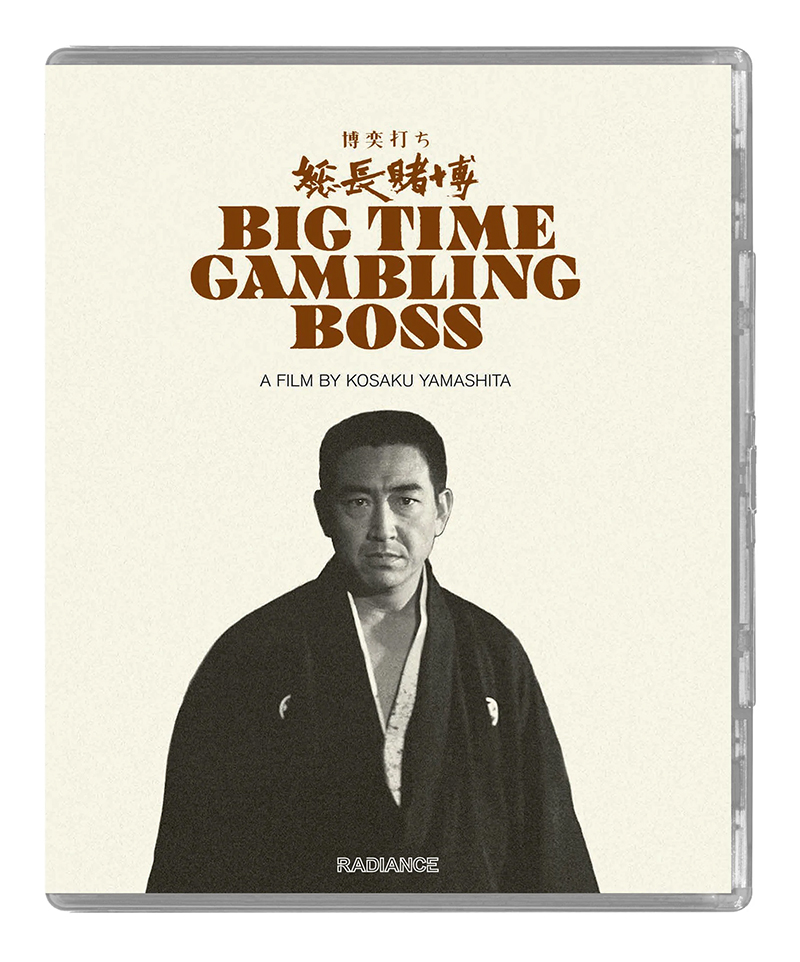 This is the world of director Kôsaku Yamashita's Big Time Gambling Boss. Yamashita made a career of directing Yakuza films for Toei studios, so he is well versed in the chivalric code the gangsters live by. When the boss of the Tenryu clan suffers a stroke, a new boss for the clan must be chosen. The logical choice, Matsuda, is still serving a stint in prison, so it is decided that he is passed over in favor of Ishido to be the new head of the clan to oversee gambling in the region. Shortly after Ishido ascends to the big chair, Matsuda is paroled and returns to the clan, assuming that either he or his top lieutenant, Nakai, would have been named boss. Matsuda broods over this slight, but is beholden to the clan's code. Following a clumsy assassination attempt against him, Matsuda's heartbreak turns to rage, and Shakespearean-level tragedy unfolds as Matsuda's wounded pride leads everyone around him to death and ruin.
It is remarkable that a film of this gravitas would be born out of such disposable genre conventions. Big Time Gambling Boss was the fourth of ten gambler films from Toei studios that were cranked out in the late 1960s to compete with rival Toho's gambler series. Sometimes the constraints of a formula-heavy genre give rise to inspired transformational deviations and invention. In the case of Big Time Gambling Boss, all the standard elements, one might even say clichés, are in place, but something was in the water, and magic happened, creating a powerful, memorable story from what was meant to be disposable entertainment. The acting is ultimately what pushes this into classic territory, as the actors wear their inner conflict and struggle to remain true to a set of rules that grinds them down in the name of chivalry, but is ultimately just in place to keep the money flowing and the powerful safe. There was no need for a soap box, as these themes would have been felt by every student, salaryman, and blue collar worker watching this film in 1968, amidst political turmoil and violence, as rapid industrialization and modernization were racing the nation into an uncertain and often uncomfortable future.
Boutique video labels have become instrumental in rescuing films from obscurity through their often inspired curation. Big Time Gambling Boss wasn't a movie topping a lot of wish lists, but is a terrific film that deserves to be seen and cherished. Hopefully this early release from newcomer Radiance Films is a sign of many exciting discoveries to come.
---