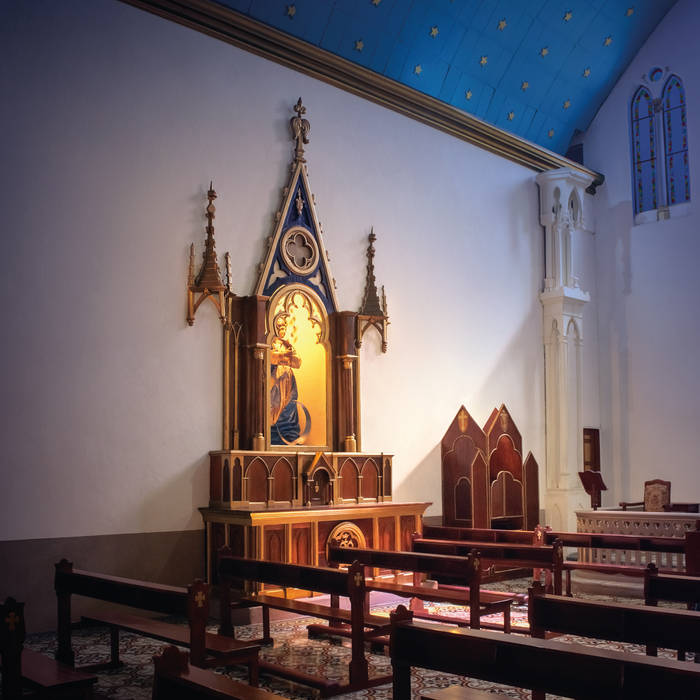 Draag
Dark Fire Heresy
TRPTK
The shoegaze resurgence is an interesting phenomenon. Deafheaven fully pivoted to shoegaze on their last release, 2021's Infinite Granite, DIIV have been doing it well for their entire career, bdrmm are crafting remarkable songs utilizing the template, and even Tokyo, Japan's Boris plays in its sandbox from time to time. Draag's first full-length release, Dark Fire Heresy, is a work of beautiful instrumentation and revealing lyrics, steeped in hallmarks of the genre's founding giants' subdued harmonies and liquid warble guitar — you will hear My Bloody Valentine and Slowdive — but with their own "electro" twist.
Hailing from Los Angeles, California, Draag have released two well-received EPs, and with Dark Fire Heresy's 42 minutes over its 10-song run, the band is solidly and deservedly being celebrated. Founding member Adrian Acosta, explaining the origins of one of the album's lead singles, says "The synths in 'Good Era Doom' are inspired by Boards of Canada's song 'Satellite Anthem Icarus.' I always wanted to write a song that made me feel the way that one does, so the synth influence subconsciously seeped into the song."
It's an album of raw lyrical honesty — in true shoegaze fashion, vocals are low in the mix and harmonized to the point of becoming another instrument — directly addressing Acosta's sobriety and frontwoman Jessica Huang's realization and healing from being in a religious cult. Every track is haunting and beautiful, and repeated listens reveal the layers Draag have assembled.
Standout tracks showcasing the band's identity and aural aesthetic include "Mistuwa," the aforementioned "Good Era Doom," and "Sin Eating." I love this record and am curious whether Draag will continue to embrace (and push) shoegaze and dreampop or pivot to something completely different.
We were told that grunge was the music revolution, and it certainly made an impressive impact, but is shoegaze the genre that has more longevity? The one that keeps being referenced in newer music? Time will tell, but Kevin Shields, Bilinda Butcher, Rachel Goswell, and Andy Bell don't have the household name recognition of Kurt Cobain, Eddie Vedder, Chris Cornell. Maybe they should.
You should pay attention to Draag if you have an even passing interest in the genre. Dark Fire Heresy is a statement difficult to ignore.
---