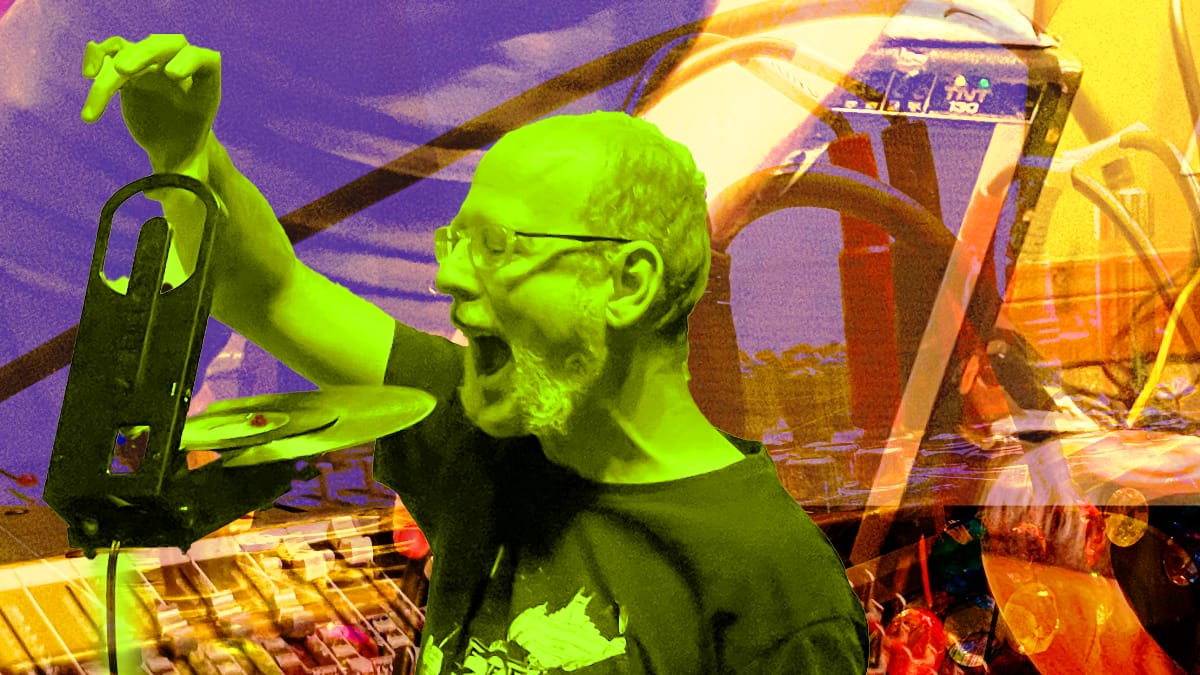 Ironing
with When Light
Lithic Bookstore, Fruita, Colorado • October 21, 2023
by Julius C. Lacking
I love live music at non-standard venues, partly because of the novelty and the absence of many of the hassles that your typical music venue brings, but mostly because there's a high probability the acts will also be non-standard.
Case in point: When Light and Ironing performing at Fruita's Lithic Bookstore on a Saturday night. Lithic is a decent-sized independent bookstore, located on the second story of an older building in a typical Western downtown area. There was an area cleared for a stage and an audience, enough for the couple dozen that showed up, and some competent sound reinforcement with a screen for a digital projector behind the performers, a clear step above the high stools and practice amps that are typical for a gig like this.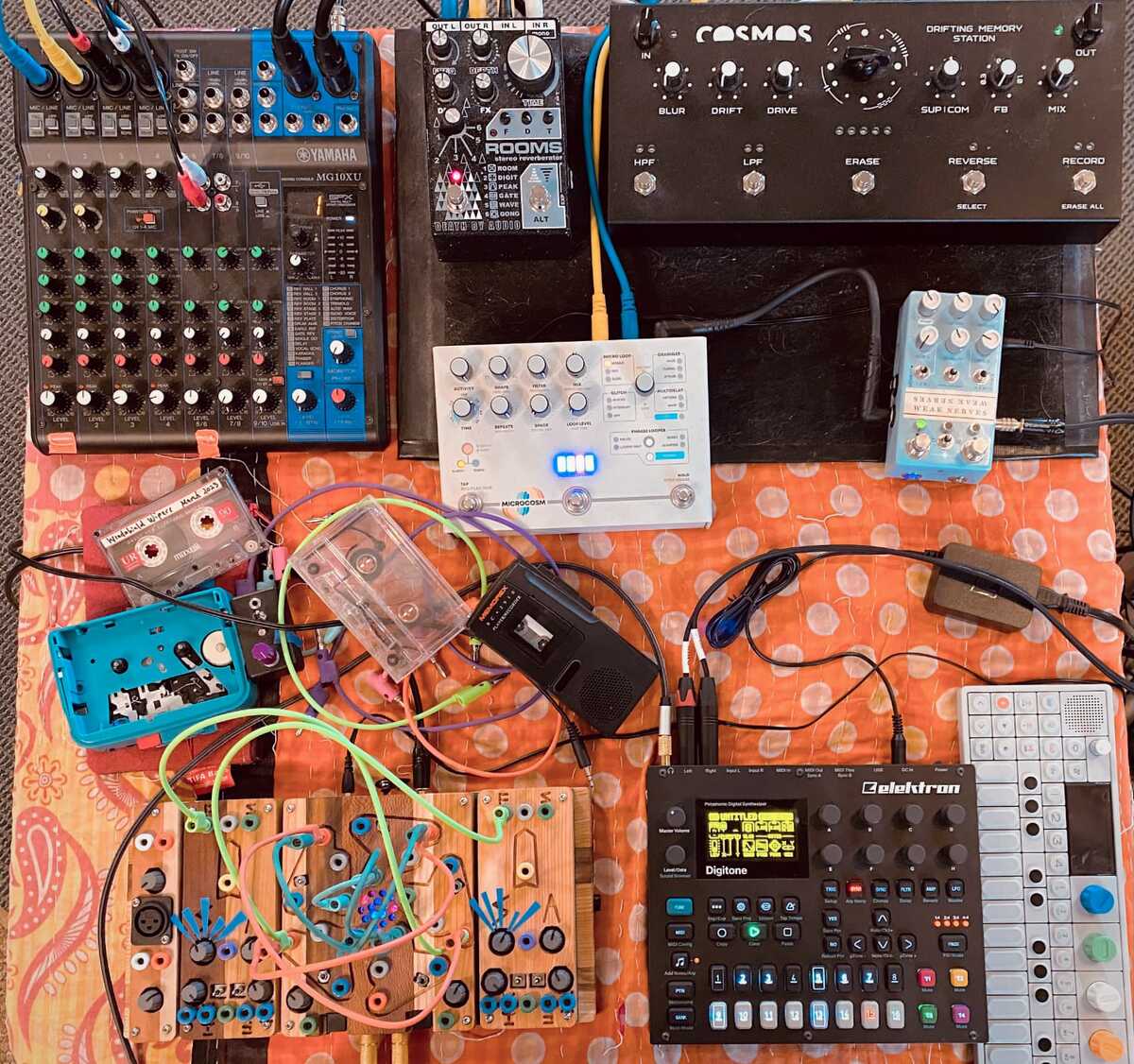 Both acts tonight were solitary affairs, with When Light comprised of Fruita musician Kyle Harvey, and Ironing being Gainesville, Florida's Andrew Chadwick. (Full disclosure: Andrew Chadwick contributed to Ink 19 extensively in its early years.) They could both be classified as "experimental music," a label broad enough to contain the fact that they sound completely different.
When Light began things with a field recording taken at a beaver dam. Bullfrogs and blackbirds chirped randomly as chiming sounds started drifting in. The projector kicks in, endlessly looping through the start of a film, those brief seconds where all you see is the text printed on the leader for the projectionist to read and the audience to ignore, as strings and chordal movements began to wander through the place.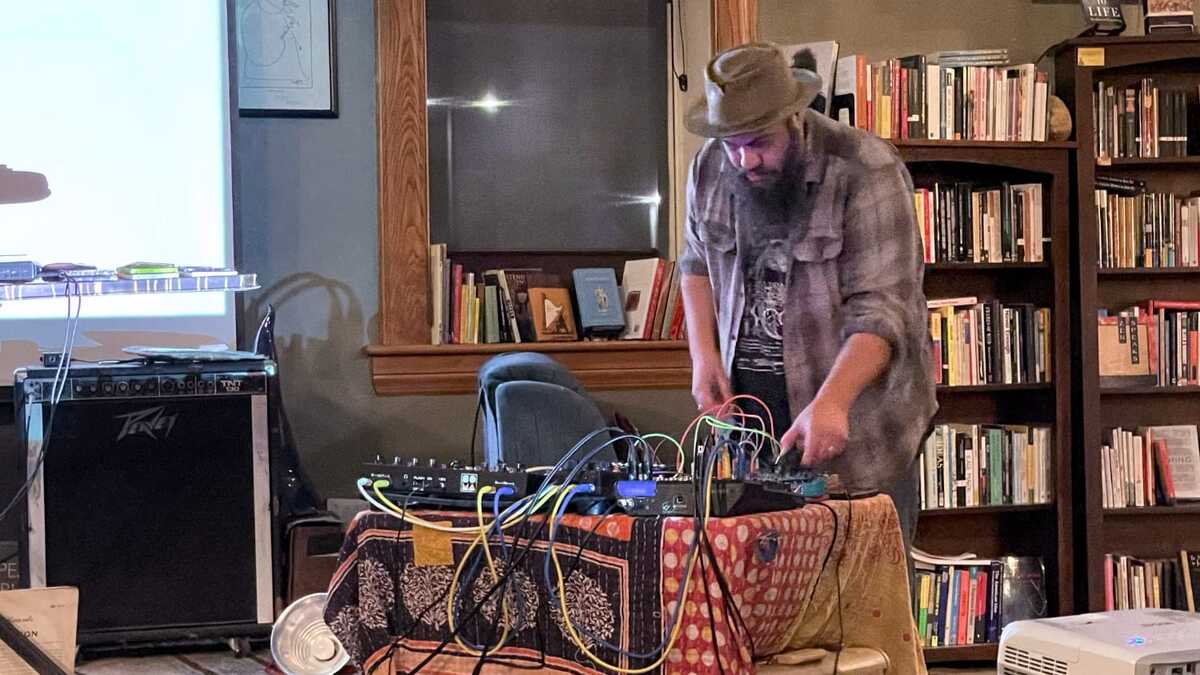 Harvey uses a variety of sound sources, like recordings and tabletop synthesizers, and sends them through effects that take these signals and scatter them into the time realm. This produces an ever-shifting drone that reveals hidden cadences and fleeting melodies, sometimes blurred to the point that it's impossible to tell whether what you're hearing is the signal Harvey is creating or your mind imposing musical order on what is essentially a fractalized overlay of sound.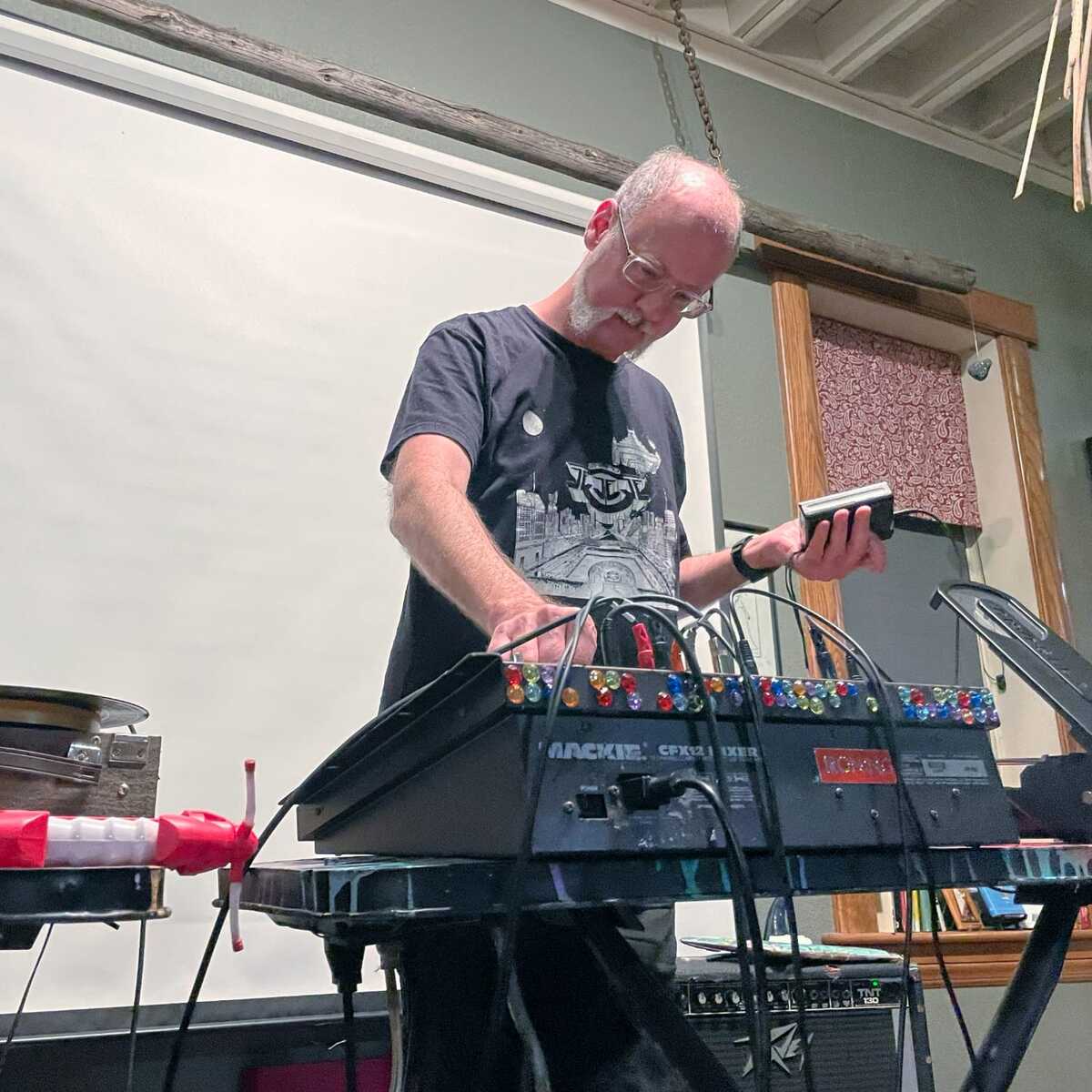 Ironing stands in stark contrast to this ethereal approach. Taking its name from the two ironing boards which hold a variety of low-tech noisemakers like portable record players, kid toys, and that not-quite-completely-broken stereo system you picked up from the curb to put in your dorm room (score!), all wired up to a jewel-encrusted mixer. For the most part, Ironing lays down a barrage of vinyl-based loops, achieved by stacking records on top of each other to force the tonearm to skip back, then mixes them with additional noisemakers and blasts from the radio.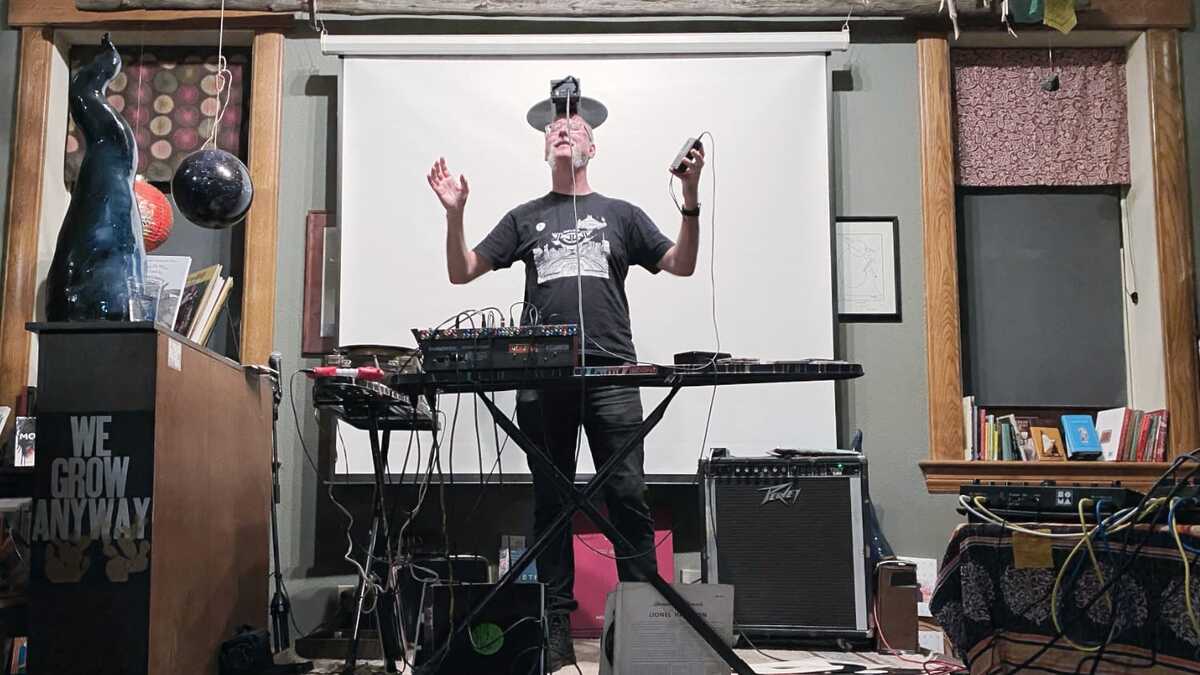 There's no denying the brute force effect of these loops and their aggrieved tempos. Vinyl lovers will be apoplectic at Chadwick's ill treatment of discs, but there's no doubt this abuse yields results, and is intensely creative. Tonearms are shoved, players are picked up and spun around to change the pitch, records are dropped in quick succession on top of one another, and at some point, in a most dramatic flourish, a turntable is balanced on top of Chadwick's head. All of this was done with the detached intensity of a street food vendor preparing their millionth taco — the action is fast and instinctive, and Chadwick himself is dancing around without concern as if there's another person making this rhythmic racket.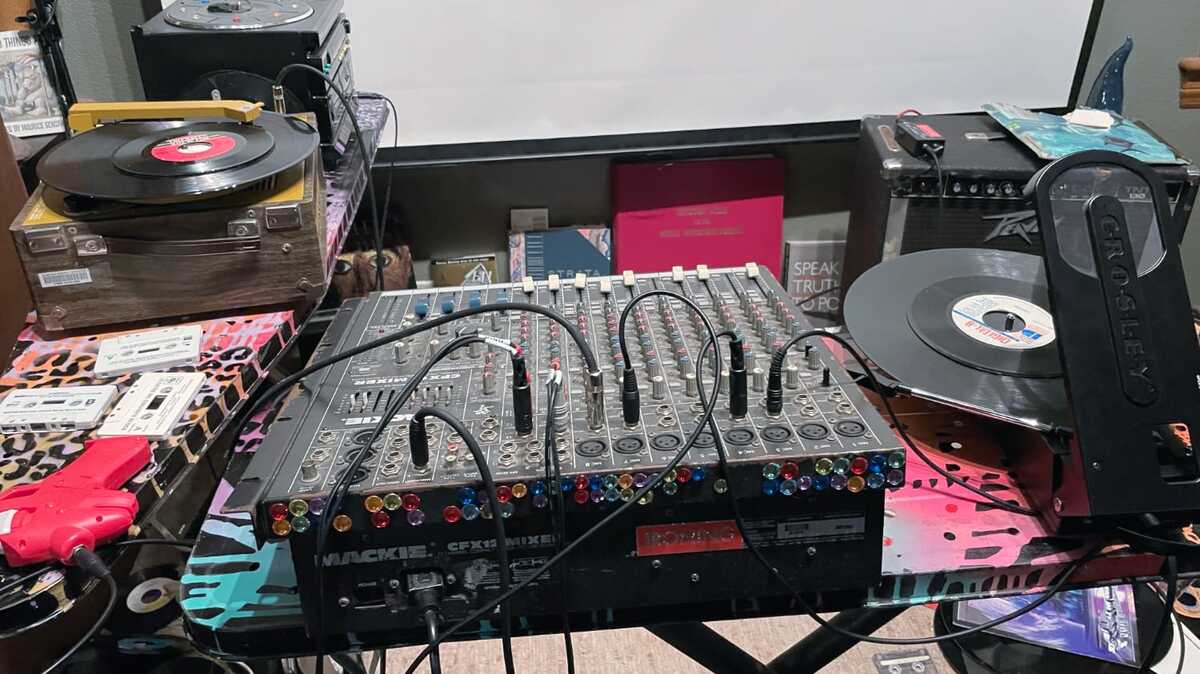 This type of music evokes strong opinions. We are trained to think about music in terms of rhythm, repetition, and tonal harmony, and it's hard to find these elements in the expected quantities. If you are in the right mindset, it can be a transcendent experience: time collapses, making a minute and an hour feel about equivalent. If achieving this state is what drives you to listen to music, I suggest you keep an eye out for events like this in your neighborhood. They happen more often than you think.
---