A Tale Of Two Web Sites – December 14th, 2000
by Bing Futch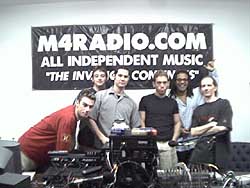 Before we leap onto the meat, some propaganda. First, someone finally decided to post a note to me through this column, breaking a two-year silence on behalf of the reading audience. Hooray for interactivity. The note reads as follows:
"My name is Chris Hattingh and I play guitar. I'm a Central Florida native living in Cocoa, Florida and I need some support. One of the tunes off my new album "Shred Head" is currently at #2 on the mp3.com charts in it's category (instrumental metal). The tune is called "I Am Not A Viking", and I'd love to see it hit #1. This is going to take an awful lot of song downloads and online plays though, and I need some help. You could be instrumental in helping to make this happen if you'd be kind enough to make the following info available to your readers. If enough other Florida musicians would go to http://www.mp3.com/ChrisHattingh and click on the Lo Fi play button for the tune "I Am Not A Viking" it should push it up to #1.
Thanks in advance for your support!!"
Well Chris, I don't know how much support you'll get from David Lee Beowulf, but if anyone else is of the mind to do so, help a guy out willya?
"12100002"Search back in the "Dark's Corner" archives and find a couple of stories regarding M4 Radio. By next year, some cars will be equipped with standard transponders that will be able to pick up live internet streams. The record companies and radio stations are reasonably gobsmacked by this concept since it effectively takes the power out of their hands and into the clutches of over a million independent netcasters. M4 Radio has finally reached its goal of becoming an internet station with 24-hour programming, though most of it is currently automation. Melissa Foxx and Mimi Mouse (in da house!), no longer at WWNZ 740 AM after the first of the year, have brought their "Get A Life!" show to M4 in a new expanded four-hour format and I'm happy to announce that they've given me ten hours a week to fuck around with. On Sundays, Mterviews rolls from 6-7 pm ET and features in-depth discussions with a variety of independent artists. Then at 8 pm ET, "Prime Time Sunday Live!" is a two-hour eclectic mix show featuring the most unique Florida indies along with phone-in reports from a series of correspondents. Then, Mondays from 11 am – 6 pm ET, WWRR will be doing a live mirror netcast featuring the best of Florida state indie bands. All three shows are interactive, the listening audience can query guests, request songs and basically exercise the right to make an ass of themselves in front of an international audience. Phone number is 904.744.6009 ext. 31 (your dime) and you can use the ICQ communicator by dialing in my number which is 2999455. Check the schedule posted on the web site for all show times. Sometimes, I love the future. Let's leap onto that meat now.
[[usgigtvfront]]It was the best of times.
Harold L. Hamm envisioned USGIGTV.NET as a place where bands could get free exposure for doing what they love to do best. It would not only feature up-and-coming groups from around the world but also some major label acts. In a short amount of time, this ex-biker-turned-systems-engineer created a web site that, as of this writing, sees thousands of hits monthly and debuted new videos like Papa Roach's "Broken Home" before even mainstream music programs. A pet project run amuck. Videotaping bands around town, setting up a production network across the country, maintaining the slick site with its streaming video and audio, luring big record labels into sending videos, Hamm did it all. In order to fund this expensive hobby, Hamm started Universal Shopper Inc., a web-design company that serves as a storefront operation for USGIGTV.NET.
In the beginning of this month, Hamm reportedly sold all of his stake in Universal Shopper/USGIGTV to Russell Chandler for under $100. Weirder still is the rumor that USGIGTV.NET may end up being auctioned on E-Bay before the end of the year. Wha-for? Too much work for one guy to handle. I was briefly a part of the USGIGTV.NET team at a time when things were looking up for the company. An office space on the outskirts of Winter Park was secured and employees brought on board. Clients were courted on furniture that was exchanged for web-site design. Plans were made to turn the office into an interactive studio where bands could perform live streaming concerts and host cyber-parties afterwards, it all sounded pretty grand and very possible. Then the bottom dropped out – an investor began making noises, tempers flared, the office became a daily soap opera. I'm thinking to myself, "Jesus, can I go to work for anyone without it becoming dramatic?" Eventually, everyone brought on was let go and only a short time later, the stock was sold.
Unfortunately, that leaves the site somewhat up in the air. If the rumors prove true and USGIGTV.NET goes up for auction on E-Bay, what does that all entail? Just the files that comprise the site? And what about the proprietary method of updating the site if someone wishes to continue maintaining it? Or what of the contact lists for all of the labels? It doesn't sound very practical, but this story, like the site, isn't dead yet.
It was the worst of times.
[[barblaser]]Greg Barnum formed Where2Groove.com as an "accident" he says. His main thrust is marketing, that's what he does. And does it well, if you've been party to one of the now-legendary throw-downs that the web-site sponsors every Thursday at Barbarella in downtown Orlando. Utopia, the evening is called, and it is a scintillating mixture of live bands, DJ's, artists and muralists, creating, networking and glorying to a reinforced sound and light system. It's just one example of how Barnum's flair for public relations has helped make Where2Groove.com a buzzword in its relatively short existence. The site sponsors pages for local bands like Gargamel! and Sol while also featuring an ever-growing archive of local shows and music.
[[mattjustin1]]But it is the Utopia phenomenon that downtown denizens are talking about. Where2Groove.com has consistently packed out Barbarella with a series of highly dynamic shows featuring artists like MT MINDS, DISTORTION JUNKEES, SUNNY, MINDFRAME, BUGHEAD, THE AMY STEINBERG BAND and others. The bartenders have been happy about that fact. And the crowds have been appreciative as well, thanks to a free beer special that runs until 11pm from the time the doors open. You'd be amazed at how much beer flows in an hour, or not. In any case, the basic mentality of the organization can be summed up in coordinator Gabriel Albelo's business card title. "Master enthusiast," it says. USGIGTV.NET was plagued with bad word-of-mouth buzz, not only on its poorly attended Will's Pub showcases earlier this year but also regarding their interactions with bands and venues. The Where2Groove crew is almost psychotic, they're so nice. And the warmth is obviously working wonders for them. This story is also, not over. Let's get off of the meat again.
Milestones
On December 15th, 1966 Walt Disney died of acute circulatory collapse at St. Joseph's Hospital in Burbank, California. Almost exactly 24 hours later, I was born just over the hill in Hollywood. There was a time when I believed that Walt had been re-incarnated within me, but then discovered that I was much too lazy to be mistaken for someone so driven. So now I accept that my fascination with the man and his legacy, now terribly soiled (thanks in part to lackluster offerings like "The Emperor's New Groove"), is merely coincidence and not a matter of divine providence. Or something. Anyway, I'm turning 34 on Saturday, so please wear black if you're of a mind to. That would make me so happy.
Happy Holidays,
"bfsig"
---