The Gore Gore Girls
Will's Pub, Orlando, FL • May 4, 2005
Jen Cray
The Gore Gore Girls take their name from a 1972 splatter film by Herschell Gordon Lewis, which was actually the first movie to receive an X-rating solely for its extreme violence. They play Gretsch guitars, and have a love for both the early garage rock bands and girl groups of the '60s. And they're from Detroit. These are the few things I knew about The Gore Gore Girls as I eagerly headed to Will's Pub to see their spontaneous Orlando date.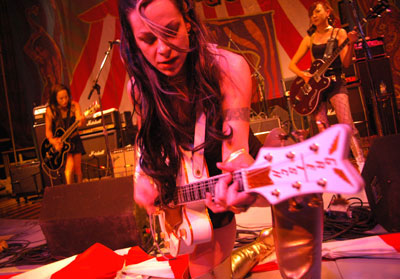 What I discovered, once inside the dark confines of the pub's back room, were four polite girls doing their makeup and hanging around their merch table. Dressed in matching white vinyl mini skirts and go-go boots (all but the drummer, who opted for pants) I was loving these girls long before they stepped onto the stage. They had the pure and innocent '60s sweetness look going on, yet you could tell that after-hours these girls, who just got off a tour with The Cramps, were anything but innocent.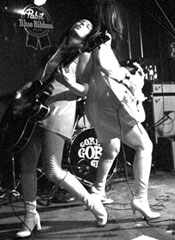 Quietly taking the stage and launching into their unique blend of Phil Spector harmonies, rockabilly riffs, and L7 attitude, they quickly got the modest crowd's asses shaking. Playing no bullshit rock 'n' roll, the crowd was entranced by the flirtatious eyes of guitarist Marlene Hammerle, and the commanding presence of founder/lead vocalist/guitarist Amy Surdu. Completing the lineup was blonde bombshell bassist Jen "The Deuce" and mistress of the beats, Nikki Styxx.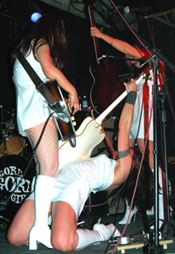 Performing songs with wholesome titles like "Don't Cry," "Loaded Heart," and "Sweet Potato," you could close your eyes and easily imagine The Ronettes, The Supremes, or a young Tina Turner onstage. But would those do-wop girls of yesteryear have hurled a beer bottle offstage into a wall during their set like "The Deuce" did in between songs? A move, by the way, that she did with such "good girl-gone bad" charm that even the club's staff didn't seem to mind.
These Girls take the two best musical movements to come out of Detroit ( Motown and Garage Rock) and smash them together to create a sexy, sultry sound similar to how Nancy Sinatra's "These Boots are Made For Walking" would sound being performed by The Runaways. The Gore Gore Girls are a show not to be missed.
The Gore Gore Girls: http://www.goregoregirls.com ◼
---