Following a heart that'll never lead him astray
Darrell Scott
David Whited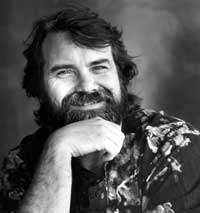 Darrell Scott is a wildly creative soul and one of the finest songwriters-musician-singer-producers working today. His name might not be a household word – yet – but amongst his peers he is certainly very highly-respected and some of his songs have been recorded by some of Nashville's best-selling artists, including Garth Brooks, The Dixie Chicks and Patty Loveless.
Scott's music as a whole cannot be classified as Country, Folk, Soul, Bluegrass, Jazz or Rock but elements of all can be found in his work. Scott has the ability to sonically channel everyone from Neil Young to Joni Mitchell and even The Allman Brothers – as well as a number of other traditionalists.
The songs are familiar upon the first listen but it takes a few listens to totally absorb the depth of his work. These are songs that will stand the test of time.
Scott's last release Live IN NC also serves to remind us of the power that a three-piece band can generate. Of course, he had lengendary drummer Kenny Malone, and the undisputed master of acoustic bass players Danny Thompson assisting, but I'd guess that it was probably about as much their pleasure as it was his. Together they've created a timeless album. It is perhaps even one of the 10 finest live albums of our generation.
Darrell's also a helluva nice guy – especially considering how his career track has gone which is something like this:
• Traveled the continent with his Dad Wayne while he chased labor jobs and played honky tonks in his spare time. Darrell joined in and started honing his own chops when he was about 16.
• Go on to enjoy a level of success playing with Canada's Juno Award Winning Mercey Brothers.
• Put the music career aside to attend Boston's Tufts University studying Poetry and Literature.
• Sign to a major label, go to Memphis and complete an album with famed producer Norman Putnam that could've very well done for him what Copperhead Road did for Steve Earle – only to have it shelved because the label thought it lacked commercial focus or a hit single.
There's a saying that goes: 'What don't kill you will make you stronger' and it apparently has in this case. Scott survived and has since re-recorded the entire shelved album himself and titled it Theater of The Unheard. The result is an album of incredible beauty, depth and uncompromised integrity that incorporates all sorts of influences – including even a little taste of Pink Floyd at the end.
I caught up with Darrell in the studio while he was working with engineer Gary Paczosa – who has recently worked with John Prine, Alison Krauss, Mindy Smith, Duhks and Chris Thile. The new release is tentatively titled Hank Williams' Ghost. The very next night he was to play one of a series of monthly shows that he's committed to doing to help promote the charmingly-beautiful Buisson Arts Center in Dahlonega, GA. The Bussion Arts Center is also filming the shows for an authorized documentary on Scott.
• •
I have to ask this… A coffee commercial that you worked on was mentioned in an earlier bio of yours… Did you actually write the melody for that line 'The best part of waking up is Folgers in your cup'… It actually sorta sounds like an extension of your song 'Life is Cheap' but the specific commercial was never mentioned.
No, I didn't write that. I did a lot of studio work when I first came to Nashville and I played on some jingles to pay the bills. I was probably drinking coffee when I wrote that song.
You started playing pretty young didn't you?
About age 16 or so… Honky Tonks.
You played music and had some level of success before you enrolled in Tufts… Did the education at Tufts bring it all together for you as a writer?
I'd say it did.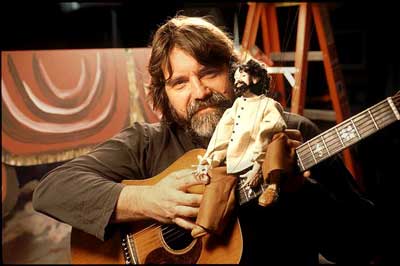 Who would yout literary influences be?
Well, I took classes under and did some independent study with Poet Philip Levine so he'd be counted among them.
Who were your musical influences?
Gordon Lightfoot was the first I suppose. Then of course Hank, Johnny Cash, Townes Van Zandt, Guy Clark, Mickey Newberry… a lot of singer-songwriters.
What are some of your favorite songs?
"I Still Miss Someone," "Learning To Fly."
You're going out on the road again this fall with Steve Earle as a Bluegrass Duke?
Yeah, we don't do it very often – so it's fun.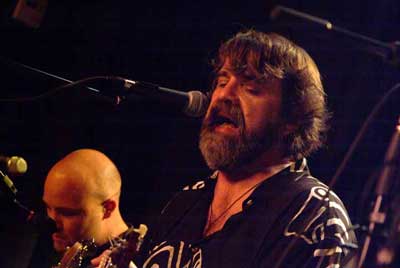 Your Dad Wayne's CD This Weary Way is coming out with Guy Clark and Tom O'Brien assisting. It's being mastered now?
Yes. We were fortunate to get some guys together who really understand him.
Are you on it too?
Yes. I'm all over it.
Was this his first recording?
The first real release. He's done things that we made 30 or so copies of to pass around in the family.
I'm assuming that songs are usually at least partly biographical so I have to ask this…Was there really a bobtail cat looking at you REAL mean? (as referenced in "Helen of Troy Pennsylvania")
No… [laughs] That was a composite. I could've said "One-Eyed Cat" like in the Johnny Cash song. I do have a bobtailed cat though.
How did the association with the Bussion Arts Center come about?
I met the Director at Merlefest and he proposed it. It was something that I could support.
You're in a pretty enviable position in having a number of songs covered by some big names, which must take some finacial pressure off you and give you some freedom to follow your heart abit more in doing things like this.
I'll keep doing it until the money runs out.
Darrell Scott: http://www.darrellscott.com ◼
---