Angie Aparo
Child Of The Revolution
Andrew Ellis
I'm chatting with Angie Aparo as he weaves his way home from a Nashville recording studio; yet, the hectic mid-afternoon traffic is barely any distraction as he delivers a forthright indictment of the current relationship between artists and record companies.
"I believe we are at the front end of a renaissance," the Atlanta singer-songwriter says emphatically. "It is SO time for a model change. The business of music encourages sameness so it can sell things to past audiences, but my whole philosophy is that music is a reflection of my life. Life changes constantly and I don't think artists should be stuck in the confines of a business which doesn't really encourage change. I have always had that attitude, I have always been defiant."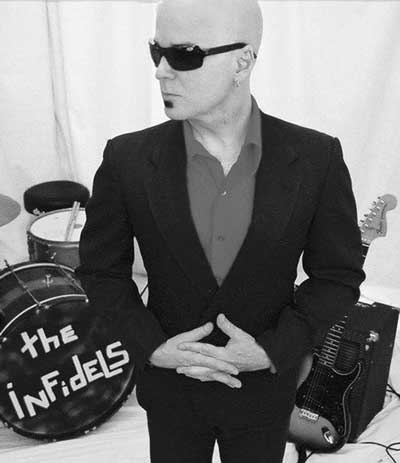 Few artists and bands would argue with his assessment of the state of play within a hugely one-sided industry in which the labels hold all the power, but equally, few have the vision and courage to try and rectify it. So, how exactly does the writer of such hits as like "Cry" by Faith Hill and "Big Time" by country sensations Big & Rich intend to redress the balance of power?
Simple. By using the Internet to harness a revolution in the way artists release and distribute music and interact with fans.
Despite his work as a writer for other artists, the singer-songwriter's main focus is currently his new band project, Angie Aparo and the Infidels. And at the same time as readying new material, Aparo has been in the process of developing a content-driven web site to enable him to remain in control of his own music and destiny. It's not the technology that is radical, it's how he hopes to utilize it.
He explains: "The most exciting thing going on right now is the Internet. About a year ago I woke up and almost had a vision about it. I had never embraced it before, but one day, I woke up and saw it as a canvas, my art form. I saw this multimedia thing. I had always wanted to make indie films, other forms of art, and I realized this thing is a huge canvas and not just for music. To me, the Internet is like the printing press, it's that powerful. The Internet will become television in a few years. It will make TV look like radio in the 1940s."
Aparo intends the content of his new site to range from exclusive weekly live performances, cameos from other artists and cartoons he is developing. And for an artist with an e-mail list running into the thousands, it's clear he is very excited about the possibilities.
"It is a tool to sidestep the machine of the music industry and reach thousands of people," he says. "You just don't know who is out there and we have a gigantic e-mail list. Once you add in the power of touring to these web casts, a record deal can become more of a partnership. I am interested in thiskind of a deal for the Infidels. It's like, "For the first time in the business of music, can we partnership, instead of you getting 90%?" If the machine wants to come on board with me, I can give them one hell of a kick-start."
Aparo admits developing the content for his new website has been a freeing experience, but just as liberating has been writing, recording and touring with his new band The Infidels, since forming the group with players from his solo touring band in October 2004. After spending the majority of his career as a solo artist, releasing four albums, teaming up with a band has enabled him to do come from a new perspective.
"I felt it was time to make a harder record and I felt lyrically that I had lyrics coming out of me that had more of an edge and were dealing with harder topics," he explains. "And I want to surround myself with a little more dirtiness!"
"We normally play full-band, and the live show is really something. It has evolved into this projection thing, and it reflects the website. But we are doing an unplugged band show for a couple of months. The summer is slow, so it's a good time to play a few dates like that. But the band feels really natural and we were fortunate to find that. We have this rule that if you don't hang out after the gig, you're fired!"
Demos such as "Me and My Jane", "All Her Pretty Ways" and "Spider Song" herald a return to the type of raw, scuzzy rock that Aparo feels is missing from the contemporary scene. The quality of material like "Child Of The Revolution" and "Cold-hearted" certainly isn't a shock, but what does surprise is the involvement of uber-producer Dann Huff – more famous for his polished country pop than a distinctly edgy, lo-fi sound.
"There are these certain producers that you know can produce anything, because they really understand the heart of it," says Aparo, who became friends with Huff after contributing vocals to sessions for the forthcoming Faith Hill album.
"We didn't sign any paper or any contracts, and we just started working artistically in good faith. We'll shop for a deal in next few months, but I will totally release this music with or without a major."
"We did these demos and they sound amazing. We were all in one room, no headphones. Dann's not afraid to go from making a very slick country record to doing this kind of thing, where you cut it and it's almost done. The guy is so musical and he knows when a song has spoken in its rawest form."
Recording with Huff is not Aparo's first foray into a studio with a top producer: after being signed to Arista Records in 1999, Aparo worked with Matt Serletic on his major label debut, The American, which spawned the song "Cry" that Faith Hill would later take to No.1. It's an album and a song that Aparo admits he still holds dear.
"Artistically, it was an amazing experience to work with someone like Matt, and now to find Dann Huff, I have just been fortunate to be around these producers. It was unbelievable. Every now and again I pull that record out and it still stands up to me."
Even though the album was not the commercial success Serletic or Aparo would have hoped for, the success of "Cry" for Faith Hill opened up a whole new avenue for Aparo as a writer for other artists.
"Faith has been a doll to me, she is a great person," he affirms. "The way I look at it is that record was never going to happen for me. It had fallen off, it was barely in stores. But those songs are like my babies and I wanted any of them to find a good home. If that song had to be her foster child to reach people, to me it is a blessing."
Writing for and with other artists has seen Aparo work on some interesting projects recently, including rising teen female vocalist, Hope Partlow. But typically for an artist as individual as Aparo, she is no ordinary teen hopeful.
"I wrote four or five songs that made her record with a songwriter called Kevin Kadish in New York," Angie explains. "Hope is amazing, I was interested in writing for her as with her, it's not a case of the record company selling records based on tits and ass."
One of Aparo and Kadish's collaborations is Partlow's leadoff single, "Who We Are", a song delivering an alternative message in today's materialistic world.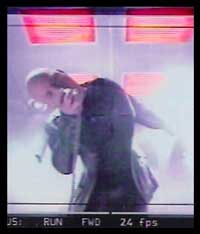 "Kids shouldn't be worried about what fucking tennis shoes they're wearing," he says – with some conviction – about the song's theme. "It's so stupid. This material world is so retarded. The record shows the heart of this girl and it is cool to deliver a good message. People think, "All these things are gonna make my life better," when at the end of the day, it's interaction with yourself that will make your life better."
Such a refreshing perspective from a songwriter is largely absent from a self-obsessed industry, but with Aparo, such a universal truth comes from the heart. The money he derives from writing for other artists is channeled towards developing his website and recording new tunes for The Infidels, and Aparo is grateful for the opportunities his parallel careers in the industry have given him.
"I'm not totally against the business of music – I make a living to support this band by selling songs to other people," he says. "But what I do has definitely allowed me the artistic freedom to let the music really express where my life is, because no-one's life stays the same. I don't know how music can ever stay the same if you're really expressing yourself."
Angie Aparo: http://www.angieaparo.com • http://www.myspace.com/angieaparo ◼
---