Broken Flowers
directed by Jim Jarmusch
starring Bill Murray, Jeffrey Wright, Sharon Stone
Focus Features
There's something strange about Jim Jarmusch's Broken Flowers, something that is hard to really grasp until some time around halfway into the film. There's a certain quality, something abstract, more a feeling than anything really tangible that gives the movie a vaguely foreign quality, as if it were something that couldn't have possible been produced by an American studio – and then it clicks. There are no explosions, not one-liners, and what nudity and wacky moments the film presents are undoubtedly there to serve some greater purpose. Bill Murray's protagonist, Don Johnston (okay, maybe there are a few cheap gags), is quiet, deadpanned, even introspective. The film unfolds at a leisurely rate, with stretches of silence, vaguely artistic shots of airplanes taking off into the horizon. All rare things for a film with honest-to-god star power, in a summer where the title of 'most thought-provoking film from an American studio' is a toss up between Charlie and Chocolate Factory and The Forty Year Old Virgin (and after watching the two back-to-back, I'm opting to the latter – though I have to admit, I've yet to see both Red Eye and The Wedding Crashers).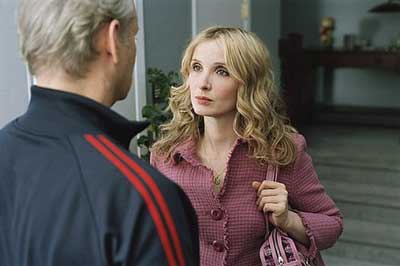 Johnston is a well-to-do bachelor, having made enough money with some vague job involving computers to afford him the luxury of sitting on his leather couch, watching black and white films on his giant plasma screen day in and out, The Private Life of Don Juan the telling choice as the film opens, his current girlfriend, Shelly (Linklater favorite, Julie Delpy) throwing her suitcases into her Jetta, in search of greener pastures. Upon her exit, an anonymous pink envelope falls through the mail slot, informing Johnston that he has a long-lost son. At the insistence of his pulp-mystery-obsessed next door neighbor Winston, portrayed by an exceedingly jovial Jeffrey Wright, Johnston puts his funds to use, buying plane tickets and renting hotel rooms and a series of Ford Tauruses, pay a series of unexpected visits on old girlfriends he suspects of having written the note.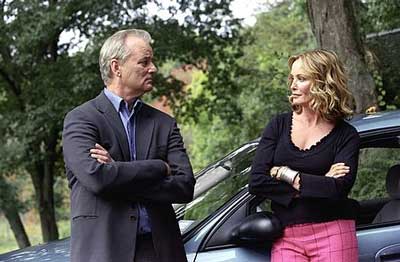 Each visit finds Johnston driving deeper into a forest down a country road, discovering an ex that, given the increasing brevity of each visit, serves as more of a character study, serving more to flush out Johnston's character than any of their own. There's the former wife of a NASCAR driver and mother of a too-fittingly-named young tease, the new age "animal communicator," the detached and uber-organized real estate guru and the hot-headed biker chick. Jarmusch makes the careful decision to not allow his audience the opportunity to get any more attached to any of these women than Johnston's former womanizing will allow, revealing both insight into Johnston's only occasionally alluded-to past, as well as a series of imagined clues as to the identity of the letter writer that would make Winston's amateur sleuthing proud.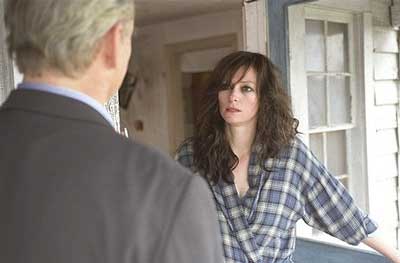 As always, Jarmusch's script and direction refuse the big payoff, but as always, his journey is well worth its own reward, leaving Broken Flowers a beautifully quiet, leisurely but rarely meandering meditation on the detours of life that shape us as people.
Focus Features: http://www.focusfeatures.com
---