Corpse Bride
directed by Mike Johnson & Tim Burton
starring Johnny Depp, Helena Bonham Carter, Emily Watson, Albert Finney, Christopher Lee, Jane Horrocks, Richard E. Grant, Joanna Lumley, Michael Gough
Warner Brothers
No one walks the fine line between kooky and ooky like Tim Burton. Every film he makes has his indelible fingerprints all over it, a dark sensitivity combined with irony, wit and a sense of the macabre, which has established him as a unique storyteller and director. Burton is one of the rare breed of directors that can transfer the visions in his head onto the silver screen. This is especially true with his latest cinematic treat, Corpse Bride, which marks Burton's long overdue return to the world of stop-motion animation that made him famous with Nightmare Before Christmas.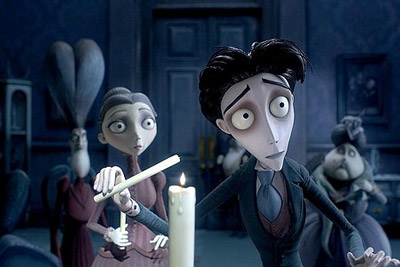 Corpse Bride follows the misadventures of the wealthy and winsome Victor Van Dort (Johnny Depp) who accidentally bumbles and fumbles his way out of an arranged marriage with the equally melancholy Victoria Everglot (Emily Watson) and into a marriage with Emily, a Corpse Bride (Helena Bonham Carter) with a tender heart. As he searches for a way out of the whole mess, Victor experiences love, loss, loneliness, life and death in ways that only a master craftsman like Burton can portray.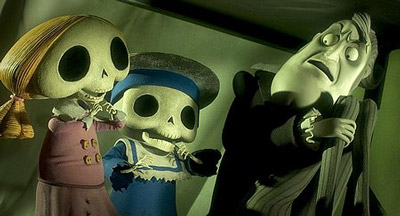 What begins with a botched wedding rehearsal unfolds into a mystical, magical and gothic adventure that appeals to the child in all of us. Burton pulls this off with great flourish and panache, relying on a cast and crew of veterans from his previous films to pull this off. Regular Burton collaborator Johnny Depp manages to hold the whole thing together with a kinetic performance as the tragic Victor. Helena Bonham Carter gives Emily a sense of desperation that brings her character to life. Emily Watson's performance as Victoria is tragic and hopeful enough to make audiences suffer alongside her as she pines for Victor. Christopher Lee and Albert Finney provide the film with a downright scariness that is balanced out by a wonderfully warm turn from Michael Gough as the wise Elder Gutknecht. Richard E. Grant serves as the perfect foil in the role of the lead villain, the diabolical Barkis Bittern, a money-hungry lecherous chap who will stop at nothing in his quest for power and wealth.
However, the real stars of the film are Burton's creative and design teams, who've painstakingly created complex characters, sets and locales (complete with a sly nod to stop-motion pioneer Ray Harryhausen) that are rich with intricate detail and the subtle nuances that make stop-motion animation work well.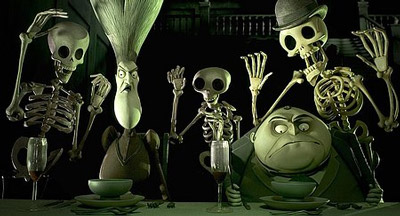 As a result, Corpse Bride may be remembered as the best stop-motion film of Tim Burton's career. This visually stunning fractured fairy tale combines superlative acting, sumptuous animation and wacky characters that exude an endearing charm that is seldom seen from films in the local googleplex.
Corpse Bride Movie: http://www.corpsebridemovie.com
---