Pennywise
H2O, Death By Stereo, A Wilhelm Scream
Orlando, FL • Sept. 23, 2005
Jen Cray
For over 15 years, California's skate punk heroes, Pennywise have been cultivating a loyal following that continuously turn out in large numbers to sell out their shows. The hungry crowds transform venues like Orlando's House of Blues into one large 2,000 person pit. If getting soaked with strangers' sweat, beer, and blood isn't your thing you might want to find a spot in the back to take cover. Me? I'm at the foot of the stage, with the security guards, getting splashed with god-knows-what with every violent guitar chord. all for the masochistic pleasure of photographing the show.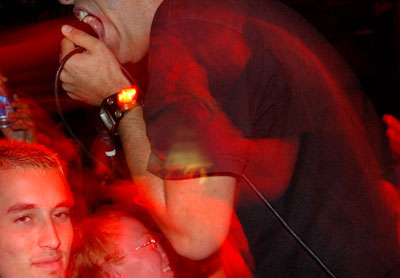 Boston's A Wilhelm Scream kicked off the evening with some average post-hardcore screamo, and So. Cal hardcore/metal hybrid band Death By Stereo took the anticipation of the large crowd and kicked it up another level. It was the ten-year veteran NYC hardcore act, H2O, that really pushed the evening's festivities into high gear. As if their high speed guitar thrashing wasn't enough to pump up the audience, their short but potent political rant about our current government's preoccupation with the situation overseas rather than our own natural disaster in New Orleans achieved an inspired response from the folks in the pit as well as the balcony. Ending their set with "Family Tree" the crowd sang along with the chorus "Roots! Don't forget your roots!" Had the night ended right then, I would have still gone home happy.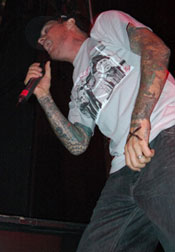 By the time Pennywise invaded the stage, the crowd was shoulder to shoulder and mostly male. A cloud of testosterone hung over the massive floor-spanning pit causing those inside to dance on the edge of violence. Blood was spilled, the wooden floor was drenched with bodily fluids of all kinds, and I got smacked with a beer bottle while shooting. Amazingly, amongst the chaos, I saw a kid who couldn't have been more than 12 repeatedly crowd surfing this mass. What were you doing at age 12? Even vocalist Jim Lindberg commented on the number of young faces he's been seeing at punk shows.

The band mixed in old favorites like "Homesick" with songs off their latest relase The Fuse. They even attempted to give a brief history lesson in Punk Rock 101 to the new kids on the scene by doing a cover of one of the forefathers of punk: "Do you wanna hear Black Flag? Minor Threat? The Ramones? The Misfits?" Minor Threat won out, and walls seemed to shake as the energy of hardcore's past collided with the present.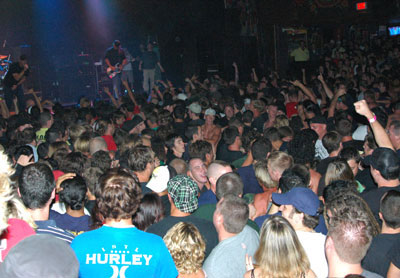 It was a hardcore show worthy of the title, and Pennywise lived up to their reputation for laying down a memorable performance.
Pennywise: http://www.pennywisdom.com ◼
---