Foo Fighters and Weezer
with Mae
Tampa, FL • Sept. 11, 2005
Jen Cray
It was a night of Nineties post-grunge celebration at the St. Pete Times Forum as Foo Fighters and Weezer brought their co-headlining tour to Central Florida. "Welcome to the Foozer tour," Weezer frontman Rivers Cuomo greeted the Tampa audience.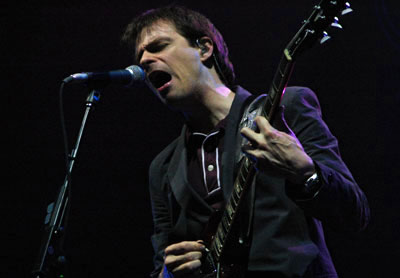 Weezer's latest album is not their strongest, and I'll admit that I went into this show with little expectations for their performance. The stage setup, which mirrored the black and white swirling designs of their album cover brought to life in a 3-dimensional form, pleased me immediately, for it showed that some thought was put into their big arena tour performance. Can nerd rock translate to such a vast space and still be large enough to entertain nearly 12,000 people?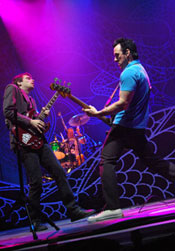 As it turns out, it can. Simple little pop songs like "Buddy Holly," Beverly Hills," and "Say It Ain't So" seemed more expansive; the hip hop-dipped "El Scorcho" sounded better than it did 10 years ago; and "Hashpipe" became an actual rock song! The hour plus set included some instrument swapping, culminating with drummer Pat Wilson on guitar and all three others sharing the drumset – some guitar god posing, and a surprise acoustic encore by Cuomos in the middle of the audience. Of course just as Weezer has stepped up their game to a higher level, they have begun rumors of a possible breakup after the tour. If this ends up being their swan song, at least they'll be going out on top.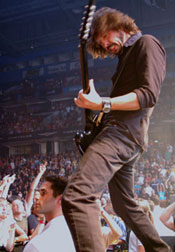 After a quick set change, hidden from the crowd by a circular black curtain covered in what appeared to be buttons but were actually tiny lights, the Foo Fighters stepped onto a Florida stage for the first night in ( "How long has it been since we've been around these parts?" Dave Grohl asked the crowd) a long fuckin' time. A teasingly dark and quiet "In Your Honor" segued directly into a blistering "All My Life" to kick off the night.
Grohl was all over the place, frequently jumping atop a black box positioned directly next to yours truly, and drummer Taylor Hawkins plays like Animal released from The Muppet Show's confines, but the other two guys… I mean, can you even picture in your mind what they look like? Probably not, and even seeing them standing a few feet away from you doesn't do much to imprint a lasting impression. Nate Mendel (bass) and Chris Shiflett (guitar) they're just kind of there, keeping the rhythm. Grohl is the power and Hawkins is the driving beat and, thankfully, their cumulative energy is enough to carry the performance.
The generous set included "My Hero," "Learn to Fly," "Everlong," and an extended version of "Stacked Actors" that showcased Hawkins skills on the skins. Pausing little between songs, Grohl's singing is every bit as consistent as his drumming –of which we were treated to near the end of the night for "Times Like These," when he and Hawkins swapped roles.
"Foo Fighters"
Dave Grohl is a man of many skills and a seemingly short attention span. He can sit in on drums with Nine Inch Nails, Queens of the Stone Age, Garbage, Killing Joke and start a side project with Motorhead's Lemmy Kilminster (Probot), but at the end of the day Grohl seems most confident fronting the Foos. Born out of tragedy, Grohl's large presence and unavoidable charisma has elevated the Foo Fighters from its inception as a rebound experiment, ten years ago, to the established Arena Rock band they are today.
Foo Fighters: http://www.foofighters.com • Weezer: http://www.weezer.com ◼
---