Downhill
the making of a movie
Brittany Sturges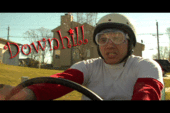 Ask people, if given the chance to meet their favorite director, what is the one question they would ask? Guaranteed, you'll get a wide variety of answers – "what's your favorite movie?" or maybe "what was the first film you saw in theaters?" For seven Temple University film majors, their question is simple, "Would you please watch our movie?"
What's so original about film majors asking the director of their choice to watch their movie? Well, these seven students made their very first full-length movie – a task most film students don't even attempt until grad school. They – Shane Bissett, Joe Gariffo, Patrick Carr, Frank Cordalluzo, Chris Galanti, Sam Hough and Jason Rihaly – decided they were going to be among the few to film a full-length and they would do it over their winter break. After creating the idea, the script was written in two weeks by director, Shane Bissett, between classes. The guys cast people, mostly friends, for the acting roles and raised a budget of $1,113 – out of their own pockets. Production would start on December 8, right after school let out. That's when the fun began.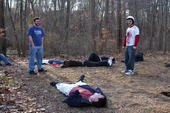 Location was one of the largest problems. The school that the crew wanted to shoot in, would only let them film if they donated a sum to the school district. With a small budget, it was impossible. Thanks to a few connections, the crew was able to film in two high schools, on weekends. Yet there were a lot of scenes that had to be shot outside. Deep in the middle of New Jersey, the weather reached as low as 20 degrees, and wardrobe consisted of t-shirts and hoodies. The cast was affected by the frigid weather; everyone was miserable. "That's why so many films are shot in L.A." said Bissett.
Time was another issue; the guys decided that they were going to film until December 23. That's 11 days of filming. Most Hollywood films get about six months. With every hour held valuable, sleep was not really an option. Exhaustion really started to affect the students. One night, while asking for directions at a local store, Bissett walked out and climbed into the passenger seat of someone else's car. The guys slept for three hours at the most and in some of the most bizarre places. "I remember we feel asleep on the floor of the pool hall that we were shooting in," said Joe Gariffo, who plays Jonah, the main character. Besides sleeping on set, the guys also camped out at Chris Galanti's house, only to be woken up by his Golden Lab, Max – a scene they jokingly compared to Jurassic Park.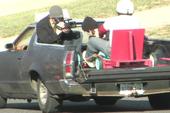 Giant dogs weren't the only things they had to dodge; there were a few run-ins with the police. With no license or such, the film was shot in various locations, including someone's backyard. It seemed ideal, with perfect atmosphere and a good amount of space; yet, the space was also shared with several other neighbors. The scene being filmed involved a murder and someone called the police. The scene was complete; Bissett and another cast member were cleaning up when they were told to drop what was in their hands and turn around. There were two police officers, guns raised, wanting to know what exactly was going on. After several minutes of explanation about making a movie, the guys were let go – only to be stopped by police a few days later. The movie, which involves an annual soapbox race, called for a race scene. The crew shot on a one-way street that was a bit more deserted than others. While filming, a police officer stopped them to warn them to be mindful of traffic.
The boxcars were one of Bissett's worst nightmares. A good portion of the budget was spent building them and they weren't finished in time. Once they were completed and filming resumed, things started to go wrong. Brakes wouldn't work; steering became impossible. To solve that, the boxcars (and Gariffo) were rigged to a flatbed El Camino. Another scene that involved a lot of headaches was the infamous fight scene. Due to no available space, no license and two previous encounters with the police, the crew decided that a gun fight just wasn't going to work. Instead, they came up with an alternate scenario that was both comedic and didn't violate any laws.
In a period of 11 days, despite numerous obstacles, the cast and crew of Downhill completed filming. Post-production began, as well as school. The seven students decided that they wanted to show their film to others and almost convinced a local Jersey theater to show it. Yet the theater refused to show the film because it wasn't rated by the MPAA. Bissett placed a call to the MPAA, only to find out that it would cost at least $2,000 to get a rating – $2,000 not in the budget. So instead of giving up, they were able to screen it in front of a few of their peers and from there, it has all been, well, uphill. After receiving feedback, the guys decided to re-shoot some scenes. Yet, as Galanti said, "We're happy with what we did, but we want this to be over." In retrospect, the students agreed that it was memorable and something they couldn't have learned in the classroom.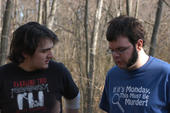 Now, the Temple students hope to show Downhill, to more viewers and have even asked Rob McKittrick, director of Waiting, to watch it. Despite all the obstacles and wrong turns, things have turned around. It's all uphill from here.
Downhill: http://www.downhillthemovie.com ◼
---