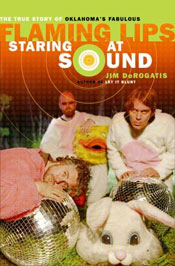 Staring at Sound: The True Story of Oklahoma's Fabulous Flaming Lips
by Jim DeRogatis
Broadway Books
"lips"
Admittedly, the story of the Flaming Lips is hard to beat in terms of sheer inspiration. Misfits make good in the rock world and don't become assholes? Yeah, I'll have some more of that, please. Somewhere between Beach Boys perfect pop striving (bearing gorgeous fruit in their later albums), British psychedlia/eccentricity, hardcore noise, and a peculiar brand of rugged individualism that sprung up from the darker corners of the nascent American alternative movement – one that gave root to stellar collectives like the Butthole Surfers, Scratch Acid, and Big Black – the Lips made it, and made it big.
The basic plot of Staring at Sound (and it does feel more like a fanciful story than gritty, tragic rock truth, which is fine by me, we need some new myths) follows Wayne Coyne and his fellow travelers from nowhere restaurant jobs in Oklahoma City into the heart of the burgeoning "college radio circuit" where they make a name for themselves with warped noisemaking and psychedelic fearlessness. Band members come and go, the sound becomes honed down to the early 90s radio hit, "She Don't Use Jelly," and stardom (and Lollapalooza) follow.
As the alternative boomlet died down, the Lips went underground, reinvigorating themselves with art-for-art's-sake experiments like Zaireeka and preparing for their next transformation. Utterly disproving the maxim that there are no second acts in pop, the Lips pushed aside the one-hit wonder albatross that "Jelly" had become, to melt everyone's brain with the day-glo baroque of Yoshimi Vs. The Pink Robots, The Soft Bulletin, and live shows replete with grand theatrics enacted on a less-than-shoestring budget.
That same visual presentation (on which they put a lot of emphasis) is the thing that I personally like best about the Flaming Lips. Their strong streak of DIY amateurism and fuck-it independence puts them more in the peer group with John Waters, Russ Meyer, William Castle, and Ed Wood. Tell me you don't see some Plan 9 from Outer Space or Desperate Living in Wayne's high-camp face smearing with stage blood or using a hand puppet to sing songs to? The earnestness/cheap kicks are peerless. Apparently, you can see the band and roadies communally unstringing and decorating the stage with miles of Xmas lights before every show. Not only that, but the still-unfinished Christmas On Mars film seems to be shaping up into a beautiful gonzo mess, like Apocalypse Now with heart.
Much like Jim Greer's in-the-trenches camaraderie with Robert Pollard in his similarly textured Guided by Voices biography, author and Chicago rock scribe Jim DeRogatis is thick as thieves with the Coyne camp, which mostly robs Staring at Sound of objective analysis, but being the authorized biography has its advantages. What Staring… lacks in critical analysis or hindsight it more than makes up for with closeness and access, particularly in terms of material on and from the more reclusive of the Lips camp, Messrs. Drozd, Fridmann, and Ivins.
So maybe DeRogatis is caught numerous times pulling his punches as to the authoritarian habits/personality of Mr. Coyne (I don't think this soft pedaling was necessary: the man's sunshine personality would still win the day, even with a skeptic like me). Or maybe he lets others tell how Coyne might be a little hypocritical for steeping himself in druggy imagery while remaining almost totally straight edge himself or how Wayne hates sharing the spotlight. DeRogatis even censors himself in relating all of Coyne's horror stories about touring with Beck. (Legality be damned, release the tapes!) But ya'know what? Boo fucking hoo, because I finally got the inside scoop on Mercury Rev's Jonathan Donahue and his mysterious involvement with the Lips, and that means a lot because except in oblique he said/she said style, it's never been covered in depth before. Cheers, Jim.
Oh, and another perk of being seen as "in" the Flaming Lips tribe is Michelle Martin-Coyne opening up her admittedly top-shelf photographic archives to provide all manner of crucial visual documentation of history, Lips-style. And we all know how I worship the Image. That said, I can't let pass how the cover design is near horrific in its garishness, somewhere between a sheet of acid, a band headshot, and the paint scheme to a public library auditorium from the mid-1970s.
DeRogatis' writing is straightforward and reportorial, a little vanilla at times, but this makes him, as in his Bangs book, the ideal biographer for such a project. A linear, considered, "just-the-facts" style journalism is best for telling this tale. He doesn't try to outfreak the freaks or show off his bonafides so the band at all times takes center stage. He only injects himself into the story maybe four times, and one is a self-deprecating anecdote where Wayne cracked wise about his girth. If you've ever wondered how the Boredoms' Yoshimi P-We reacted to being name checked on a Lips title, well, friend, DeRogatis brings the quotage! And a photo of her and Drozd palling around to boot. Face it tiger, Jimbo leaves no stone unturned in this tale.
---