Ministry
Revolting Cocks, Pitbull Daycare
Orlando, Fl • July 8, 2006
Jen Cray

The Masterba_Tour_ is the Al Jourgensen show. Headlined by Ministry and also featuring Jourgensen's longtime side project, Revolting Cocks , it's an evening of industrial, experimental metal, and mayhem.
Pitbull Daycare opened the night, a ban who unapologetically rip off AC/DC's moniker on their drumkit, PB/DC. Coming across as a heavier, more successfully skillful Korn, the most entertaining thing about PBDC was guitarist T.C. ("Bird" he goes by) and drummer Jason ("Shakes") West who were responsible for the more metal aspects of the band's sound. For the last moments onstage, the band did a respectable cover of Motorhead's anthem, "Ace of Spades."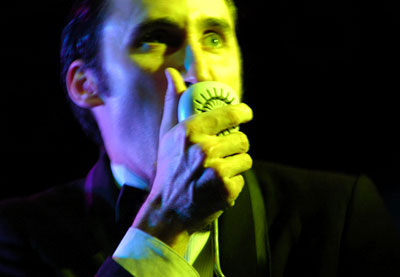 The Revolting Cocks are an experience best seen rather than explained, but I'll do my best. Described on their MySpace page as "Industrial / Southern Rock / Jazz," RC have somewhere in the range of 8 members. Three different vocalists take turns with the bullhorn microphone- each with their own unique flair for fashion and tone of voice. Added to the multiple frontmen, you've got the aforementioned Jourgensen on guitar and former Hanzel und Gretyl (a band that out-shocked Marilyn Manson in the pre-_Antichrist Superstar_ days) bassist Anna K. All these colors, added to an already eclectic palate, made for one helluva show!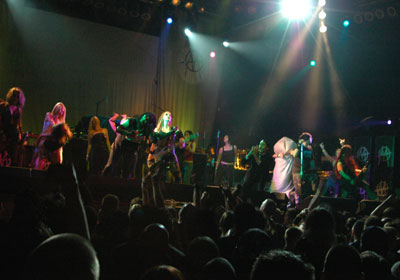 The set ended in an encore during which a dozen girls from the crowd were brought onstage and encouraged to dance/strip, or whatever else they may be willing to engage in. "I've got a video camera," vocalist Josh Bradford often reminded the crowd. While the Cocks' did a cover of Rod Stewart's "Do You Think I'm Sexy?" the girls performed an amateur exotic dance alongside someone dressed as a large penis. By the end of the song several of the ladies had torn off Bradford's clothes… maybe he got his videotape wish later on after all.
"Ministry2"
Ministry have been around since 1981, so needless to say, the crowd was overzealous to stand at the feet of one of the originators of industrial music. Al Jourgensen hid himself behind an elaborately fashioned skullified mic stand, and lost himself in the darkness. Chunky guitars, lead-heavy beats, and Jourgensen's distorted vocals filled the House of Blues with a metal/punk/industrial blend. Mixing old favorites with new politically-sharp tracks from the band's latest release, Rio Grandé Blood, the Ministry of today includes a recognizable lineup of metal veterans, with members of Danzig, Fear Factory, Prong, and Slipknot.
Al Jourgensen is a legend within his niche of music. Not as pop culture savvy as Trent Reznor, but every bit as important and influential. The man is nearing the big 5-0 mark, yet can still juggle two full sets per night- quite a feat.
---