Thursday/ Rise Against
Circa Survive, Evergreen Terrace
Orlando, FL • Oct. 23, 2006
Jen Cray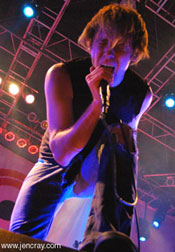 Joining forces on a co-headlining tour, Rise Against and Thursday are bringing their seasoned skills to mid-sized theaters this winter. Switching off closing duties from night to night, Orlando had New Jersey's Thursday in the top billed position.
Florida's own rising screamo band Evergreen Terrace made their House of Blues debut opening for the soldout double feature. "Last time I was here, I was right back there (pointing) and Mike Ness was on this stage," confessed vocalist Andrew Carey- who strikingly resembles actor Paul Bettany (he was in A Beautiful Mind, Master & Commander and A Knight's Tale… look him up, you'll recognize him). The band had a lot of proud friends/fans in the audience who gave them an almost unheard of amount of attention for an opening act playing at a very early 7pm.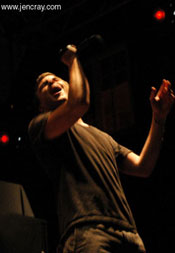 Circa Survive have a sound as unusual as their name. Frontman Anthony Green (former vocalist for Saosin) has a way of singing that's somewhere between Bjork and Perry Farrell. Their music isn't as spectacular as those legends (at least not at this stage in their early career), but what they do offer is an ambitious dynamism that- while performed almost exculsively in the dark shadows with the occassional strobe- is almost performance art. Their cover of Duran Duran's "Ordinary World" is a wonderfully quirky choice for the band, but may have gone largely unidentified by the so-not-new-wave crowd.
As well received as Thursday would prove to be, the night belonged to Rise Against. As soon as the band's fist logo was illuminated the pits began to pick up speed with bodies tumbling overtop. The politically charged lyrics atop the overblown hardcore punk explosions of guitar are the juice that keeps the mohawked youth burning. Vocalist/guitarist Tim McIlrath is sneaking himself into the modern punk canon alongside Davey Havok, Fat Mike and Tim Armstrong.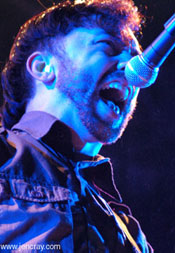 "The crowd for Rise Against was craaaazzzzzy!" my security guard buddy, Matt, told me, after their exhausting set that resulted in unanswered cries for "one more song!"
The lack of an encore did little to quell the enthusiasm of the HOB audience. The mounting excitement for Thursday's first full Central Florida show (excluding the 30 minute Warped Tour set, of course) in quite some time was near hysteria by the time the lights fell once more.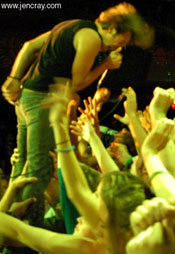 Geoff Rickly, Thursday's contortionist frontman, likes to spend a good amount of his band's sets in the arms of the crowd. Jumping into the front rows of reaching hands one song into their set, Rickly is a man who knows that screamo is much more entertaining when sung from within the crowd of screaming fans. It is his sweat drenched approach to performance that has elevated this band to near cult status amongst their followers. The music is otherwise unmemorable.
To see more photos of this and other shows go to [www.jencray.com](http://www.jencray.com/bands_live.htm).
---