Window Seat: The Art of Digital Photography & Creative Thinking
by Julieanne Kost
O'Reilly Media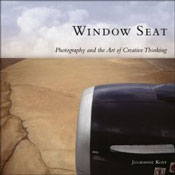 What do you do if your job requires you to travel all over the world, but you're afraid of flying? If you're photographer and Photoshop evangelist Julieanne Kost, you use your artistic sensibility to refocus your attention. Julieanne spent five years flying around the world, looking at the world passing by her window seat through the lens of her digital camera. For Kost, this allowed her to focus on creating images of clouds and landscapes instead of her discomfort with flying.
Window Seat is the fruit of Kost's work. The book has three distinct elements. The most obvious element is the fantastic images. The images range from abstract cloudscapes to impressionistic images of the world below. When viewed from above, fields become amazing geometric shapes, rivers snake across the image and mountains look like frozen grey waves. It's worth picking up Window Seat for the images alone. You can simply pick up the book from time to time and lose yourself in the wonderful images.
The second element of Window Seat is the text that accompanies the photographs. These texts are meditations on creativity. These words provide inspiration for artists and encouragement to seize the moment. The third element is a fairly advanced discussion of how to use Photoshop to improve and create better images. Julieanne uses examples from her book to show how she manipulated her images. She also offers advice on orgaizing and managing digital images. This is the part of the book where Kost is largely talking shop with other photographers and Photoshop fanatics.
While some of the shop talk may go over the head of casual readers, the book works on so many levels that it really doesn't matter. You can look at the images for their beauty, read the texts for inspiration and if you get serious about Photoshop, then the shop talk will give you some great tips.
---