The Oaks
Jason Choi & The Sea, The Northerness
Orlando, Fl • Jan. 6, 2007
Jen Cray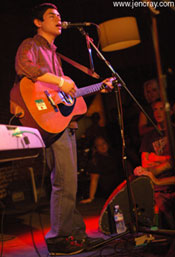 A featured profile in both the local weekly and in the Orlando Sentinel newspaper helped to pack The Social for The Oaks' first ever headlining gig. With the three bands billed all calling Florida home, it was such an impressive demonstration of a supportive "scene" that the show was very nearly sold-out. After a holiday month in which the concert circuit was pretty barren, the whole town seemed raring to get out on the town and see some live music again.
The Northerness , with The Oaks' drummer Matt Antolick filling in on drums, set the tone for the night. Their folky indie tunes, with both male and female harmonies, were quite Iron & Wine with perhaps a touch of The Decemberists tossed in. Following after was Jason Choi & The Sea , another low key folkster whose voice is similar to Ben Gibbard (Death Cab For Cutie, The Postal Service). All in all, both acts were talented musicians with well put-together songs, but a little lacking in "umph!" It's folk music- I know- I don't expect a pit, BUT I still want a little bit more.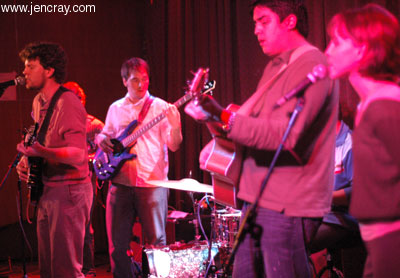 After a patience-wearing stage setup- in which the sound guy and the band didn't appear to be on the same page- The Oaks played their second "real" show as a band. Though some under-18 kids had gotten turned away at the door ("That sucks, man!" I watched the four kids in front of me exclaim as the doorman broke the bad news to them), inside the club was shoulder to shoulder.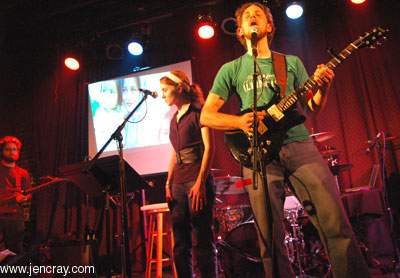 At the band's core are founding members Ryan Costello and Matt Antolick, who play with an array of musicians, depending on who's available. On this night they shared the spotlight with five other musicians and the instruments onstage included a Zen drum, an accordian, a trumpet and a pianica.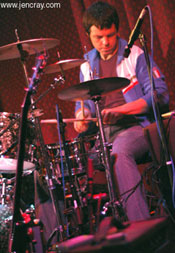 While the band wisked through songs off of their debut album, Our Fathers and the Things They Left Behind, photographs that frontman Costello took while spending two years living with refugees in Aghanistan were shown on a screen behind them. Both Costelo and Antolick also spoke a bit about the band's humanitarian efforts ("50% of PROFITS FROM EVERY CD SOLD GOES DIRECTLY TO GLOBAL HOPE NETWORK TO AID WIDOWS and REFUGEES in AFGHANISTAN").
With this band there's such a message of hope and positivity that it's impossible to walk away from their performance without a feeling of warmth and invigoration. Even if the music- which is worldly without being "world music," folky without being "hippy"- isn't your thing, this is still a band to open your ears to.
To see more photos of this, and other, go to [www.jencray.com](http://www.jencray.com/TheOaks.htm).
---