Fair To Midland
Vocalist Darroh Sudderth & Keyboardist Matt Langley
Jen Cray
Fair To Midland are blessed- and cursed- with the title "the first band to be signed to Serj Tankian's label." The Texas band has found themselves on their first major tour, opening for Japanese metal act Dir En Grey. Vocalist Darroh Sudderth (whom you shall soon deem to be one of the most courageous singers in rock music today) and keyboardist Matt Langley practiced their interviewee skills with me ("we're still getting used to be interviewed," they confessed) outside of Orlando's House of Blues just before the second night of the big trek.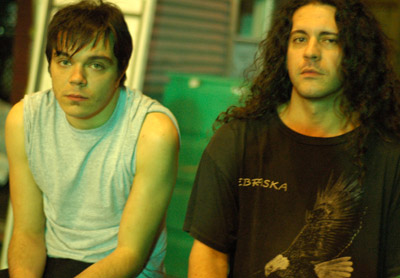 The comparisons your band has been getting are all over the place. I've heard Tool, Dream Theater, The Mars Volta. How do you feel about such a wide array of comparisons?
(Darroh Sudderth) It could be worse. I'm sure, to some extent, we've got a keyboardist so right off the bat we're gonna get thrown into some prog rock genre.
(Matt Langley) I love it, I think it's great. I love that people hear all kinds of things in it.
Serj had offered to sign you after seeing only one show. Did you know that he was going to be at that gig, and did that freak you out or pump you up?
(M) Both. I would say both, to some extent.
How did it end up that he was there?
(D) We were good friends with an acquaintence of his that works at Serjical Strike, and he- obviously- worked it where Serj could come out and see us.
How long had you been a band before signing?
(D) About 7 years… but for the first 4 or 5 we weren't any good.
Is it safe to say that this is the biggest tour you've ever been on?
(D) Uh, yeah.
(M) (deep sigh) Yeah, I'd say so.
(D) It's pretty much our first "tour-tour." The rest of 'em were all done ourselves, really small venues.
Are you still touring by van, at this point?
(D) We have an RV, but we didn't bring it this time just because we were afraid it wouldn't run.
(M) Yeah, she's not in very good health right now.
Does she have a name?
(M) (thoughtful surprise) No.
(D) I just always call her the "land whale."
What's a typical day of touring like for you guys?
(M) Drive, drive, play, sleep, drive. (Laughs) That's kind of how it goes.
(D) Yeah, it's pretty uneventful. We're not a big party band, so there's not drugs or girls, or anything like that.
(M) Not that we don't want to we just don't get invited.
You seem to take a lot of chances with your vocals. Who inspires you vocally, or as a frontman?
(D) I think that I like a bit of everything, and because of that, I try a bit of everything. Seems to be the case. I'm not a singer, it's just being resourceful. Trying to find ways to make it do.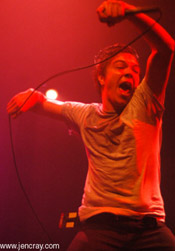 (M) In the beginning, weren't you the bass player and you became the singer just until someone else came along?
(D) Yeah, I was originally the bass player in the band, and we couldn't find a singer so…
(M) He got stuck with it. Poor bastard.
(D) Yup. It's a lot of responsibility.
Since Serj- and of course System of a Down- is known for his political activism, is Fair To Midland gonna have a political voice in music?
(D) I think System of a Down, and Serj esspecially, is more informed than we are. We're not gonna sit up and take a stand on something if we're not covered on all the bases of whatever the issue might be. So, there are undertones in one or two of the songs, but for the most part it's just not politically driven.
(M) Yeah, I don't think any of us is enough politically aware enough to have a statement we'd want to make at this point.
Are you all into different types of music?
(M) Pretty much, we are. It's kind of a miracle that we can make it all work as a unified whole… I'm a huge fan of the Tool and A Perfect Circle records. I like Queens of the Stone Age quite a bit, I'm a huge Nine Inch Nails fan, and Marilyn Manson… Tori Amos, J. S. Bach.
(D) The majority of it just consists of piano driven rock and a lot of electronic music. Aphex Twin, Orbital. I like a lot of the 80's indie pop stuff like R.E.M. I like Sunny Day Real Estate. I like a lot of the delta blues, too- Leadbelly, stuff like that. I like bluegrass a lot, too. It's pretty eclectic. I think that the first two albums I ever got were R.E.M. Automatic For The People and 36 Chambers by Wu Tang Clan. (Laughs) If that tells you anything.
What was the first concert you ever went to?
(D) The Reverend Horton Heat.
(M) (Laughs) Prince & The Revolution- the Purple Rain tour.
I bet that was a good show!
(M) It was a good show. That was a big show. It's quite a first impression as far as a first live show goes. It's hard for anyone to follow that. You go to your second show and you're almost guaranteed a little disappointment. That kind of expectations are high.
Are you excited about this tour you're on with Dir En Grey?
(M) Yeah, I'm having fun.
(D) I don't get excited. (Matt laughs).
Why, cause it'll jinx you?
(D) I guess. I don't know what it is, I just don't ever really get excited.
(M) I think he's just prepared for the worst.
(D) I'm always prepared for the worst.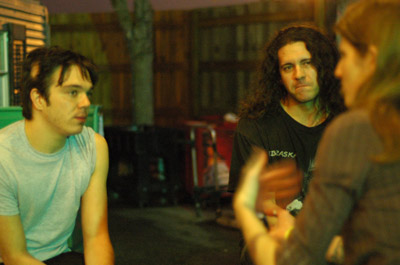 There's been a lot of buzz surrounding the band and your debut hasn't even come out yet. What's going through your heads as this is all building up?
(D) Or what's coming out of it (motions to two large bald patches on his head). My hair, for one. This is anxiety.
(M) A guy in the balcony last night, as soon as we got finished breaking down, asked us if he'd lost a bet.
(D) Everybody thinks I'm the one who gets picked on, or someone buzzed me, or something… There's a lot of pressure.
So there's some nervousness going on?
(M) Oh sure.
(D) The pressure is… it's make or break in the music business, ya know?
Check out more photos of Fair To Midland's Orlando set.
---