Clap Your Hands Say Yeah
Elvis Perkins In Dearland
Orlando, Fl • April 21, 2007
Jen Cray
It could've been called the Bounce Your Feet Say Yeah tour, for that's what the packed house did from the very moment Clap Your Hands Say Yeah took to the Club @ Firestone's stage. The MySpace band's success story is further proof to the old timers thaat a band can be completely independent, throw some songs online, and very quickly build a strong following. At least in the case of CYHSY they've got the good melodies to back up the internet hype. And they're in no short supply of fans, at least not in Orlando.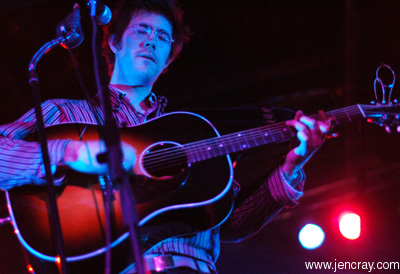 To start off the night, Elvis Perkins in Dearland managed to command attention even with their low key Americana folk leanings. Perkins, who is the son of actor Anthony Perkins (Psycho's Norman Bates) and photographer Berry Berenson, should remind you more than just a little bit of a young Bob Dylan. From his haircut, to his harmonica, to his halfway nasal vocals, his performance took me back to a time before I was born. It was 1965, the Newport Folk Festival, Dylan plugged in and pissed off a whole generation of folk purites. If any era of the man should be chosen to inspire, it's this one, and Perkins rides the inspiration well. For he and his band's last song, the headliners join him onstage for a jam.
The audience tightens, and the drunken blunders begin as the teens who were dropped off at the club by their trusting parents rub shoulders with plastered twentysomethings who wear strange clothes and even stranger haircuts. These sorts of indie dance bands always bring in the oddest assortment of fans, but despite the clashing of cultures, a party is always to be had.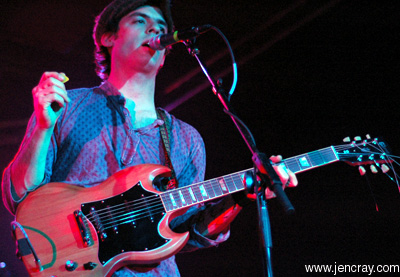 "Satan Said Dance" is a Talking Headsy disco electro pop song about hell being one big dance party. A band that can turn hell into a rave is a band worthy of seeing live, I always say! When CYHSY played this party tune very early in their set the crowd sunk deep into hedonistic bliss. Singing along with Alec Ounsworth's every word, especially the highly contagious chorus of "Satan, Satan," the audience fell quickly into the band's quirky, jagged rhythms.
To see more photos of this show, and others, go to [www.jencray.com](http://www.jencray.com/bands_live.htm).
---