Nekromantix
Time Again, The Heart Attacks, Orange
Orlando, Fl • April 29, 2007
Jen Cray
Sporting hair-dos that obviously took the better part of an hour to sculpt, Orlando's most fashionable punks lined up around the block for the Hellcat tour headlined by pscyhobilly veterans, Nekromantix. Rounding out the bill was a sampling of the label's finest new acts: Orange, The Heart Attacks and Time Again.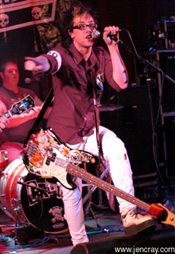 While not the crowd's favorites by any stretch of the imagaination, the young and snotty Orange kicked off the night with a fervent effort. Their cliched streetpunk dorky kids on the playground appearance found them smack dab in the middle of some good old fashioned jeering. "Get off the stage!" was a frequent request, to which the band at first had a sense of humor about, but by the end of their 15-minute set looked to have really caused some scars. It's not that they were so horrible, it was just that they were too too young and too poppy for the crowd. It didn't help matters that they butchered a Social Distortion song either.
The Heart Attacks were taunted as well, but the don't give a shit attitude of vocalist Chase Noles redeemed them, when their Rod Stewart haircuts and Spinal Tap looks should have buried them immediately.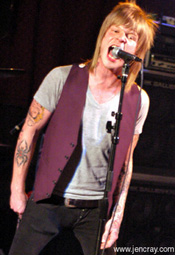 Noles' response to an audience member's critique of the bands' mullets was, "Two words: Receding hairline. At least I can cut my hair, you can't do anything about losing yours." Between that snide remark and criticizing the bar for the price of beer ("Today's my 21st birthday, no shit, and I'm drinking water because beer is $4. Fuck that!"), he provided us with a much needed moment of punk behavior.
The music? Motley Crue meets the NY Dolls, with a bit of 50's greaser boy tossed in. They even did a Slaughter & the Dogs cover if that tells you anything of their authenticity in all things old, dirty and dangerous.
I had reviewed Time Again's album awhile back and I criticized them for being too much of a Rancid clone. Seeing them live does little to disuade me from this comparison (vocalist Daniel Dart even had a Rancid patch on his bands, in case anyone missed the influence), however I no longer care that they obviously bow down to their label's head honcho.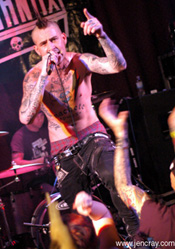 If your copies of Let's Go or …And Out Come The Wolves are scratched all to hell and you can't wait around for Rancid to come to town, I present to you Time Again. "Junkies" and "Broken Bones" will sound terribly familiar to you just like how when you first heard Green Day you thought to yourself, Is that The Clash? But- once again- who cares! The band can hold a stage in a way that should have found them headlining. And this with Dart being sick ("Sorry if I take a little while in between songs, but I feel like shit")! When girls in the crowd are storming the stage to show their panties and dance, you know you've made an impact as a band!
Apparently touring the States with his bandmate's other band (Nekromantix vocalist/bassist is Kim Nekroman- guitarist for Horrorpops, a band led by his wife Patricia) was Horrorpops' drummer Niedermeier, who mingled with the crowd throughout the night, and evantually set up the headliner's equipment before dropping back down into the audience to watch the set.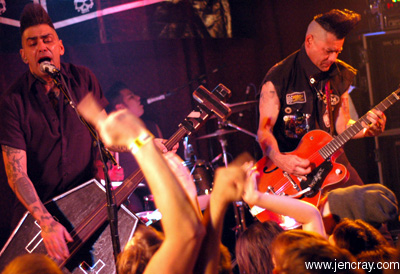 Holding on to his signature, customized coffin-shaped upright bass, Kim Nekroman establishes a commanding presence before he even opens his mouth. They don't give the flashiest performance, but they've got songs like "Nice Day For A Resurrection," which is the sort of goth pscyhobilly punk that so many other bands could spend their entire careers trying to write and never come anywhere close.
Being that Orlando has always been a hotbed for the rockabilly scene, the crowd predictably got themselves in a beer-injected tizzy during their set, which is half the fun of attending these kinds of shows.
Grab a drink, find a safe spot and watch the chaos ensue.
To see more photos of this show, and others, go to [www.jencray.com](http://www.jencray.com/bands_live.htm).
---