Lifetime
The Draft, New Mexican Disaster Squad
Orlando, Fl • April 27, 2007
Jen Cray
Clutching a sopping red napkin to his newly crushed nose, fan number one stumbled out of the venue leaving puddles of blood in his wake… And the first band of the night had yet to play a note.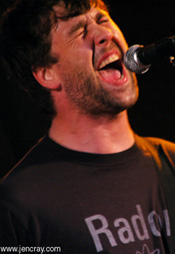 …Ok, so the guy got the face mash by falling off of his barstool, not from a pit or a fight, or self inflicted masochisism. Still, it's a fitting introduction to a punk show!
When NJ's pre-emo/melodic hardcore cult favorites Lifetime announced a reunion last year, fans all over the world started rummaging through their closets looking for the perfect t-shirt to wear to the sure-to-follow tour. When the band then signed to Fall Out Boy Pete Wentz's Decaydance label, many of those same fans denounced the band as sell-outs. The fact that their first album in 10 years picks up exactly where the band left off, and happens to be undeniably good overrode such ridiculous write-offs for many true fans and so it was no big shock that The Social was just about filled to capacity for the band's show with Hot Water Music-spinoff The Draft, and local punks New Mexican Disaster Squad.
Last year when New Mexican Disaster Squad headlined a show at the same place they were blown off the stage by their opening act, Fat Wreck Chords' Western Addiction. This time around the crowd may not have been as pit ready ("Maybe nobody told you, but this is a punk rock show," vocalist/guitarist Sam Johnson egged the crowd on), but the band was a hundred times tighter and more confident. The Orlando guys (whom I often have seen on our side of the stage supporting whatever great punk band happens to be touring through our city) are of the school of 80's punk lead by bands like Black Flag, NOFX and Minor Threat, and they play that music just as well as their leaders. Everyone knows that Gainesville, Florida has served as a mecca for southern punk rock, but NMDS are making a strong effort to put Orlando on that map.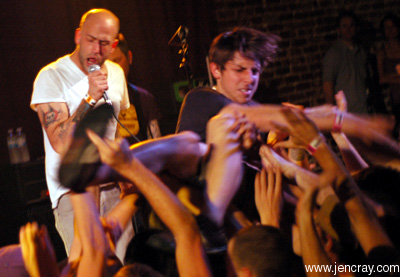 Speaking of Gainesville, in 2005 Hot Water Music split up because vocalist Chuck Ragan wanted to pursue a solo career. Soon after, the remaining members of the hardcore favorites started playing shows of their own (with guitarist Chris Wollard on vocals). Calling themselves The Draft and releasing a promising debut ( In a Million Pieces) on Epitaph, the band very quickly solidfied themselves as more than just a necessary sequel.
The album has some great songs ("New Eyes Open"), but live- I must say- I was taken aback at how great this band was! Playing like a band that has grown up on stage together, which of course they have- they've been playing together since 1994. I saw them that rookie year play a coffee shop opening for a then unsigned Less Than Jake and they were not nearly as tight a unit as they were this night!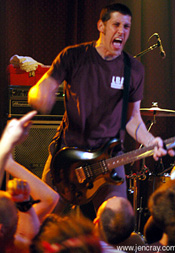 Following a room-pounding performance by The Draft, Lifetime came out and made it very clear why they are such a beloved band. They play melodic punk rock like Rancid or Strike Anywhere, and have influenced many of the bands we all love to hate (pretty much half of the main stage bands on prior year's Warped Tours), but they manage to maintain a certain amount of working class street cred onstage that stems from their desire to put on a good show without pretense. Frontman Ari Katz is a subtle vocalist who walks around the stage, connects with the crowd surfers and screaming fans in the front row, but allows the flashier moments of the show to come from his bandmates. Guitarist Dan Yemin and Bassist Dave Palaitis are the pogo sticks of the group, constantly in the air or leaning into the crowd with animated faces. It's their frantic energy that feeds the pit into a frenzy.
The band threw in some old songs to appease the fans with the receding hairlines ("I know that the average age of a Lifetime fan is 40…" NMDS's guitarist Brian Etherington poked fun at the audience during their early set), but the new ones like "Northbound Breakdown" and "Just a Quiet Evening" stood up to anything off fan favorite Hello Bastards. After just one night, I am now a Lifetime fan!
To see more photos of this show, and others, go to [www.jencray.com](http://www.jencray.com/bands_live.htm).
---