Totimoshi
Vox Palma
Orlando, Fl • May 27, 2007
Jen Cray
'Twas the night before Memorial Day, and not a creature was stirring 'round downtown Orlando- not even inside The Social where RTX and Totimoshi were scheduled to play. Don't most people have tomorrow off?, I thought as I hopped next door to the BBQ Bar to have a drink and so avoid being the very first patron to walk through the quiet venue doors. I debated whether or not to skip the show entirely, but my curiousity for Totimoshi propelled along as I pushed my way through the open air and awaited the evening's festivities… Festivities of which had already gotten pushed back 30 minutes to allow for late fans who never came.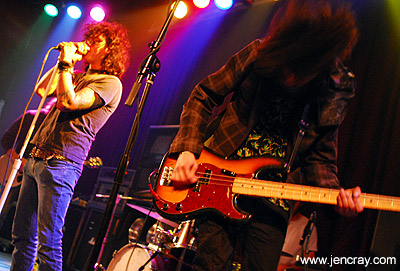 Orlando's Vox Palma jumped from the bar to the stage to play for their friends, who were responsible for the sole element of energy in the audience. The six-strong pack of greasy, stumble drunk rock boys turned the stage into a garage- ignoring the barren state of the room and having a great time with themselves. Like a pack of teenagers hopped up on big gulps and pop rocks, Vox Palma made a lot of fun noise, a good portion of which was too irresistible not to fall a little in lust for.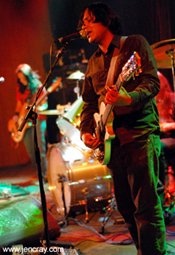 However, the explosive noise that Vox Palma took six people to even touch upon, Totimoshi accomplished easily with only three. The trio from Oakland, which consists of Antonio Aguilar on guitar and vox, Meg Castellanos on bass and vox, and- secret weapon- drummer Chris Irizarry, held the gazes of those of us smart enough to have come with the audio equivalent of an exploding planet. They called upon the mojo of Nirvana, The Melvins, Helmet and The Jesus Lizard while Irizarry was busy communicating with the metal gods of yesteryear.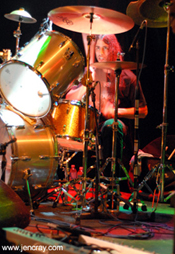 "Viva Zapata" is one of those perfect instrumental compositions that only bands like The Big Sleep have the balls to pull off in concert and still keep the audience captivated.
Are Totimoshi always this on, or were their talents on overdrive for the benefit of Meg Castellanos' father, who was in the audience and seeing his daughter's band for the first time? I don't know, I don't care, but I will find out because any chance I have in the future to see this band play again I will gladly take! Even if it's just me in the crowd.
To see more photos of this show, and others, go to [www.jencray.com](http://www.jencray.com/bands_live.htm).
---