Tool
Orlando, Fl • May 31, 2007
Jen Cray
"Tool doesn't approve photo passes, and even if they did let you in, Maynard turns his back on photographers."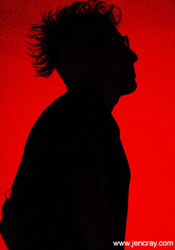 Such was the statement I was told by a number of photographers and music industry people in the know. Can't hurt to try, I thought. So I put in for the request, and didn't get my hopes up.
Imagine my surprise when the day before their Orlando date I got the news that I was in. Not only in, but one of only three in Orlando allowed the privilege of standing at the foot of the Tool stage for one song (albeit, that one song was said to be nearly 10 minutes in length!). Shock! Awe! Excitement! I was in!
And so began my journey, to stand witness to one of the most inventive, influential and continuously important "metal" bands of the last twenty years. There's the brilliance of Maynard James Keenan, sure, but let's just take a moment to appreciate the unique skill of drummer Danny Carey. I learned, this night, that Carey's massive copper drumkit is actually made of recycled Paiste cymbals. The sheer weight and mass of this kit, mixed with the addition of electronic drum pads, and numerous toms and cymbals of varying sizes, makes this unique kit look like some sort of H.R. Geiger sculpture. It's a fitting piece within the dark aurora that a band like Tool sets out to create on tour.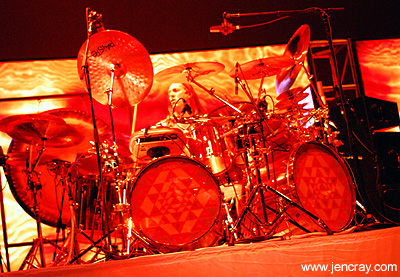 When the band stepped out onto the crisp, white stage, it was to an immediate standing ovation that began a 2-hour celebration of everything this band creates. A particularly overzealous, and daredevil, fan got raised high above the floor fans' heads, standing high on a pair of strong outspread hands. Lights strobed, the crowd roared and the screams of elation that this one fan ignited seem to give voice to the vibe of the arena.
Staying true to the rumors, Maynard positioned himself back in the shadows of the stage, next to Carey's cave, backlit by the massive video screens that played behind him and the band. Much like the Nine Inch Nails performance at this same venue a year prior, Tool use visual art to take their already visceral music to a higher level.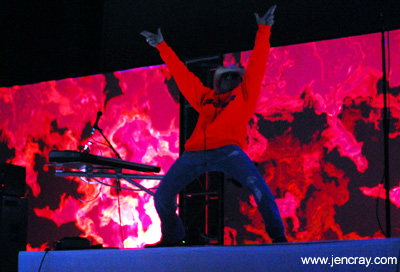 The song I was present for was "Jambi," and it may have only been a small speck of the masterpiece of the evening (and, from what I'm told, it was a performance every inch as incendiary as would be expected), but it was enough to reaffirm any respect I already had for this complex abstraction of a rock band.
To see more photos of this show, and others, go to [www.jencray.com](http://www.jencray.com/bands_live.htm).
---