Jello Biafra
Orlando, Fl. • May 9, 2007
Jen Cray
Listening to some middle-aged man talk about how fucked up the world is isn't exactly my idea of a fun night out … unless the man in question is ex-Dead Kennedys vocalist/lyricist Jello Biafra.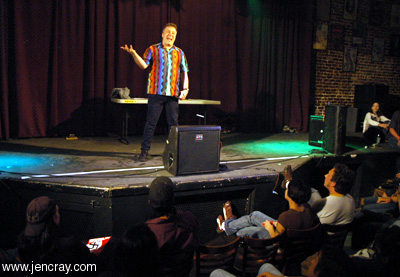 The marquee outside of The Social announced "An evening of spoken word with Jello Biafra," and the line wrapped down the block and 'round the corner. As the audience of punks old and new filed inside, they were instructed to "keep voices to a minimum while Jello is onstage." It was an unusual beginning to a night out at the normally boisterous bar, as was the appearance of chairs lined up in the pit area in front of the stage.
The man who stepped onto the silent stage to a well-earned round of applause was older, and a little wider in the midsection, than the Jello most remember from decades past, but his intelligent bravado and sarcastic sense of humor was very much intact.
"I like your shirt," came a sarcastic jab from an audience member when Mr. Biafra took off his jacket to reveal a brightly colored Hawaiian shirt. To which he replied with a "thanks," followed by an explanation about the store he bought it at followed by the philosophical thought that "life's too short not to wear brightly colored socks." Jello, as he showed us all, was wearing bright red socks with orange flames.
This is a man with a sense of humor, a man who can come up with words to live by about socks. He may not have a band behind him, but this was very much promising to be a punk rock show. Mind you, a punk show scheduled to be four hours long and involve no music, no pit and no stage diving.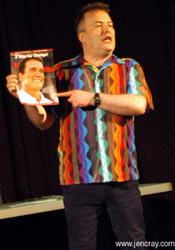 The spoken word that followed was not your typical college coffehouse open mic. With eight albums (the latest, In the Grip of Official Treason, being a monstrous triple disc) to pull from, he read long poetic ramblings and rants on the oil-grubbing zombies in the White House ("Die For Oil, Sucker") and the always-entertaining clown from Texas in charge of it all ("Ass Clowns In Toyland"). Not that all of Jello's creative anger was channeled into pointing out the obvious flaws in Washington, D.C.; he also took jabs at Arnold the Governator, as well as his former bandmate (and the man responsible for smearing the Dead Kennedys' good name), East Bay Ray.
Though it could be said that he was preaching to the choir by standing in front of a crowd of obvious leftist thinkers (could you imagine a Republican stumbling into a Jello Biafra show? It'd be like Dick Cheney lining up to listen to Michael Moore speak), it was nonetheless a thought-provoking evening that not only allowed the frustrations of a country to be vocalized but gave us all the chance to find some humor in the absurdity of it all.
To see more photos of this show, and others, go to [www.jencray.com](http://www.jencray.com/bands_live.htm).
---