Blue Monday: Fats Domino and the Lost Dawn of Rock 'n' Roll
by Rick Coleman
Da Capo Press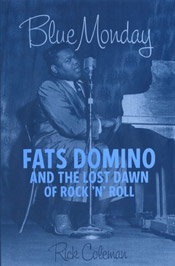 Like most biographies, Rick Coleman's painstaking look into the life of Fats Domino features about 30 pages dedicated to pictures of the renowned R&B singer onstage and off. Along with them is a number of posters, flyers, and ads for upcoming Domino performances and revues where his cherubic, smiling face is figured prominently.
The citations for those ads and posters may go unnoticed by most readers, but I think it is there that Coleman plays his hand a little too loudly. After each description of the facsimile are the words author collection. It is here that Coleman is letting us know, without saying but two words, that this is a fan's book – written by one, intended for one.
The author's central thesis is a laudable one – that Domino's music carried the nascent seed of rock 'n' roll, the notion of which has long been overshadowed by the work of other musicians who came along right after him (Bill Haley, Elvis Presley, Buddy Holly, the Beatles, etc.).
Yet, Coleman quickly turns into a scratched 45, returning to this idea again and again, and saddling the book with painstaking details about Domino's life on the road and his recording sessions. Where the gouge in the vinyl is the deepest is when the impact that Domino had and has had on popular music as a whole is brought to bear again and again. For this, Coleman sought out as many first person interviews or quotes from musicians that make any statement about being moved in some way by hearing Domino's music. In certain sections, the book stacks these quotes one on top of the other like a Biblical text, as Domino begets everyone from Creedence Clearwater Revival and the Beatles to Gary Lewis and the Playboys.
What this biography lacks is any real idea of what Antoine Domino was really like. We are given a bit of biographical detail about his upbringing and his early forays in music, as well as some talk of his troubled marriage, but scant little else. This could simply be because Domino was, and still is, curiously tight-lipped about his personal life. What Coleman was able to surmise about his marriage seems to have come from the newspapers (the filing for legal separation in 1960 by Domino's wife, Rosemary, was apparently front page news in The Lousiana Weekly) because when questioned about it by the author, Domino's only response was: "It wasn't nothin' too much. I didn't know what it was all about."
What it apparently was about was Domino's cheating, money problems, and drinking. Any hard evidence, however, is brushed past or viewed with a kind of detached humor about them.
It is in that way that Blue Monday falters most. Coleman has put together a furiously positive book with every quote from Domino's collaborators, fans, and peers dripping with praise for his playing, singing, and general good nature. What negativity or cynicism that does show up is relegated to a tsk-tsking retelling of certain key moments in our troubled race relations as well as a fair amount of eye-rolling towards the us vs. them world of youth culture. It is there that Coleman starts to sound like a surly teenager poking fun at Steve Allen, Pat Boone and the rest of the squares who just didn't get it.
This is in no way to suggest that Coleman should have thrown Domino's legacy under a streetcar, because a bilious tell-all book about the man's life would undoubtedly have been a much messier tome than Blue Monday. And considering the audience for a book like this – one that looks upon iconic figures like Fats with awestruck reverence – it would no doubt have been torn to shreds by the fans who just want to read about "the good stuff." For this reader though, the biography felt in dire need of some substantive material that could turn Domino into more of a human being than an icon.
Da Capo Press: http://dacapopress.com/
---