Jesse Malin
The Wildbirds, Acute
Orlando, Fl • June 2, 2007
Jen Cray
It was another rainy summer night and downtown Orlando was empty even of panhandlers. The Social was barren except for guest list attendees who hovered around the bar waiting for the music to begin.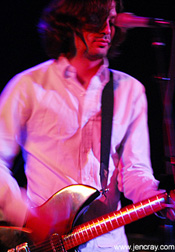 You'd think that the night's bill was a pack of unknowns or local acts who play every week at one venue or another, but the evening's promise had indie rock trio Acute, the 70's southern rock-influenced The Wildbirds, and former D Generation vocalist Jesse Malin. Whatever, I thought, and enjoyed the open space and clean smell of the bar that had yet to be corrupted by hundreds of smokers.
The calm jangle pop and fuzz of Acute did not offer the wakeup jolt the room really needed, but the smoothly appealing vocals of Isaac Lekach sucked me right in whenever the downtempos threatened to cause my mind to wander. While not the most stage-owning band to see live, the L.A. trio make the kind of music that I could easily fall in love with on record. Like all good indie rock, they have a nostalgic element that takes me back to the simpler times of the mid 90's- ya know, when even the sappiest artists had drug addictions and bouts with depression.
If Acute is a band I could fall in love with inside my headphones, then The Wildbirds are a band I could see onstage every night of the week and never grow tired. To say that these young dudes from Wisconsin are influenced by 70's classic rock does not do them justice as a band, or as people. They have been uprooted from 1975 and brought into the 21st century to inject some much needed debauchery back into rock 'n' roll. Like Kings of Leon, they sound like old southern rock and dress the part to a T, but unlike KOL they look like they're having the time of their lives onstage.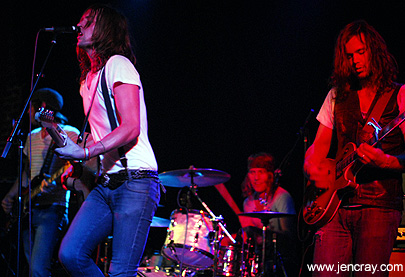 Drummer Jon Jon has got the John Bonham cheshire cat grin, guitarist Matthew has nailed down the mystique of the lead guitarist, bassist Hugh (new to the band, but fitting like a pair of skintight jeans) offers the quietly innocent cool, and then there's the man out front: Nicholas. He's got the drunken stumble of Chris Robinson (The Black Crowes), the guilty smile of a kid who just ate a pound of sugar and knows that he's gonna throw up but doesn't care, and on top of the physical attributes that have custom fit him to head a rock band- he's got the voice that pulls you in and the lyrics to keep you interested. "Shake Shake" is a perfect rock 'n' roll song, but the more initmate "Suzanna" is the one that distinguishes them as a band with something to say.
"We quit our jobs, broke our leases, and went out on tour," bassist Hugh Masterson tells me with the sweetly exhausted energy of a 15-year old who hasn't slept in days. "We're living like gypsies."
By the time Jesse Malin and his band went on, the room had gained some bodies. The once a punk, always a punk Malin may have toned down on the tempo (not to mention the makeup), but the stripped down nature of his solo sounds seem to have connected him even more so with his fans. The place may not be packed, but those that have come out seem to be devout fans who hang on his every word.
There's a certain presence that musicians who have been through decades of musical trends carry around them like a cloak of cool. It seems to say 've seen success, I've seen failure- it all comes and goes, but I'm still here because I love the music. It's this like it or leave it attitude that separate the musicians from the popstars. Jesse oozes this unfettered coolness, and songs like "In The Modern World" and "Prisoners of Paradise" just sound that much stronger when delivered in such a confident manner. We should all hope to be half as cool as Jesse Malin.
To see more photos of this, and other shows, go to [www.jencray.com](http://www.jencray.com/bands_live.htm)
http:// ◼
---