Silverchair
with We Are the Fury
Philadelphia, PA • July 28, 2007
Brittany Sturges
For a while, I wondered what had happened to Silverchair. After all, they were one band that had seen me through a bit of elementary school, all throughout high school and now college. So when I heard that they were going on tour, I was a bit excited.
I listened to the band's 2007 release, Young Modern – it wasn't exactly like their old stuff (think 1995's Frogstomp or 1999's Neon Ballroom), but it still had some pretty good songs.
As I walked towards the Fillmore at the TLA, I happened to look down the side alley; people were stretched down length of the street. While I waited for my ticket, the marquee sign generated a lot of attention from people passing by, all of whom had a Silverchair history moment. I heard one of the security workers telling someone that the show had completely sold out. It had. People walked up and down the block, asking for tickets.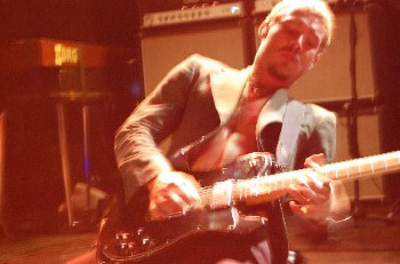 At 8 p.m., the line began to filter through security and into the venue. Many opted to go secure their place at the guard rail, while others made their way to merchandise. After an hour of waiting, Ohio-based band We Are the Fury took the stage. They had a nice blend of the ever popular pop-rock and were trying desperately to get the crowd into the show. However, the audience seemed a bit distracted about what would come next.
Then it was time. As I stood in the photo pit, fans screamed every few minutes in eager anticipation. Some kids against the rail were telling me about how they had driven over 15 hours from St. Louis just to see Silverchair. One fan even had a sign that read "Silverchair, welcome back to Philly!"
I glanced at the set list. It seemed to be a nice blend of their albums, both old and new. While some fans were a bit upset about certain songs not being played, everyone was waiting anxiously. Finally the moment came and the Australian band walked out on stage.
Playing in black pants and a blazer, front man Daniel Johns knew how to work the audience and make them shriek in delight (playing shirtless didn't help). Before the first song was over, he was showing off for them, kneeling on the floor, his guitar close to his face. As the show went on, the charismatic lead singer made the crowd swoon with delight. Playing hits like "Ana's Song," there wasn't one person in the house who wasn't singing along.
Johns was still recovering from a case of laringytis, so he said that there were some things he wouldn't be able to sing. Yet, from the sounds of his voice, you'd never be able to tell that he had been sick. In between songs, he laughed with the packed audience. People stood side-by-side, their faces glistening from the heat.
The night drew to a close; as anxious as I had been to see the Australian export, I couldn't wait to get out in the fresh air. From their performance, I can say that Silverchair may have laid low for a bit, but they're back with a vengeance, selling out various shows. Their new tracks are something you need to hear.
---