Deliciously Italian
by Federico and Stephen Moramarco
Citadel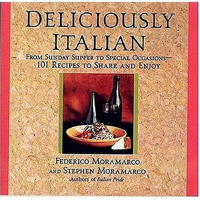 By night, Stephen Moramarco rocks out with the Abe Lincoln Story, one of LA's premier party bands. But by noon, when the music world begins stirring from its late-night gig breakdown and obligatory post-show Waffle House excursion, Steve (and his father, an English professor at San Diego State) do their cooking in the kitchen, drawing on their Italian heritage to wake the rest of the house guests with the aromas of tomato, basil, olive oil, and a supporting cast of decidedly Mediterranean ingredients.
For yes, while a quick look at the title might make you think that this is some sort of Italian memoir, this is actually a cookbook, packed to the top shelves with all manner of traditional recipes gleaned from a childhood in Brooklyn and secrets borrowed from friends. One hundred and one recipes, ranging from appetizers to a delicious encore of Limoncello to wash it all down, are present in this compact tome.
Sure, you have your classics – Osso Buco, Eggplant Parmesan and Cannoli – but in the tradition of a good cookbook, the Moramarcos also present some Italian-inflected dishes you may not have thought of. Garlic ice cream anyone?
Each recipe is prefaced with a paragraph explaining its heritage and the Moramarcos' associated memories, like a grandfather so impatient to eat Pork Shoulder in Milk that he would always burn his mouth. Directions are clear and straightforward, and careful attention is paid to the tricky parts.
The recipes on here are culled from a variety of sources: the Moramarco tradition, family friends, and favorite Italian eateries from around the country all contribute something to this compendium of cuisine. This small but dense hardback will soon gather many loving stains from laying on the counter, propped open with a rolling pin. Mangia!
Kensington Publishing: http://www.kensingtonbooks.com
---