Modern Masters: Charles Vess
by Shaun Corley
Twomorrows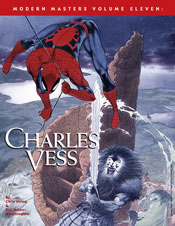 My interest in the work of Charles Vess began sometime in 1993, around the time DC introduced the Vertigo line. While the spandex brigade still commanded my attention, those interesting-looking Vertigo books on the top shelf were beckoning, and it wasn't unusual for Vess to do a cover or interiors for them. There was something refined, almost sophisticated about Charles' art, and for someone with maturing sensibilities, it greatly appealed to me. Plus, he was a Virginian like me. And now TwoMorrows press has given the Modern Masters treatment to Vess.
The book begins with Charles discussing how he came to comics and illustration, as well as education. After graduating from Virginia Commonwealth University, he relocated to New York with a cadre of fellow artists, including Michael Kaluta and Barry Windsor Smith. Work began to trickle in, mainly in magazine illustrations, and his career was off and running. At the conclusion of the first section, a brief interlude is devoted to Vess's influences.
I mentioned earlier that he first caught my attention on Vertigo books, but it was at Marvel Comics where he first gained mainstream exposure, through cover illustrations, including the iconic Web of Spider-man #1 cover. From there he did various art jobs for Marvel, including a memorable Spider-Man graphic novel that sent the hero to Scotland. Not long thereafter, Vess illustrated the classic "A Midsummer Night's Dream" for the Sandman comic. It won a World Fantasy Award, and Vess's place in the comic world was assured. This period of his career is covered in the middle sections of the book.
The final part of the interview is devoted to Charles' adventures in self publishing in the 90s, with his book Ballad and Sagas, sequential illustrations of folk ballads and poems. Even in the comic book crash of the mid-90s, the book sold well, but not enough to pay the bills, particularly the medical expenses incurred as a result of his wife's spinal injury. Eventually, the comics community pitched in and helped. The book concludes with Vess discussing Stardust, on which he collaborated with Neil Gaiman. Finally, the reader is treated to a gallery of Vess illustrations.
I really enjoyed this installment in the series. Even though I have only met Vess once, and it was brief, I could tell he was a wonderful and warm individual, and this comes across during the interview. Reading about the various artists who have influenced Vess has made me wish to seek them out, and given me a deeper appreciation for the contexts in which Vess works.
---