moe.
The Roots, Amos Lee, Medeski, Martin, Wood and Scofield, Satelitte Party, Uncle Earl, Meat Puppets, Ra Ra Riot
Turin, NY • August 31-Sept 3rd
Chris Catania
It was time to leave Chicago behind for the weekend and kiss summer goodbye with the help of the 8th moe.down festival in upstate New York. For three days, in a Woodstock-style setting, around six thousand fans soaked up the Roots, Amos Lee, Ra Ra Riot, Uncle Earl, Medeski Martin Wood and Scofield and others as we traveled back and forth from a makeshift civilzation of tents and RVs to sit and absorb the beats and grooves at the foot of a ski slope at the Snow Ridge Ski Resort.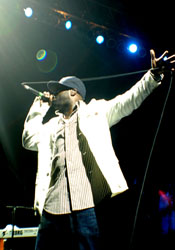 As the sun dipped below towering pines on Friday night,The Roots began with "Star/Pointro" and then proceeded to deliver a seamless and jaw-dropping medley of soul, funk and rock all anchored by drumkit maestro ?uestlove and emcee Black Thought. Their set included a remixed tasting of tracks from Game Theory and previous albums, a bite of "Jungle Boogie" and a unique version of Bob Dylan's classic tune "Masters of War" sung via the melody of the Star Spangled Banner. The set was also a bittersweet benchmark champagne celebration as longtime bass player Leonard "Hub" Hubbard was playing his last show with the Roots.
As Friday turned into early Saturday, festival organizer moe. had the unfortunate duty of following the Roots and after setting up my tent in the campgrounds I made my way back to the stage and joined the mass of neon lights, flickering strobes and waves of humming funky jazz rock melodies. I soaked it all up before heading back to my comfy air mattress, zipped up the tent and let moe. rock me to sleep via sweet psychedelic lullabies.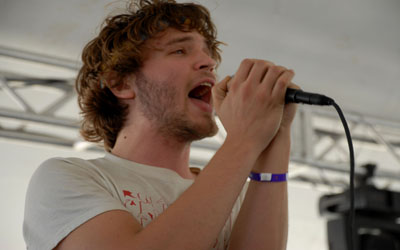 After a warm swig of hot chocolate and two delicious Skinny Pancake crepes, I was ready for Saturday. The festival's rustic setting and laid-back pace was perfect and a welcomed opposite to the blitzkrieg pace and corporate presence of Lollapolooza. moe.down, like its larger southern sister festival Bonnaroo, is designed to focus on the communal side of rock n roll, with a heavy emphasis on the gradual free-flowing absorption of variations of jazz, bluegrass, soul and rock. The shows usually started sometime around noon with moe. playing two hour sets at night and during the day picking up slack and playing the slots left open by a couple cancelled acts.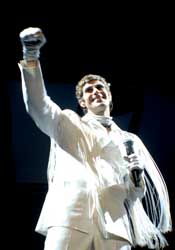 The moe.down experience could be described as an ideal live music utopia as you rolled out of your tent or RV, grabbed some food and drink, showered if you wanted to and then headed to the next show. Whether the music was or wasn't playing everyone from college students to stroller-pushing parents jammed to the beats. Oversized hula-hoops swirled around the hips of toodlers and teenagers and parents watched their kids bounce around in the Kids Carnival Tent.
On Saturday afternoon, the Meat Puppets weren't as good as I hoped they would be but did let loose with "Backwater," which made the set somewhat entertaining. Under the dirt-floored Beer Tent (or the Dust Tent as it was renamed) New Jersey orcho-pop rockers Ra Ra Riot initially stood out with their Converse Chucks and tight hipster jeans among a festival of mostly hemp and hippie-friendly fashion. Then the music grabbed me when the violin and cello merged together under the slick bass and dreamy vocals and blazing guitar. The rushing rollercoaster tempos made my emotions do an unexpected but lovely loopty-loop. On Sunday, I asked a family of four what bands they liked the most so far, the husband quickly said, "Ra Ra Riot was outstanding!" Their two kids bobbed their heads in agreement with their dad as they gnawed hotdogs.
Saturday night, Perry Ferrell's Satellite party was the replacement for the canceled Ryan Adams and the Cardinals. Ferrell might be an innovator when it comes to his earlier rock, and he is certainly a gifted promotor and creator of the modern day music festival, but his new group didn't move me at all and only brought back some of my PTSD from Lollapalooza. Yes, I will always sing along when "Been Caught Stealing" or "Just Because" comes on the radio or I can dig out the CD and indulge when needed, but seeing Ferrell perform them in a gleaming bleached white cowboy suit with tassels only makes me dislike even more what Ferrell is all about. His corny set-ups to each songs were like nails on a chalkboard and I wished that Ryan Adams hadn't cancelled. After three songs I bolted and as an anidote I kept repeating to myself that last night I saw the Roots.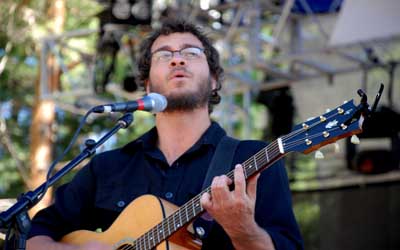 On the final day, the soulful croon of Philadelphia singer/songwriter Amos Lee and his grooving backing band successfully washed away the nasty aftertaste of Satellite Party. The tunes mirrored the warmth of the sun and added good vibes to an already crisp Sunday morning with the folk track "Down to the Bottom of the Barrel," and "Night Train." Lee instigated a midday hip-shaking with the up-tempo "Supply and Demand," seting the crowd up for a singalong to the chorus of "Early Like Sunday Morning." Lee and company ended their set with a humorous "Caramelized" ode to 70s and 80s soul balladeers.
A cloud of dust was kicked up in The Beer Tent as Tennessee all-female quartet Uncle Earl became the other surprise find at moe.down. Their songs were a mix of Ani Difranco, Bob Dylan and Led Zeppelin channeled though the filter of the bluegrass wing of the Grand Ole Opry. If John Paul Jones agreed to produced their record "Waterloo, Tennesse" then Uncle Earl is the female musical incarnate of Napoleon because they also conquered me in just 30 minutes.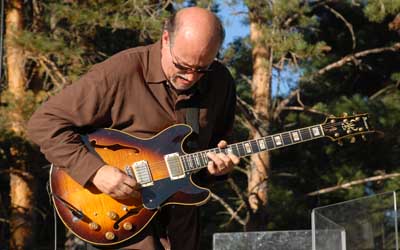 Before heading back to Chicago, the jazz quartet innovators Medeski, Martin, Wood and Scofield, lifted me off the ground and drenched me one last time in moe.down's euphoric atmosphere. The twisting Technicolor of syncopating drums, the myriad sonic textures of guitar, subterranean resonating bass, and the harmonious keyboard blurps, blips and chirps all fused to create something of a never-ending sci-fi jazz melodic four-strand ribbon that completely screwed with my personal GPS. I've never had a transcendental experience and I was pretty sure I was still in Turin, NY (for the moment). but MMWS's improvisational exploration was quite a trip and the perfect send off to a weeked and a summer full of live music jubilation.
---