TIGER! TIGER!
Atlanta band goes home, then takes on Europe
Bob Pomeroy
A tightly packed crowd jams the compact dance floor in front of the stage at Ybor City's New World Brewery, trying to get as close as possible to Tiger! Tiger! The band tears into tunes from their new album The Kind of Goodnight, while fans try to find space to shake their hips. Singer Buffi Aguero whips up the crowd telling them, "This is supposed to be a dance contest. There's plenty of room right here," pointing at the foot of empty concrete right in front of the monitors.
A young man responds to the challenge, invading the limited open space with some freeform wiggling. The crowd hoots and the band smiles.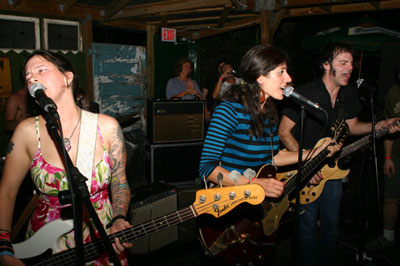 The New World Brewery show was a homecoming of sorts for Tiger! Tiger! Singer Buffi Aguero is originally from Tampa, and three of her bandmates also hail from Florida. Organist Sam Levja is the only native Georgian in this Altanta combo. The Tampa show was also something of a warmup for the band's upcoming European tour. Before the show. I talked to Aguero about her band, their new CD and what they'll be up to in the coming months.
"I've been in a lot of bands here in Atlanta," Buffi says, describing how her three year-old band came together, "It was one of those things where it's hard to find people you like to play with but even more important was finding people you want to spend 17 hours with in a van. I had played with Suzanne, who plays bass, in the Vendettas. I also played with Sam, the organ player, in the White Lights and the Vendettas." The band is rounded out by guitar and sax man Shane Pringle and Miami native Mario Colangelo.
Suzanne Gibboney and Mario weren't on Collisions, the first CD from Tiger! Tiger! "The first record was a little artier," Buffi relates. "We don't have a cello anymore, so this record is more straightforward. Once Suzanne and Mario joined, it became real exciting. Those two are just such a force."
The Kind of Goodnight is an exciting blast of straight-on rock and roll. The band pays homage to 60's garage sounds with sax and organ riffs bouncing off Buffi's cutting lyrics. It's hard not to smile at the crafty putdowns in "The First Thing" (the first thing you should know about her, she's a liar and a cheat). On the other hand, "Stand In" is a nice little party anthem and Shane lives out a Springsteen moment when he takes the lead vocal on "Misfortune, Bad Weather and Debt."
"I'm excited about this record" Buffi says. The record will be domestically released by Austin, Texas-based Chicken Ranch records. The disc will also be released in Europe on Beyond Your Mind Records, setting up the November tour.
"We're doing a month long tour of Europe to support the new record," Buffi says enthusiastically, "I think it will be really fun. My other band, the Subsonics have worked with this promoter before and did a really, really good job for us. They make sure we have good hotels and good food!"
The tour will be a bit of an adventure taking the band places they've never been before. "The Spanish part will be really great," Buffi says. "There are some dates I'm really curious about. We're going to play Warsaw. I don't know what kind of audience there is for a band like ours in Poland. It will be either really interesting or really bad."
Buffi doesn't seem too concerned about the prospect of bombing in some Warsaw rock club. "This band is more of a fun project than a career project," she says philosophically, "I like Polish food a lot, so even if the shows don't go well, we will eat well."
---