Brand New
with Thrice, mewithoutYou
House of Blues, Orlando, Fl • Nov. 25, 2007
Jen Cray
The two-night stint of Brand New and Thrice at Orlando's House of Blues sold out days in advance, leaving many aimless wanderers stalking the "streets" of downtown Disney in search of scalpers. Have you ever tried to sell tickets under the watchful eyes of the Mouse police? I've seen a band member of a widely popular band get busted by these rodent cops and thrown in jail for the night, and that was for merely "creating a disturbance" by signing autographs (it was Damian Kulash of OK Go)!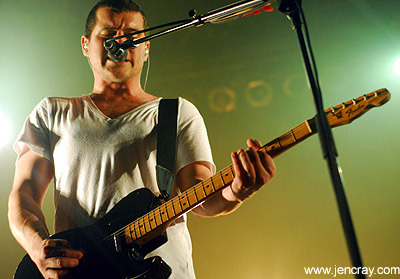 Those of us safe and snug inside the venue settled in for a promising night of matured emo.
When an earthy pair stepped onto a darkened stage with a congo drum and what I can only describe as a hippie bagpipe, What the hell?, was the phrase painted all over my confused face.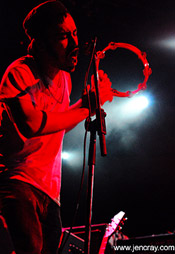 The bizarre intro turned into a fitting start to opening band mewithoutYou's set. This Philly five-piece (plus various guests who popped out to play other odd instruments here and there) are a jam band for the emo sect. Sounding like Rusted Root and looking as though they just stumbled in off the farm, this band earned minor points with me only because they seemed to set the tone for an unexpected evening of music.
I've said many times that I have seen the potential of Thrice, and it lies within their mellower, more experimental works. Unfortunately, I have only seen them tap into this spellbinding side on one occasion. Every other time I've gone to see them play it's been the harsh screamcore madness that gets the kids churning, but sends me for the door. With the tone for the unexpected set, thanks to mewithoutYou, Thrice exploded into an aggressive yet trance-inducing hour of music that surpassed even the mesmerizing set I had previously been wooed by two years ago.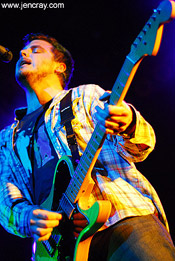 The band tossed out a few mosh-worthy tunes to please the masses, but focused heavily on the more mind-altering side of their personality. "Digital Sea," "Open Water," and "Burn the Fleet" were highlights off of their latest release, The Alchemy Index: Volumes I & II: Fire and Water (the ambitious double album that is the first of a two-part conceptual piece). The Water songs fill up the House of Blues, as the elaborate light show onstage further enhances the mood created by Thrice. The set-ending chill of "The Earth Will Shake" – and Kensrue's quiet, folky final chorus – serves as the final nail that secures this band on my yeah, I really do like 'em list!
To drive this point even deeper, a strange coincidence found me running into Kensrue two hours later at a Chuck Ragan gig. After Brand New's set, I was high-tailing it downtown to The Social – pulling a doubleheader by covering the Hot Water Music frontman's solo show. As luck would have it, Dustin Kensrue was the unannounced special guest who showed up to play a few of his own solo tunes (off of last year's Please Come Home). For more on that, look for my next live review.
Back to Brand New and their audience-melting set of alternative/emo/jam band explosiveness. Breaking off a scream-inducing "Limousine" right out of the gate, this band was golden in the ears of the Orlando kids. The extended jam session that ended the set may have left more than a few fans scratching their heads, but for the most part the smiles stayed in place.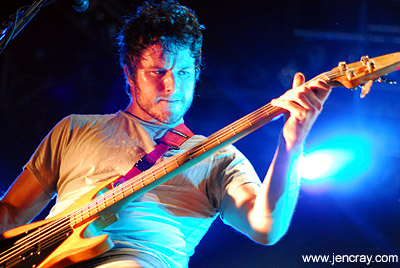 There are sides of Brand New that would not have been out of place inside the alternative rock world of the '90s, but the vocals of Jesse Lacey are right in place amidst the emo faction of the now. They've got catchy pop songs, but they knock 'em out with an added dose of rock. It works for them – especially live.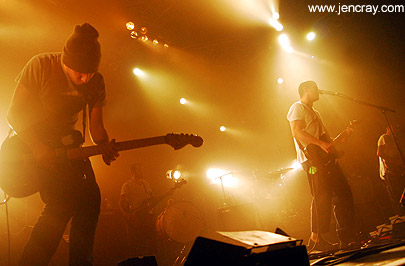 The strongest visual element of seeing this band live was also the element that made my job as photographer the most difficult. These guys (did I mention that there were at least seven of them onstage – including two drummers?) buried themselves inside a dome of colors and flashing white lights. Lost somewhere behind the flaming colors onstage was a band absolutely owning the audience, even if half of them couldn't make out details of the band members' faces. This visual element, combined with the boisterous energy of both Lacey and bassist Garrett Tierney, makes a modest band from Long Island do well as a headlining band.
Though still, my affinity lies with Thrice.
To see more photos of this show, and others, go to [www.jencray.com](http://www.jencray.com/bands_live.htm).
Brand New: http://www.myspace.com/brandnew ◼
---