Aesop Rock
Blockhead and Black Moth Super Rainbow
Orlando, Florida • Saturday, November 9, 2007
S.D. Green
Port-o-potties and a beer stand do not a $15 show make. Orlando's Anti-Pop Music Festival banished Aesop Rock and company to the Social's back parking lot for their performances. The concert stage was like Transformers meets Pimp My Ride – an 18-wheeler that transformed into a concert stage with massive speakers, lighting and a video screen. Blockhead kicked things off with instrumentals from his Music by Cavelight and Downtown Science albums, throwing in a bizarre remix of Chris Isaacs' "Wicked Game." I never tire of watching audiences watching DJs stand on stage and do nothing… don't they know where the beer stand is? It's next to the port-o-potties. Black Moth Super Rainbow were nowhere near as hippy-dippy in person as on mp3, their groovy bass lines and synthesized vocals sounding much like the French duo Air.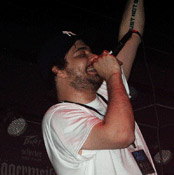 Speaking of air, this kind of venue could spell disaster for Aesop. Hip-hop shows are notorious for poor sound. Open-air concerts, the great devourers of sonic separation, can make even 50 Cent's nursery rhymes hard to hear. Aesop's polysyllabic riddles require a lyric sheet and a bouncing ball if you have any hopes of deciphering the words:
"Put one up shackle me, not clean logic procreation/I did not invent the wheel I was the crooked spoke adjacent/While the triple sixers lassos keep angels roped in the basement/I walk the block with a halo and a stick poking your patience…"
Not exactly hip-hop haiku. None of this, of course, should translate into a rocking concert, but something transformative happened to Aesop's music in this setting. The obtuse sound actually worked to his favor. He stuck mostly to new material off his latest, None Shall Pass, sprinkling in fan favorites like "Lucy" from his Labor Days EP. The open-air audio reduced the low-key title track off None Shall Pass to a pounding two-note bass line that barely registers on the recording. Similarly, shuddering bass goosed the reflective mood piece "Daylight" into a thumping dance track. The tune got the crowd chorus chanting and doing their hip-hop tomahawk thing (one arm in the air bobbing like an ocean of castaways).
Aesop is more animated than you would think such an intricate MC would be. With the music all low-end, it left plenty of room for his lyrics to cut through – at least at the front of the stage. His delivery was crisp (he even dropped a verse a cappella), and he didn't miss a word, bobbing and weaving all over, showing love to both sides of the stage, and stopping to rap along with hype man Rob Sonic – a great MC in his own right who probably should have opened the show. The fans fed off Aesop's energy and did their best to wiggle, shake, and reiterate what snippets of his lyrics they knew. Credit the strong female presence in the audience – at least half were women – with the positive vibe, helping to soften up the hip-hop bros who usually just mean mug, nod, and blow weed smoke into the air.
In the end, the workman in Aesop adjusted to the liabilities of the "venue". It would be great to see him in a more intimate setting where the storyteller, "Aesop," side of him could shine, but when called on to "Rock," he could punch the clock and get down to work.
Aesop Rock: http://www.definitivejux.net/jukies/aesop\_rock ◼
---