Gallows
with This Is Hell, Cancer Bats
The Social, Orlando, Fl • January 11, 2008
Jen Cray
No matter how many times you read the words "Gallows are a phenomenal live band!" you will never fully grasp the concept until you actually attend a show and stand in the mouth of madness… or as my girlfriend quite accurately puts it, "People should stop doing drugs and start inhaling Gallows!"
The chaos has come to Orlando.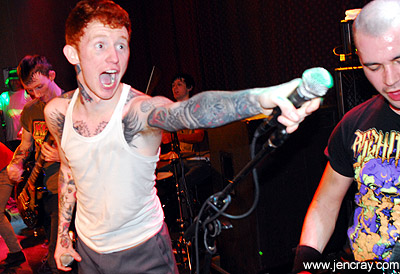 Cancer Bats are a metal band with a hardcore vocalist who's a dead ringer for Tim McIlrath from Rise Against. Though the Canada boys shredded up a good bit of dust, the sleepy audience had yet to wake up fully and so there was no pit, there is no energy. There was sweat and spit onstage, and stillness in front of it. Considering how insane this same audience were to get in just an hour's time, I can only attribute their lack-luster response to their seeming unawareness to just who the hell Cancer Bats were. My bets lie on the band pulling in a sizable audience next time they pull through town. For now, they went through the motions – a band whose rage-filled sounds rely heavily on crowd participation – and it was a bit like watching a violent movie with the sound turned down low.
New York has forever been a hotbed for hardcore, and so it's no surprise that This Is Hell hail from Long Island. Within seconds of the start of their set, a pit began to churn and the heat began to smolder. Sounding quite like every other NYHC band, the element that sets them apart – visually, at least – were the martial art kick jumps of guitarist Rick Jimenez. The air he managed to grab and gracefully control within the tiny square between the edge of the stage and the amp behind him was distractingly impressive! Honestly, it's all I remember about this band's set.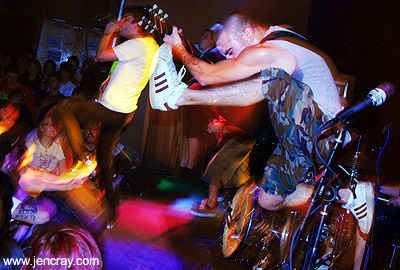 I saw Gallows this past summer at Warped Tour. They played at high noon in front of, maybe, 30 people. Because of this it may seem odd to many that this band, who tonight were on the third date of their first headlining U.S. tour, arrived in a swanky tour bus. It may also seem like a joke when elastic frontman Frank Carter told the crowd, "I spent $11,000 today." It's no joke. Gallows have absolutely blown up in their native England this past year. They got signed to Epitaph Records and have very quickly graduated from being an after-thought on the inflatable Warped Tour schedule to the band that seems hell-bent on saving traditional hardcore punk from metalcore extinction.
So why did the band seem tired at the start of the set? Why did Carter seem to be in slow motion, and exhibiting more than just a little bit of bitterness? "Last night we played Jacksonville to about 80 people," he confessed, "I was ready to pack it up and go back home." When it was quickly revealed that the couple hundred Orlando kids who came out for a rowdy punk show had no intentions of becoming another Jacksonville, the band's spirits began to rise along with the bodies that flew around the room.
"It says 'absolutely no stage diving,' but what are they gonna do? Kick us all out?" Carter provoked, and the eager audience followed. Stage diving was a go, for both the fans and the band. The red headed, heavily-inked frontman spent half his time in the audience – either buried within it, on top of it, or in the back atop the bar. And, for the record, when venue security attempted to kick out a particularly rambunctious stage diver, Carter stopped the show and called for the guy to get up on the stage. Handed a mic, the dude suddenly went from being on the brink of expulsion to performing a cover of Black Flag's "Nervous Breakdown." Not a bad story to tell his kids, I would think.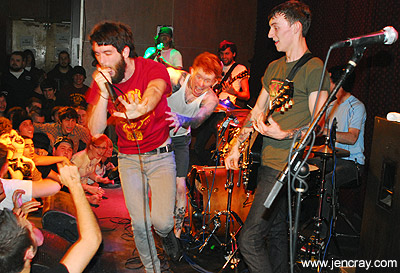 Gallows only have one album out, Orchestra of Wolves, so of course they played it almost entirely – beginning with "Just Because You Sleep Next to Me" and ending with the album's title track. If ever there was a band whose music only becomes complete when seen live, it was Gallows.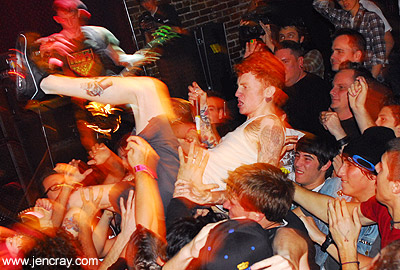 The show ended with Carter inviting everyone onstage – an act that turned into such mayhem that even he looked a little nervous. The fans picked up the microphones, one even grabbed Steph Carter's guitar, and the room show became as interactive as any band could hope for it to be. Hopefully Orlando has raised Gallows' opinion of American audience. "When we come back to the States, we'll just come back to Orlando," they announced near the end of a monumental set.
Gallows: http://www.myspace.com/gallows ◼
---