Del Boy – the Return of Justin Currie
Andrew Ellis
As a former major label artist trying to find his way back into the consciousness of the music-buying public, Justin Currie's decision to make his comeback by recording an album of mournful ballads was certainly a brave one.
"I hope it doesn't sound like more of the same," agrees the Del Amitri frontman about the tone of What Is Love For, his solo debut. "It would be a bit pointless making another Del Amitri record and putting it out under my own name. When I played it to my manager and some A&R guys that I trusted, they were like, "This is suicidal, this is far too depressing." But that was good, because I didn't want to take a record back to the world that was attempting to repeat the past. I still write songs but I am older now and this is what I want to do."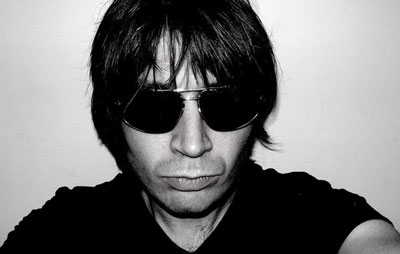 Thankfully, Currie's single-minded determination to wait for a label to release What Is Love For ("I would rather die than release my own records," he says emphatically) paid off in the form of a deal with Rykodisc even though the nature of the material meant that the process took longer than he would have hoped. But a host of glowing reviews has eased the tricky transition from band member to the solo artist Currie once vowed he would never become.
"I find it quite odd not being in a band, as I've always been a band guy," the prolific songwriter says. "But I was writing songs that weren't particularly right for Del Amitri, and I thought I should put all these similar sounding songs onto one album."
He continues: "A lot of these songs are true to what I was feeling when I was writing them. I don't want these songs to be listened to by some bitter divorcee who is 47 and doesn't get to see his kids enough, I am just looking to appeal to other people like me out there who think that this stuff is really confusing and that being in love is hard."
Almost entirely self-written, self-produced and self–performed, What Is Love For is undoubtedly a stylistic departure from Currie's Del Amitri back catalogue, even if his trademark captivating melodies, clever lyrics and glass-half-empty perspective on love still remain. Just one listen to the title track reveals his songwriting gift has not diminished during his time out of the limelight: "What is love for?/ What does it change?/ Did Joan of Arc drag/ Anyone back from history's flames?"
"Gold Dust" is probably the most accessible of all the songs and is in stark contrast to the bitter break-up song "Not So Sentimental Now." "Still In Love" is, as Currie admits, written from a "brutally selfish" point of view, while "Only Love" is probably the only truly romantic song of the whole collection. But the quality of every song rallies against Currie's slightly modest claim that during his career he's "probably written four songs that I think are good."
Del Amitri's most accessible hits were always counterbalanced with the more interesting and diverse b-sides or album tracks that allowed Currie to express his cynical take on life and love ("It's Never Too Late To Be Alone" from Twisted and "The First Rule of Love" from Change Everything to name but two). But what does he say to those Del Amitri fans who find the move away from the jaunty power-pop of hits like "Roll To Me" a leap too far?
"If you're making a solo record with a capital 'S', it should be introspective, it should be about you and what you feel," he argues. "You should be inviting the listener in to a little bit of your soul. On every Del Amitri record there's a couple of songs on there that we knew were more accessible than other things. Even though we were always dreaming of making quite serious Neil Young-type records, commercial pressure meant that we always ended up putting radio friendly things on there that we liked but that kind of compromised the integrity of the whole record."
He adds quickly: "But I would never bemoan the fact we had hits. For a start, it bought me a house, and also it means I don't have to go and get a job tomorrow. But with these songs, I knew I was writing to play them and record them myself, so I felt artistically free to do whatever I wanted to do."
That artistic freedom resulted in songs like the album's standout "No, Surrender", an intense, epic seven-minute social commentary on the ills currently afflicting modern society, with a clever twist indicated by the punctuation in the title.
"The comma is there to reverse the meaning of the sectarian use of the expression 'No Surrender'" he reveals. "It's belligerently pacifist, a resigned protest. It's me standing my ground saying "I'm not going to fight against all this shit. I don't like it, but what the fuck can I do? What can any of us do?"
He continues: "There's so much about rich Western society that's utterly disgusting, but no matter how many marches you go on, and no matter how you vote in western democracy, it doesn't make a blind bit of difference."
With What Is Love For finally released in the US and UK, a successful UK tour completed, and a handful of US dates in the works, Currie is justifiably concentrating on his solo career for now. Del Amitri is currently on hiatus after Universal Records dropped the band in 2002 following poor sales of the band's final album Can You Do Me Good?, but he doesn't rule out a reunion at some point in the future.
"I look back on [Del Amitri] with incredible fondness, but it was the law of diminishing returns and after we got dropped, none of us had any desire to make another Del Amitri record at that time," he concedes. "The band mainly constitutes me and Ian Harvie and he doesn't really want to make another Del Amitri guitar record as he'd got to the point where he thought he was repeating himself. But we have written an electronic record together over the last couple of years, which is more or less finished. Once I've done with this solo record, we'll try to get it released."
But with his solo venture or any future Del Amitri albums, Currie is realistic about his commercial ambitions in an uncertain music industry.
"I'm not out there to compete with the Arctic Monkeys, I see myself as outside of all that," he says candidly. "I just sit here in Glasgow playing my guitar and piano and I try and get this stuff out there to the people that might like it. I've met a lot of very bitter people over the years and they are just laughable. I'm not pissed off that I'm not on the radio or the telly anymore – I don't expect to be. I just hope that people who want to hear this record can find it."
What Is Love For is out now on Rykodisc
---