Foo Fighters
with Jimmy Eat World, Against Me!
Amway Arena, Orlando, Fl • January 17, 2008
Jen Cray
There should be no doubt in anyone's mind that Foo Fighters can fill a basketball arena. They've been hitting the pavement for 13 years now (yes, it's really been that long!), and even if their latest release wasn't a damn fine record (which it is) they've still got enough hit songs in their bag of tricks to pull in the fans.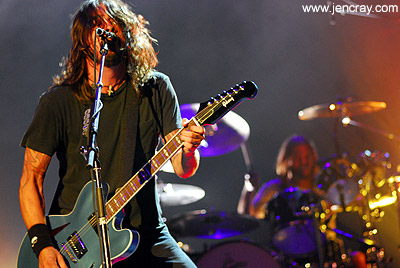 So when they announced an Orlando date at Amway Arena, the excitement was immediate… when they took it a step further and announced that both Jimmy Eat World and Against Me! would open for them, the buzz became a roar.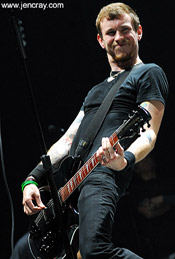 In the past six months I've seen Against Me! four times, and so I feel like a creditable source when I say that this band just gets better and better. These punks from Gainesville keep it simple and real. They wear the same black clothing, beneath the same white lights, and play in front of the same tiger logo backdrop. Two things have evolved in the world of Against Me!. First, they are writing the best music they've ever written and New Wave is by far one of the greatest rock records of 2007. Secondly, as a band they've always sounded tight, but at this point they feel like an indivisible unit.
These guys have found the line that leads from Bruce Springsteen to The Clash, and if they keep on the road they're currently traveling, they could become a band that sells out their own arenas in five years time.
Going from the folk/punk perfection of Against Me! to the mediocrity of Jimmy Eat World was a total buzz kill. I'm sorry, but it's true. Ironically it was this pre-emo band that really got the crowd warmed up for the headliners. They've been a band for slightly longer than the Foos (since 1993!) and yet, aside from a song they wrote back in 2001 ("The Middle"), I've just never understood the big attraction to them as a band. Seeing them attempt to hold their own on the big arena stage did nothing to educate me in the matter.
The audience loved them, which was not a big shock when you consider that these guys are pretty much the reason that bands like Fall Out Boy and Saves the Day exist today.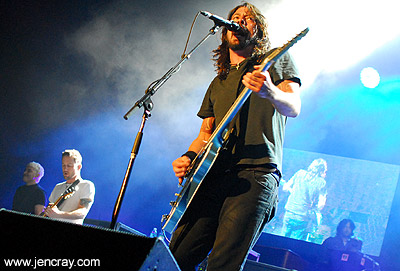 When I last checked in with Foo Fighters, they were being upstaged by their co-headliners Weezer. That was two years ago, and they must have eaten their Wheaties since then because the Foo Fighters that blazed into Orlando were of an entirely different caliber.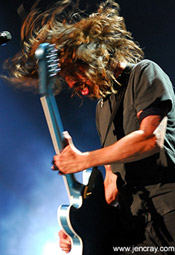 With former member Pat Smear and a whole entourage of other players (including someone on the cello, the accordion, and the triangle) in tow, Dave Grohl led his band through a two hour plus salute to classic rock.
"I need my Black Sabbath, I need my Zeppelin," Grohl announced to the crowd during one of many conversational breaks. During another such audience chat, he chugged down half a beer and tossed the rest into the hands of fans before leaning into a guitar solo.
Grohl wrote and performed every inch of the first Foo Fighters album, and though he has since brought on buddies to play those parts and aid in the writing of new songs, it's still pretty much all about Dave. As much as this fact must piss off the other dudes whose names you probably don't know (Drummer Taylor Hawkins has got a solo career. Did you even know?), it's the truth. Because of this ugly fact, when all seven members of the Foo touring band headed down the catwalk to a small stage–that lowered out of the ceiling–for a 30 minute semi acoustic set, it was a really special moment. One by one the band was introduced and allowed their moment in the spotlight–even the triangle player got a big solo!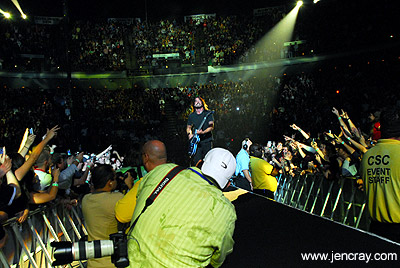 So what did they play? Everything you would want to hear…well, except for "Darling Nikki." If I ever get to witness the Foo's cover of this Prince classic I will piss myself with joy, but this was not my night. They wrapped up a great night of rock with an extended encore that included "Big Me" and "Best of You".
To see more photos of this show, and others, go to [www.jencray.com](http://www.jencray.com/bands_live.htm)
Foo Fighters: http://www.foofighters.com ◼
---