Angels & Airwaves
with Meg & Dia, The Color Fred, Ace Enders and a Million Different People
Hard Rock Live, Orlando, Fl • February 6, 2008
Jen Cray
The radio airwaves have been suffering a long, slow death for over a decade. Just last month O-Rock 105.9, one of Orlando's few remaining rock stations, went off the air to make room for an easy listening format. It's just one more slap in the face to fans of rock 'n' roll who prefer for their music to have some kick.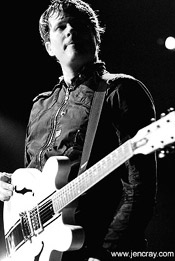 Another slap in the face are the majority of the bands that currently try to pass themselves off as rock bands when really they are about as jacked-up as a diet soda. Much like the bands given the task of warming up Orlando for Angels & Airwaves' headlining show at the Hard Rock Live.
Ace Enders wasted no time gathering up a new band of brothers after his band The Early November called it quits last year. Going by the too long title of Ace Enders and a Million Different People, the Michael Cera look-alike is trying to "get back to just wanting to play music" rather than shooting for stardom. It's good that he's set his expectations low because this music, once again, doesn't offer anything special. It's watered-down folk-inspired pop that while easy on the ears will most likely be forgotten by most by the time they leave the stage.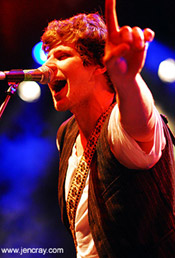 They closed with a crowd sing-a-long called "Bring Back Love," a song that desperately wanted to be "All You Need is Love"… but didn't even come close.
I wasn't impressed by Ace Enders, but The Color Fred was a step in an even worse direction. Fred Mascherino, the former lead guitarist/ co-vocalist/ songwriter for Taking Back Sunday has also set out on his own with this brand new band that sounds pretty similar to his old band. If, as a music fan, your only demands are a catchy melody and a voice that goes from quiet and contemplative in the verses to loud and whiny in the chorus, then The Color Fred is one more band for you to choke on.
If Tegan & Sara are for the hipsters, and Aly & AJ are for the Disney crowd, then Meg & Dia are somewhere in between. The girls, backed by three dudes, go through the motions of emo pop with the rest of them and the audience – especially the teenage girls – react. They'll be adored, but will they be remembered? Part of me feels like I shouldn't criticize these kids. At least they're writing and performing their own music and not just waiting around for some svengali to hand them a hit song that they can then perform on every talk show in existence before the world gets bored with them and moves onto the next manufactured big thing.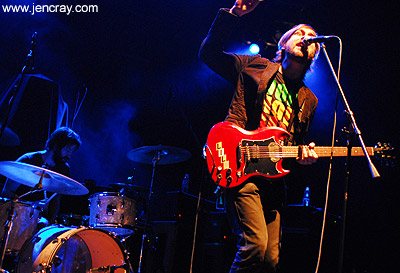 Instead, I should just be thankful for small favors. At least they didn't include their butchered cover of Blind Melon's "No Rain" in their set this time around.
The first thing that crossed my mind when Angels & Airwaves emerged was how closely they resembled 30 Seconds to Mars. The large flags onstage, the moody lighting that barely illuminates the front man, and even Tom Delonge's theatrical mannerisms onstage were reminiscent of Jared Leto's. AVA have even got former :30TM bassist Matt Wachter on stage with them. This band has always aimed to be like U2, perhaps they've set their sights a little lower these days.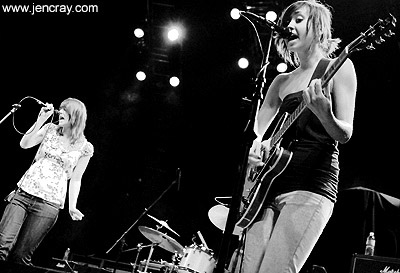 It took a good three songs or so for the band to find their groove, due mostly to sound issues with Delonge's microphone, but once they found it they soared through a set that was fraught with arena rock worthy songs like "Love Like Rockets" and "The Adventure." For the most part, the audience was showering the former Blink 182 vocalist/guitarist with their affections, but seemed to be hanging on a prayer that maybe he'd toss in an old song from Enema of the State… which, of course, he did not.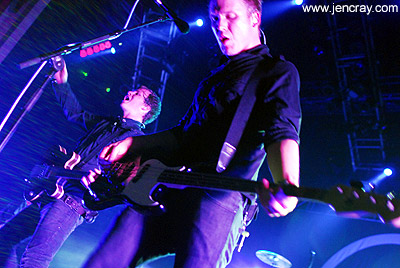 Maybe it's not fair to compare a band's performance to their past ones, but I'm going to do it anyway. I saw these guys in December of 2006 as part of an outdoor radio show that included AFI and Taking Back Sunday, and they stole the show. Their epic songs owned the airwaves, whereas these same songs inside the walls of the Hard Rock fell a little flat.
Take if back outside, boys. Those songs need to breathe!
To see more photos of this show, and others, go to [www.jencray.com](http://www.jencray.com/bands_live.htm)
Angels & Airwaves: http://www.myspace.com/angelsandairwaves ◼
---