Roxy Music : The Thrill Of It All
directed by
starring Bryan Ferry, Andy Mackay, Phil Manzanera
Virgin/EMI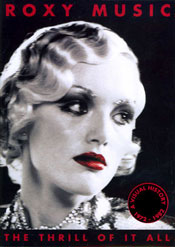 Fronted by a supremely suave former art teacher, Bryan Ferry, Roxy Music is responsible for some of the most exquisitely romantic music created under the umbrella of rock 'n' roll. Accenting an innate genre-blending skill with chic European fashion and equally provocative art, they were a highly influential band simultaneously of their time and years ahead of their time. It was perhaps fitting that the group dissolved shortly after their commercial and artistic peaks coincided with the 1982 masterpiece, Avalon, while Roxy Music's numerous imitators were still catching up with their '70s work.
The Thrill of It All (Virgin/EMI), a video encapsulation of Roxy Music's career released Feb. 5, is a long-awaited valentine for fans. Visually overwhelming, the two-DVD, 38-clip set features quite a bit of previously unreleased or long-out-of-print live footage and promotional videos from 1972-1982, making for the most complete Roxy scrapbook to date.
From avant-garde experimentation and R&B-flavored prog-rock to New Wave forecasting, all of the fabulous phases of the oh-so-innovative band are captured. Even if you've seen it before, the elaborately costumed, long-haired early edition of Roxy Music is a bit-eye-opening, and watching a feathered Brian Eno working his synthesizers on early classics, including "Re-make/Re-model," "Ladytron" and "Virginia Plain" is still stunning 35 years later. It's also fascinating to watch Ferry's transformation from sequin-jacketed glam-rocker to white-tuxedoed crooner (the latter persona first seen in a 1974 live performance of "Pyjamarama").
Culling primarily from the archives of classic British and German television programs such as The Old Grey Whistle Test, Musikladen, and Top of the Pops, the set's first disc focuses on Roxy Music's "first period" – the years 1972-1976. Delightfully, it concludes with a mustached, uniformed Ferry leading the band through five songs (including "Street Life" and the rarely heard or seen "Nightingale") at Stockholm's Konserthaus.
Anni-Frid Lyngstad and Agnetha Fältskog introducing a lip-synching Roxy Music on the 1979 ABBA in Switzerland BBC show is a hint that the band's course had changed during their three-year hiatus (Bryan Ferry's "lost weekend" of solo work). Fans of the group's last era – a period of highly stylized Euro-disco and sensual New Romanticism – will be blown away by The Thrill of It All's second disc.
Resplendent in a red leather suit (!), a brooding Ferry dominates the Manchester Apollo's stage during a '79 gig, and unfortunately lip-synchs "Oh Yeah" and "Over You" the following year on Top of the Pops. A real find is footage from German TV's Rockpop in Concert, where the band follows "Rain, Rain Rain" with an extended presentation of "Flesh and Blood." With Ferry helping out on keyboards, Roxy's other mainstays – guitarist Phil Manzanera and saxophonist Andy Mackay –literally mesmerize the audience.
Manzanera and Mackay also inject a goosebump-factor into the band's gorgeous cover of John Lennon's "Jealous Guy," and were prominently featured in the video – the first of the band's to see any significant airplay in the States.
Watching the promo clip for "Same Old Scene," even a novice might easily conclude that a half-dozen Duran Duran singles were merely variations on this funk bass-meets-synthesizers and sax creation. (Of course, Le Bon and Co. also borrowed heavily from Ferry's wardrobe department).
The disc also includes a sampling of Roxy Music's nicely filmed 1982 concert in Frejus, France (previously released on DVD as The High Road). The band was on the very top of their game during this last tour, and absorbing an impossibly romantic number such as "My Only Love," with the full ensemble and backing vocalists, is quite an experience.
Of all the great videos included here, the highlight has to be the finely-crafted clip for their swan song, "Avalon" which has never been included in any of Roxy's earlier video releases.
Roxy Music has always been somewhat of a critic's nightmare; the terms "gorgeous," "sleek" or "chic" seem inadequate in describing either their music or their image. To this day, the group draws very few apt comparisons. The Thrill Of It All solves this dilemma, presenting this very visual band's musical journey in the way it should be presented. With punchy, remastered sound and good-as-it's-gonna-get picture, the DVDs capture it all – the costumes, the ambiance, the posturing, and most importantly, the music. Whether it serves as a reminder or an introduction, this set won't be watched once and then put on a shelf.
---