Valencia & Armor for Sleep
The High Court, Four Year Strong
Philadelphia, PA • December 27, 2007
Brittany Sturges
If there was one show I was truly looking forward to, I could easily say it was the co-headlining Valencia and Armor for Sleep…and from the lines stretching around the building, I wasn't the only person anxious for it.
Despite a chill in the air, people lined up at the Trocadero early on December 27–with good reasoning. With hometown heroes Valencia performing for the second time in less than a month, people bought their tickets in advance to prepare for the occasion.
Inside the Trocadero, everyone hoarded together in the close-knit space. Even the balcony upstairs was full–of people who came to the show (and wanted to escape the madness on the floor) and several clusters of parents who brought their teens to the show.
The High Court was the first band on the bill. Label mates with Valencia, the local pop-rock band has seen their careers explode in the last year. From playing Bamboozle to releasing their debut CD, Puppet Strings, The High Court have been warmly welcomed each time I've seen them perform in the city.
Tonight, the band had a few surprises in store. First and most recognizable was a line-up change. Apparently, former guitarist Lou decided to leave the band; a new guitarist was in his place. The other unexpected change from their performance was a bunch of new songs that I hadn't heard before (had it been that long since I last saw them? Surely, it couldn't have been). Yet, the High Court's fans were still holding strong, singing along. Their fans bleed dedication and are always willing to cheer them on during a performance.
The band still put on their usual fast-paced and entertaining performance. As Denny pounded on the drums, Mike and Shell (guitar and bass, respectively) threw their bodies around the stage without missing a beat. During one of the new tracks, lead singer J.B. decided to pull out a guitar and play, which is always refreshing. He plays pretty decently and should consider lending his skills to more songs.
Next up was yet another I Surrender band, Four Year Strong. The band from Massachusetts performed well (not a note off-key and a decent amount of energy in their stage performance), but stood out from the other bands. Their sound seemed a bit too hard for this show, yet that didn't stop fans from dancing (including some photographers in the photo pit) and crowd-surfing. Even the band's own guitarist decided to join in the fun and jumped into the crowd.
However decent their performance and despite the strong fan response, I must say I was glad to see Four Year Strong end their set and Armor for Sleep take the stage. Having seen them for the first time in November, the New Jersey band was back. The last time, the band performed relatively older material from their first two albums, despite having just released a new one, Smile for Them. This time, however, the band decided to give the audience a sample of new tracks, including "Williamsburg."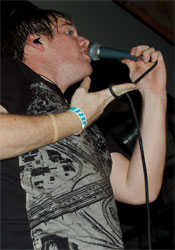 After the first few songs, the bassist began to have a few technical issues. With the tech people trying to figure out exactly what was wrong (and how it could be fixed), lead singer and guitarist Ben Jorgensen attempted to keep the crowd's attention. With his hair falling into his eyes, he spoke with the crowd, trying to keep the excitement going while stalling.
As their set, which lasted roughly an hour, went on, the band's performance grew more intense. Each member of the quartet played with a fervent passion, sweat pouring down their faces. After seeing this performance, I can definitely say that whenever Armor for Sleep puts on a show, I'll be in attendance.
Up next was the moment that most people had been waiting for–the return of Valencia. With two blue and pink backdrops with their name prominently displayed, the rock quintet took the stage. For once, I wished I had ear plugs to block the deafening roar of the crowd. The band kicked off with their most-fitting song, "10th Street." Who knew that uttering one line–five simple words–could make an audience's screams and sing-a-longs more deafening? All at once I noticed that everyone was singing along, from Shane to George (the bassist) on-stage, to photographers and fans, when the line, "Philadelphia makes me feel home," came up, everyone was singing it at the top of their lungs. Fans at the front were clutching the barrier with a death grip, almost as if they were afraid that if they let go, it would all fade away. Crowd surfers were in action, keeping the photographers dancing around the security.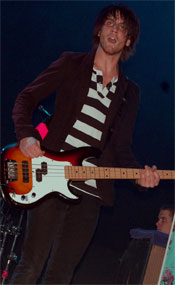 This wasn't a show–it was, in the simplest of terms, an experience. I'm sure that every city has that one hometown band that can obtain such a passionate reaction, but it's always nice to see that people are supportive of the music. How many shows can boast about a crowd-surfing Santa Claus? Not many, in my opinion–but this one could. Yes, another member of a band was dressed in an ill-fitting Santa suit, and jumped into the crowd on the count of three.
With all this excitement, it was refreshing to see a slow moment take place, though it was more heart-breaking than anything. The stage cleared of the band and Shane brought out his acoustic guitar. On it were two pictures of Shane's girlfriend who passed away. As Shane sang with an aching in his eyes, fans urged him to keep singing. Though the feeling was somewhat chilling, it was amazing to see the unity of the crowd.
Afterwards, the band came back out and chaos began again. During their last song, George, Shane, and "Santa" all jumped into the audience (during which I escaped being hit in the head). Fans clung to them, almost unwilling to let go. They screamed the words back to Shane, drenched in sweat.
It's been a while since I've seen an entire bill get such a rousing reaction, and it will certainly be a while before it occurs (if ever) again.
---