Flash Gordon Vol. 5
by Alex Raymond
Checker Books
Prior to receiving the fifth volume of Checker's Flash Gordon reprint series, my sole exposure to the character was the early '80s film. I've only seen it once, when I was a small child, so my memories of it are vague. I never was into Defenders of the Earth, and Sci-Fi's new incarnation is never on when I'm around. Therefore, I came to this book with hardly any expectations.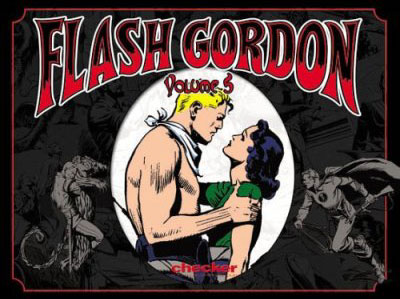 Actually, that's a lie. For anyone schooled in popular culture, the name "Flash Gordon" carries all sorts of baggage: ray guns, jet packs, scantily clad women in distress, ruthless villains, and exotic locales. The motifs laid down in this volume, along with others, have infiltrated our collective cultural consciousness and shaped our perceptions of this character.
When I began reading the book, I was stunned on two fronts: 1) how much of these motifs actually are true, and 2) how damned good these stories are. They're definitely un-PC by today's standards; a quick glance would lead one to think Dale's sole function was to get captured by Ming and dressed in skimpy clothing. Yet, when one reads the stories, Dale does do more than that, and future incarnations of the character have turned her into a strong and independent personality.
The art in this book, by Alex Raymond, is gorgeous. The art lets you know that Flash is a heroic character, and Ming is dastardly and evil. While this simplicity may be a turn-off in our complex times, I found it refreshing. Plus, it's just so nice to look at. The art is clean and well defined.
Raymond's Flash Gordon is from the same tradition that gave us Buck Rogers, Prince Valiant, Secret Agent X-9 and others, a fact noted in the book's introduction. Sadly, this tradition seems to be on the road to extinction. While other media will no doubt keep Flash Gordon alive, after reading the strips in this book, one wishes that newspapers still ran such strips and the American children (and adults) could have a little bit of escapism on Sunday mornings.
Checker Book Publishing Group: http://www.checkerbpg.com
---