Carbon/Silicon
Matt Pond PA
The Social, Orlando, Fl • April 15, 2008
Jen Cray
Mick Jones, one of the founding members of The Clash, has got a brand new band alongside another legend of first wave punk rock, Tony James of Generation X. Carbon/Silicon may not have the timeless energy of The Clash, or even the quirky dance funk of Big Audio Dynamite, but it's got Mick Jones. That was enough to nearly sell out The Social when the band came to Orlando recently.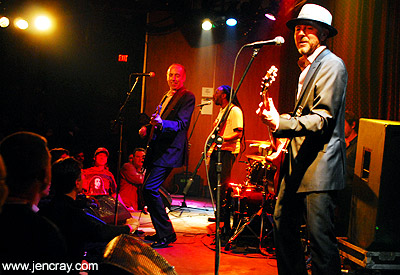 As kids in Clash shirts discussed the probability of ol' Mick tossing a classic into the set, the seasoned fans settled into the barstools knowing not to expect anything from either Jones' or James' previous bands. Thirty years have passed since the heyday of '77 era British punk and though it's doubtful that there was any one individual in the joint who wouldn't have let out a little squeal to hear something from those long gone days, a true artist can't be expected to spend the rest of their days rehashing the past. Where's the art in that?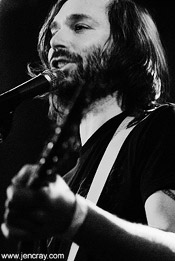 Matt Pond PA, which is essentially one man and his backup band, surprised me not just with their Americana-by-way-of-The Strokes kind of sound, but with the fan base they brought in on their own. At first glance, there isn't much to this band. They've got an air of hippie about them, and a fairly clean cut appearance. With six of them squeezing onto the stage at a snail's pace, I was sure that we were in for some sleepy-eyed indie blandness. When Pond opened his mouth an unexpected hint of beauty came out that was only reinforced by his jangly guitar bits and bouncy keyboard parts banged out by Chris Hansen. The room began to pack tighter during the band's set and, by the closing notes, encore demands were being shouted.
Slick in suits, chugging Jack Daniels and Heineken, and lighting up the room with ear to ear smiles, Mick Jones and Tony James invited everyone into their latest artistic endeavor.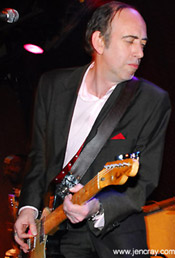 Carbon/Silicon, which also includes Leo Williams (Big Audio Dynamite) on bass and Dominic Greensmith on drums, sounds like a watered down version of sixties garage rock. It doesn't quite have punch, but it's got history in its roots, which makes it noteworthy. Were these songs played by a wet-behind-the-ears bunch of newbies instead of a pair of balding British men it would fall through the cracks and disappear. Lucky for us, these specific balding Brits have got more stage presence and confidence in their pinky toes than most young punks have in their entire bodies.
"I'd like to thank Jack Daniels," Tony James said while holding a cup up to the crowd. "He helps me to get onto the stage every night!"
Anything Mick said garnered shouts of approval and applause, though what he was mumbling was often hard to decipher. His meaning was felt in his riffs, and in the way he strutted about the stage like our small little Orlando bar was his living room. "It's good to be back in Orlando," was one phrase I was able to discern.
The pair behave like old friends onstage, spending much time with their guitars rubbing against one another as they exchange childlike smiles. It's their exuberance that brings to life "Soylent Green" and "What the Fuck," songs that on record are good but not nearly as potent.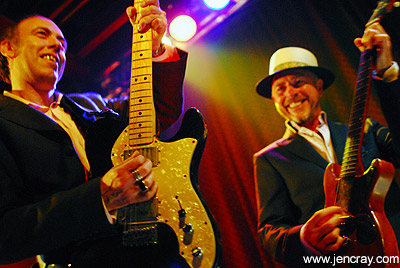 Aside from an upcoming stop at Coachella, this was the last stop of the band's US trek. I count my lucky stars that my bout with the flu paused long enough for me to make it out to witness such history.
To see more photos of this show, and others, go to [www.jencray.com](http://www.jencray.com/bands_live.htm)..
---