Tokyo Police Club
Eagle*Seagull & Summerbirds in the Cellar
Back Booth Orlando, FL • Saturday, April 5, 2008
S.D. Green
By the time you finish reading this paragraph, Tokyo Police Club's "Cheer It On" could have rumbled through your speakers. By the time you finish reading this article, Tokyo Police Club could deliver a 17-minute Lesson in Crime. Alright, so maybe you'd have to be an extremely slow reader, but Tokyo Police Club's songs are short. And it might seem like a pretty lame observation to start a concert review of one of indie rock's promising new bands by calling their music concise, but I can't seem to get away from it. The essence of their appeal is brevity. Their formula of loud songs, melodic bass and pouncing guitar is what makes their songs so listenable, over and over again.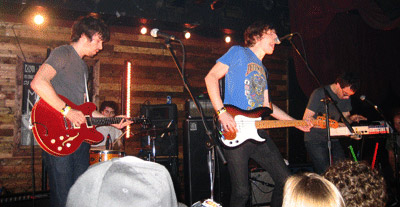 On this night, "over and over again" meant catching Tokyo Police Club live at Orlando's Back Booth with local darlings Summerbirds in the Cellar and tourmates Eagle*Seagull. Touring behind their debut full-length, Elephant Shell, the Newmarket, Ontario, four-piece was determined to bring the ruckus.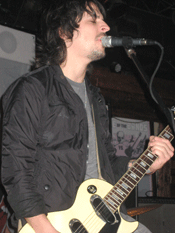 Summerbirds may be known for their migration to Athens and their stint in Now It's Overhead, but their primary project gets much love in their notoriously fickle hometown of Orlando. The Back Booth was already buzzing with a healthy crowd at 8:30 pm, when Summerbirds took the stage, a sign that the artful 'Birds are headliners in their own right. Now down to a trio, their moody drones were accompanied by their trademark light show and screen projections. For a trio, they generated a warm tapestry of sound, with both guitarists contributing keys. They played without a bassist, and their full low end emanated from seemingly nowhere. Even though their musicianship is top notch, the nature of their introverted music kept them from entirely pulling the audience in. Their recorded albums – With the Hands of the Hunter It All Becomes Dead and Druids – reveal layers of electronic-psychedelia that the three-piece doesn't quite duplicate live (they lost second percussionist Yardley to other artistic pursuits). More songs like standout "Behold the Wolf" (from With the Hands…), with its chokehold riff and throbbing bass, would definitely help buoy their ethereal and haunting sound. Most of their songs were a mid-tempo swell that is, at times, reminiscent of Muse and Brian Eno — a tantalizing blend of sounds that they make their own. Despite not fully capturing the nuance of their recorded material, their music still won fans. On my way to a bar break, a bobbing spectator tapped my shoulder. "What are these guys called?" he asked. "Summerbirds in the Cellar," I said. He nodded his head in approval. "They're really good." Another convert who'll add to the full crowd at their next gig.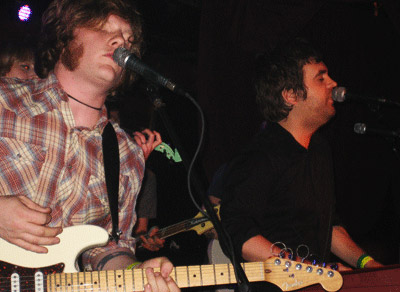 The headliner heavy bill continued with Tokyo Police Club's touring partners, Eagle*Seagull, who have reached #2 on the indie charts. Never heard of them? That's because they went to #2 in Austria. A Nebraska six-piece, Eagle*Seagull has been compared to Arcade Fire – probably due to their boy-girl makeup and bittersweet new-wavey sound, but I hear part Killers and part Pulp. More significantly, drummer Britt Hayes reminded me of the timekeeper for Dr. Teeth and the Electric Mayhem – yes, Animal. Though the vocals seemed a bit affected, and violinist Carrie Butler pouted and posed like it was a fashion shoot, Britt played the hell out of that pulsing high-hat dance rock beat we all know so well from Franz Ferdinand, Hot Hot Heat, Bloc Party, etc. and kept the proceedings fresh and funky. Highlights included a John Lennon-esque joint with a Dr. Dog breakdown ("Your Beauty is a Knife") and the tunes from their new EP, I Hate EPs: "I Hate People" and "I Don't Know But I'm Beginning to Hate Your Face."

Where the opening acts seem to better represent themselves on their recordings, Tokyo Police Club are quite the opposite. The new album, Elephant Shell (due in stores on April 22), lacks the spontaneity, pep and punch of their excellent EP A Lesson in Crime. Landing on Saddle Creek (Bright Eyes' label) seems to have forced vocalist Dave Monks to get more Dylan-esque with his lyrics, while the music gets a bit too predictable and smooth.
There's a noticeable difference between the energy levels of Lesson and Elephant Shell, but on stage, the band mastertfully weaves the two releases together into a convincing mosaic. It's necessary, because without a single song clocking in over 3 mins 30 secs, they gotta keep pedaling that bicycle to keep from falling over. Guitarist Josh Hook, TPC's true gem, squeezes the most biting and articulate noise from his instrument while Monks goes tippy-toe and gets jaunty on the bass. They're both a joy to watch, and the entire band keeps the energy up with their short blasts of Strokes-y squall.
Their music may be kissing cousins with The Strokes and the Arctic Monkeys, but it needs to be said that Hook brings an inspired and fresh approach to an instrument that is always in danger of falling into cliché. He plays with a fury and focus that left him the sweatiest band member on the stage, drummer included.
While the new material manages to maintain the energy of Lesson live, it's the tracks from that original EP that got the crowd worked up; they played their material backwards, opening with "La Ferrassie", the last track on A Lesson in Crime and conservatively dishing out "Cheer It On," Lesson's blaring opener, as their only encore. "Nature of the Experiment," with it's chiming frenzy, and the sci-fi-themed "Citizens of Tomorrow" got the greatest response from the young crowd. It's notable that Tokyo Police Club brought the best live show and still played the shortest set of any of the three bands that night. In case you didn't know, short can be just as good.
Tokyo Police Club: http://www.tokyopoliceclub.com
---