Indie Girl: From Starting a Band to Launching a Fashion Company, Nine Ways to Turn Your Creative Talent Into Reality
by Arne Johnson & Karen Macklin
Zest Books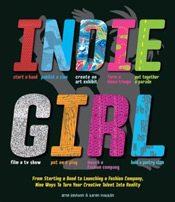 Filmmaker Arne Johnson and writer/teacher Karen Macklin's new book Indie Girl encourages young women to forget about following the latest trends and get busy creating them. That's easier said than done of course, but Johnson and Macklin know a thing or two about independent media and have drafted a confident and inspiring work that just may accomplish what it has set out to do. From starting a zine to forming a band, this book introduces girls to independent media and encourages them to one-up this season's lame-ass styles and reinvent youth culture for themselves. Ideas include organizing a play or a dance troupe or even creating a reality television show. If those don't sound fun, try creating a fashion line or curating an art show. People who can't find something to do in this book are either unimaginative or just plain boring.
If the potential for fame and fortune (or at least a good time) doesn't get girls' creative juices flowing, the artwork may draw them in. Artist Michael Wertz contributes sugarcoated illustrations that will definitely appeal to younger teens while sending everyone over 40 into seizures. Honestly, hard work never looked like so much fun. In fact, you may find yourself flipping the pages, browsing through glaring designs and picking up tips on "Selling out without selling out." Hey, we all can use wisdom like that once in a while.
Indie Girl doesn't offer much in the way of instructions. Too many "rules" may stifle young artists' creativity, but recommended reading for the hopelessly lost would have been a great addition. Other books like The Big Book of Pop Culture by Hal Niedzviecki or Whatcha Mean What's a Zine? by Esther Pearl Watson are a bit more rich, but lack the focus on young women that makes Indie Girl special. This book could make the perfect entry point to alternative media for aspiring teens.
Zest Books: http://www.zestbooks.net
---